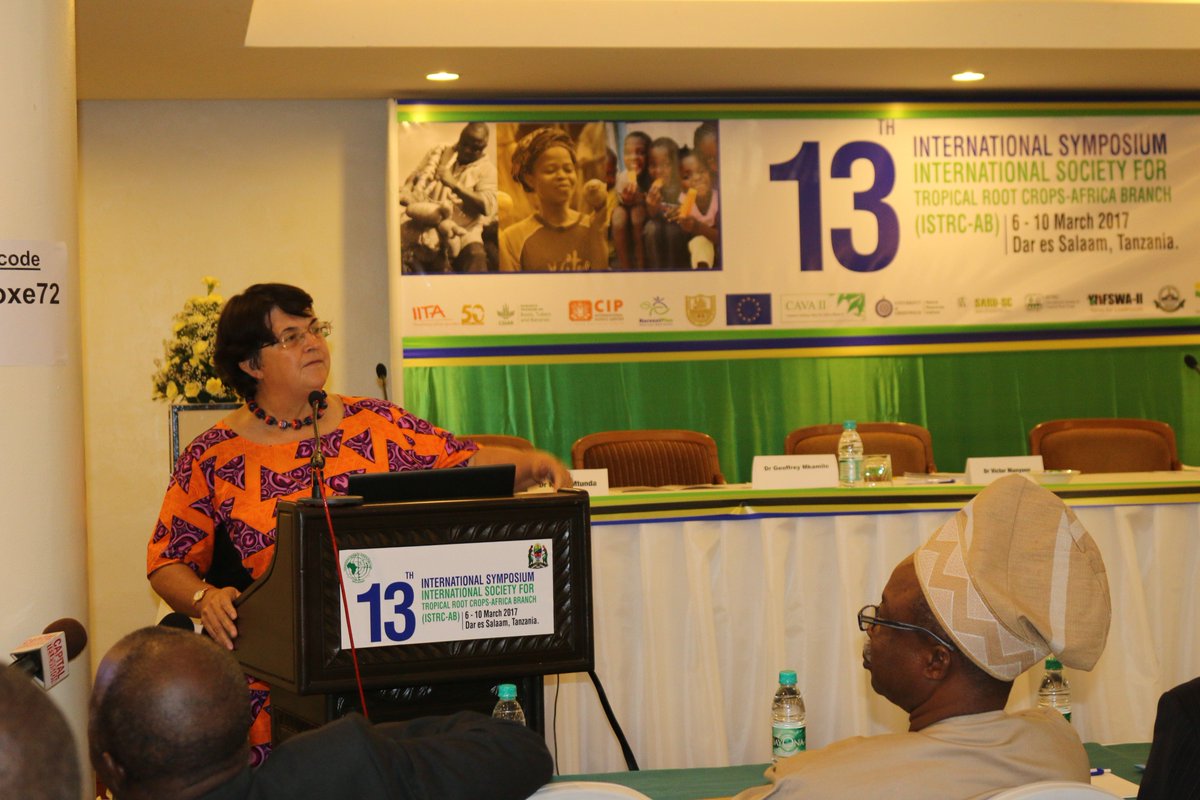 Dr. Jan Low delivers keynote address for 13th Symposium
5 – 10 March 2017. Dar es Salaam, Tanzania. The theme of the 13th International Symposium of the International Society for Tropical Root Crops – Africa Branch (ISTRC-AB) was "Expanding Collaboration, Catalyzing Innovation of Root Crops for Accelerating Africa's Economic Growth".
The sub-themes of the event are:
Managing priority genetic resources, cropping systems pests and diseases
Commercial Seed System, Agronomy and weed management
Postharvest technologies, nutrition, value chains and market opportunities
Enhancing innovative impact through partnerships
Mobilizing Investors for Sustainable Root and Tuber Crop Research and Development.
The conference is attended by 2016 World Food Prize (WFP) laureates from the International Potato Center (CIP)—Drs Maria Andrade, Robert Mwanga and Jan Low, all attending ISTRC-AB—for their great achievement in contributing to reduced hidden hunger among women and children of Africa, through the orange-fleshed sweetpotato (OFSP).
"Addressing postharvest losses and markets cannot be overemphasized in the efforts to boost production of root and tuber crops in Africa. If not well addressed, then all the work done to increase production through development and adoption of improved varieties, and good agronomic practices will not realize the anticipated benefits. This is one of the areas the meeting will focus on including attracting investors," Dr Victor Manyong, IITA Director for Eastern Africa.
Root and tuber crops are versatile staples that can enable Africa to meet its food and nutrition security as they produce more food per unit area of land than most crops. However, they also suffer from high postharvest losses – they spoil very easily and storage is a challenge.
Other areas that the participants will deliberate on are efforts to control the major pests and diseases of roots and tubers such as cassava brown streak disease and cassava mosaic disease; and sweet potato virus disease and root rot, which significantly reduced the crop's production nearly wiping it out from the country. These include breeding resistant varieties and establishing clean seed systems to reduce the spread of diseases as farmers share infected planting materials.
The organization of the meeting was led by Tanzania's Ministry of Agriculture, Livestock and Fisheries. Other partners included IITA, CIP, Commission for Science and Technology (COSTECH) and Cassava Adding Value for Africa (CAVA) project that is led by the Tanzania Food and Nutrition Centre (TFNC)
For more information, please visit the
ISTRC-AB website
. The ISTRC-AB conference has been organised by the International Institute of Tropical Agriculture (IITA) working closely with a number of partners including CIP, CGIAR Research Program on Roots, Tubers and Bananas, the Natural Resources Institute among others. ISTRC-AB was established in 1978 and is headquartered in IITA.
Related
Sweetpotato production: A simple guide to good cultural practices
Abidin, P.E., Acheremu, K., Akansake, D., Darkwa, K., Dorgbetor, I.K
International Potato CenterDecember 2016, 2 pages