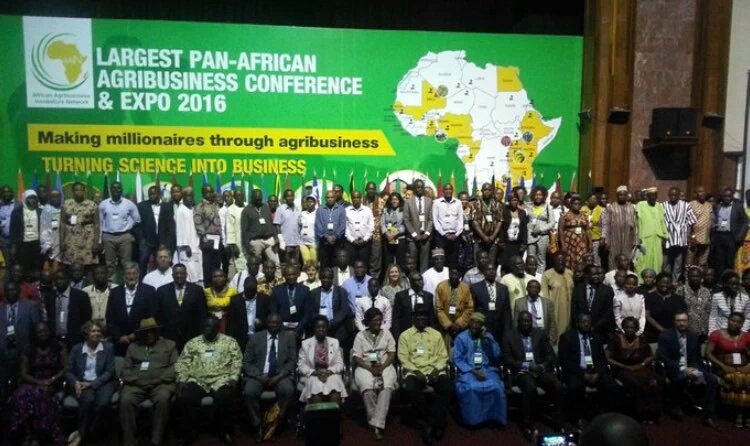 4 – 6 October 2016. The 2nd Pan African Agri-Business Incubators Conference and Expo is an event
organized by the African Agribusiness Incubators Network (AAIN) and supported by the African Development Bank (AfDB), African Union (AU), the Ministry of Food and Agriculture, Ghana (MOFA) amongst others. The three (3) day event will bring more than 700 delegates from around the world converging in Accra, Ghana to create awareness on agribusiness incubation, trade and investment opportunities in Africa.
Patrice Sewade of Sojagnon (right)
and Jonas Mugabe of PAEPARD (left) at the Expo
The conference, "Turning science into business: Inclusive agribusiness incubation for vibrant economies" will showcase opportunities for youth in agribusiness incubation, different public and private sector actors supporting enterprising start-ups, SMEs engaged in value chain transformation, financing agencies supporting the establishment of agribusiness ventures, agencies supporting trade and investment and banks providing financing and de-risking the sector.
Agribusiness incubation, Building the Capacity for Africa SMEs towards industrial growth and development
Lead Discussant: 

Rafael Flor

(Rockefeller)

Ralph von Kauffmann

(Hakika)
Panel:

Prof. Charles Kwesiga

(WAITO/UIRI)

Dr. Emmanuel Adu

(CCLEAR)

Dr. Kwesi Atta-Krah

(IITA)

Anders Frigaard

(DanishKnowHow, Mozambique)

Diana Akullo

(AUC)

Apollo Segawa

(CURAD)

Ken Lohento

(Prog. Coordinator ICT)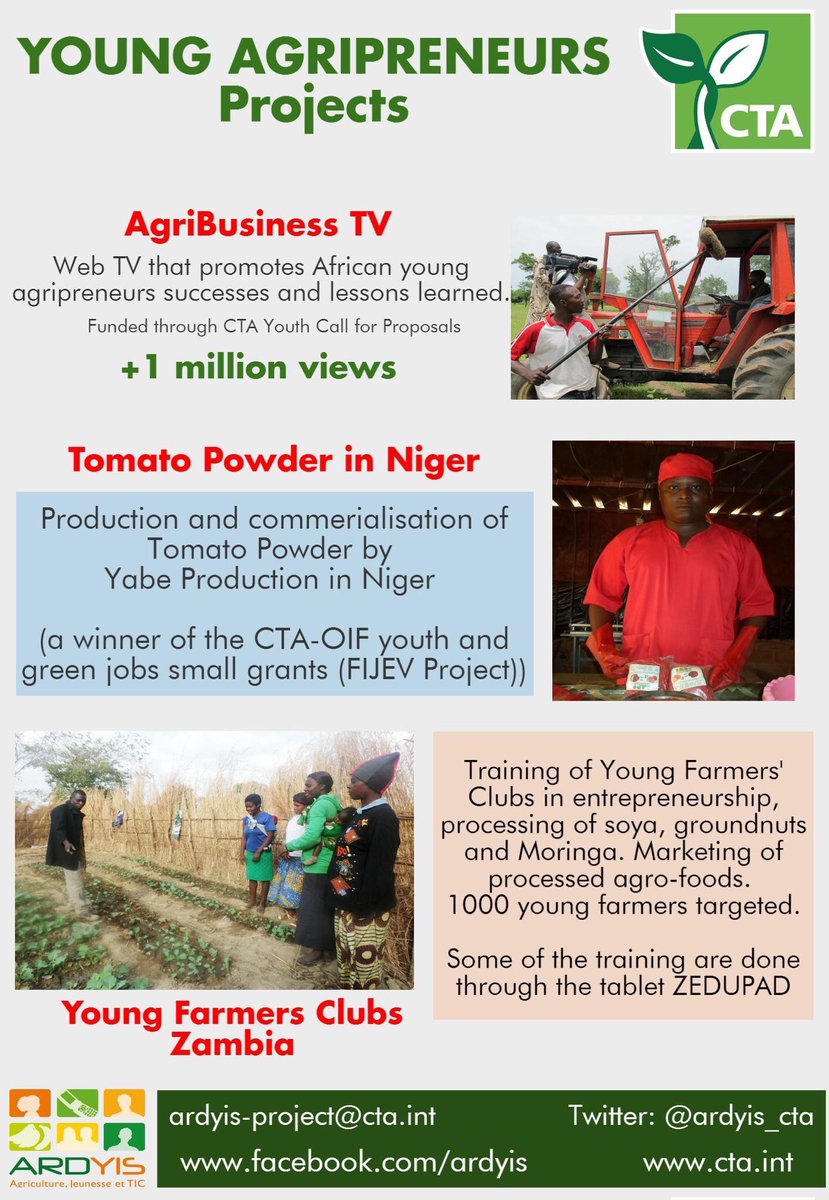 Supporting Women as Innovators in Science and Agribusiness
Lead Discussant:

Dr. Wanjiru Kamau-Rautenberg

(AWARD)

Prof. Francis Wachira

(ASARECA)
Panel:

Owoeye Molayo

(IITA)

Julienne Kuiseu

(CORAF)

Peris Bosire

(FARMDRIVE, Kenya)

Lovin Kobusingye

(Kati Fish Farms, Uganda)

Costanzo Garello

(GM Dizinegoff Ghana)

Kimani Muturi

(ABP LTD)

Isolina Boto

(Manager of CTA)

Patrice Sewade

(SOJAGNON, Benin)
Youth perspective to agribusiness development
Panel: 

Jonathan Tamale

(Youth member of NUCAFE, Uganda)

Evelyne Olowale

(IITA)

Deus Nuwagaba

(Entrepreneurship Services Manager)

Nawsheen Hosenally

(AgriBusiness TV)

Onesimus Matsiko

(General Manager)

Sohkna Gaye Rohkana

(Youth Senegal)

Loukouman ou Banani Abdou

(Moringa 2.0. project) 

Fredrick Mbuya

 (CEO and Founder of Uhurulabs, Tanzania)

Marie Joseph Medzeme Engama

(PROPAC, Cameroun)

Alex Ndayishime

(Youth Rwanda)
Innovative financing for agribusinesses: Leveraging public and private sector finance
Lead Discussant: 

Edison Rurangwa Mpyisi

(AfDB ENABLE)

Monsy Mathews

(Vsoft)
Panel: 

Peris Bosire

(FarmDrive)

Anna Samaké

(Lundin Foundation)

Godfrey Mwindaare

(ACUMEN)

Hans Balyamujura

(finance expert, South Africa)

Jonathan Welbeck

(Bank of Ghana)

Alafari Bonkani

(Yabe Production, Niger)

Joost W. Van Odijk

(Grow Africa)

Gerald Otim

 (Ensibuuko, Uganda)
Related
: 
8th –9th October 2016
: The
4th PAFO Continental Briefing
will focus on realizing the potential of smart farming and youth entrepreneurship for African agribusiness. 
See Paepard blogpost
Related: 6 October 2016. AAIN African Agribusiness Incubation Fund: Supporting Emerging Business Ideas and Solutions.
The African Agribusiness Incubators Network (AAIN) is seeking business ideas and solutions from organizations and individuals focused on innovative Agribusiness Incubation. The aim is to help support solutions or start small scale agribusiness incubators along different value chains. See Funding Information. The investment for the programme ranges from 5,000 – 50,000 USD.
All applicants were required to submit the downloadable application by 30 the of June 2016.
The Benin Agribusiness Incubation Hub
(BAIH-Sarl), was
selected first
of the ten best proposals from the Continent.