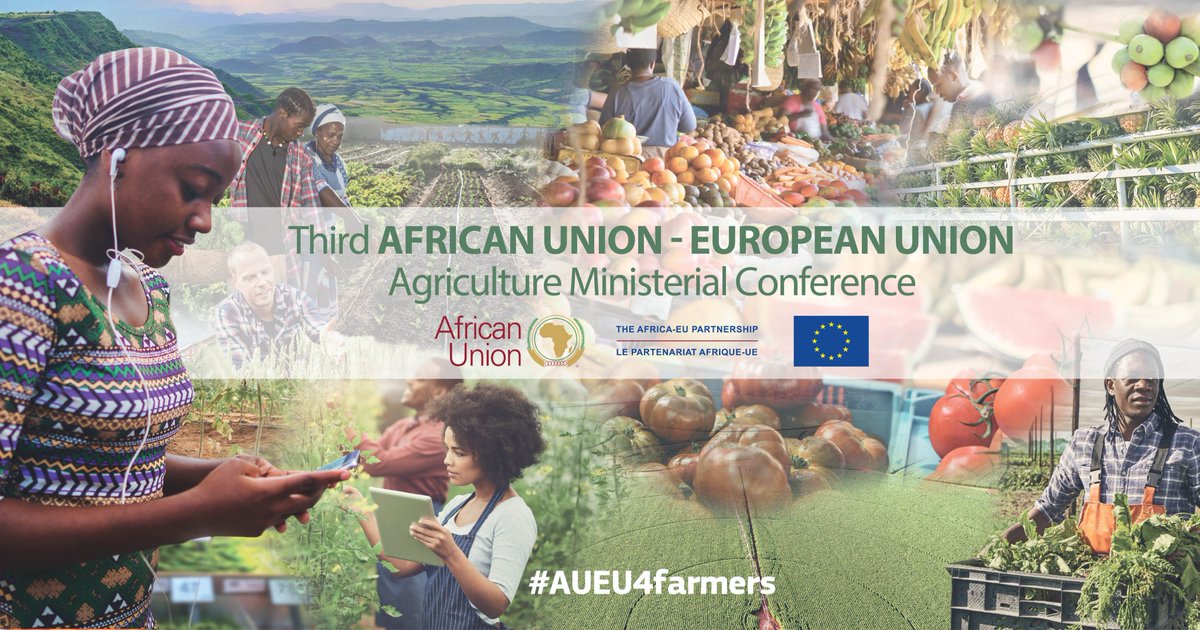 Building on the results of the successful previous conference in 2017, around 450 invited high-level representatives and stakeholders from Africa and Europe debated on how to further unlock the potential for a positive rural transformation and an inclusive and sustainable agriculture and agri-food sector in Africa.
AU Commissioner for Agriculture and rural economy,

Ms Josefa Sacko

 
EU Commissioner for Agriculture and rural development,

Mr Phil Hogan

 
the Minister of Agriculture and Land Reclamation of Egypt Professor

Dr. Ezz el-Din Abu-Steit

"We are not only trading partners, we are neighbours and partners. Our cooperation in foodsafety is extremely important for the benefit of all the citizens."

Australia Agriculture Minister

Bridget McKenzie

 
European Food Safety Authority (EFSA) Executive Director

Bernhard Url
The the action agenda, endorsed by all Member States includes concrete actions involving cooperation between the two continents in different areas, such as:
Farmers' organisations: launch of a multiannual cooperation programme with African continental, regional and national farmer organisations. The programme will focus on farmers' integration into value chains while strengthening capacities of farmer organisations to influence policies and business environments. It will also contribute to the strengthening of farmer organisations themselves through better governance, accountability and service delivery.
Food safety: The aim is to strengthen food safety governance in Africa and establishing adequate governance structures. This is being implemented mainly through discussions on the support to the implementation and operationalisation of the African Continental Free Trade Area (AfCFTA) for Sanitary and Phytosanitary (SPS) Measures.

Research and innovation:

Three new contracts were signed to boost research and innovation under the Development Smart Innovation through Research in Agriculture (DeSIRA) Initiative:
Geographical Indications (GI): The EU to provide support, through the Pan-African programme, to the implementation of the AU Geographical Indication Continental strategy as an instrument for rural development especially for small farm holders. It will more specifically launch an Africa GI training programme and an Africa GI web platform, i.e. a database collecting all African GIs; and will provide support to concrete GI pilot projects.
Salma Seetaroo
The structural constraints to investment in African Agriculture,

Baudouin Michel,

member of the Task Force for Rural Africa 
What works and what doesn't? Experience with Rabobank,

Ms. Suzanne Van Tilburg

, Global Head Corporate Relations 
What can Farmers Organisations contribute?

Elizabeth Nsimadala

, EAFF 
What works and what doesn't? Experience with ABC Fund,

Jerry Parkes

, director Injaro (Fund Manager in association with BAMBOO Capital Management for the ABC Fund) 
The AgriFI concept of smallholder investment –

Dimitri Van Raemdonk

EDFI MC
A true story: How AgriFI is helping my company –

Masha Kola

, Nigerian entrepreneur (Babban Gona).

Cashew nuts – constraints and opportunities for the private sector in a specific market in West  Africa –

Salma Seetaroo-Bonnafoux

from Ivory Coast (CEO Ivoirienne Noix de Cajou)
A former investment banker and lawyer, Ms. Seetaroo combines restructuring, M and A and debt raising skills with hands-on execution on the African continent as well as private and public company expertise. She is currently a non-executive director of Algold Resources Inc, a Canadian listed gold company, and a member of Cass Business School's Global Advisory Board. Ms Seetaroo initially trained as a lawyer at Norton Rose and holds an executive MBA from Cass Business School. 
The European Commission representative gave example of one of the new initiatives in support of the Africa-Europe cooperation: Pan Africa Network on Agri-Food Policies analysis (PANAP). The session was closed with signature ceremony between the European Commission and AWARD and the AGROPOLIS foundation (' One Planet Fellowships' programme); IFAD (continental, regional research and extension organisations in support ot CAADP) and the FAO (Support to Tropical Agriculture Platform).
A support programme for the Comprehensive Africa Agriculture Development Programme (CAADP) ex-pillar IV African research organisations (FARA, AFAAS, ASARECA, CCARDESA and CORAF), to be signed with IFAD, aimed at transforming agriculture and food systems and influencing policy-making (€30 million EU contribution).
Support for the Tropical Agriculture Platform (TAP), to be signed with the FAO, to implement the TAP Action Plan (€5 million EU contribution).
The One Planet Summit Fellowship Programme, to be signed with Agropolis Foundation (other partners: the Bill and Melinda Gates and BNP Paribas foundations), for African and European scientists working on the challenges of adapting African agriculture to climate change (€3 million EU contribution).
Daniel Nahon,

Centre Européen de Recherche et d'Enseignement des Géosciences de l'Environnement 

Yemi Akinbamijo

, Forum for Agricultural Research in Africa 

Florence Nakayiwa,

Regional Universities Forum for Capacity Building in Agriculture (RUFORUM) 

Wanjiru Kamau-Rutenberg

, Director, African Women in Agricultural Research and Development (AWARD) 

Giovanni de Santi,

European Commission, Director, Joint Research Centre
The thematic session present an overview of the state of digitalisation in agriculture in Africa, highlighted challenges and opportunities, and drew implications for the enabling policy and investment environment. The session identified the areas in which further investment in digitalisation can accelerate progress towards increasing smallholder productivity, profitability and resilience. 
Moderator –

Isolina Boto

, Technical Centre for Agricultural and Rural Co-operation (CTA) Speakers and Panellists 

H.E. Noel Koutera Bataka,

Minister of Agriculture, Togo 

H.E. Luis Planes Puchades

, Minister for Agriculture, Fisheries and Food, Spain 

Michael Hailu

, Director, Technical Centre for Agricultural and Rural Co-operation (CTA)

Michael Tsan

, Dalberg Advisors 

Joseph Mucheru,

Cabinet Secretary, Ministry of ICTs, Kenya 

Fatma Ben Rejeb

, CEO, Pan-African Farmers' Organisation 

Engel Friederike Hessel,

 (see picture) Head of Digital Innovation Division, German Federal Ministry of Food and Agriculture and Director of the Thünen Institute of Agricultural Technology 

Stewart Collis,

Senior Programme Officer for Digital Solutions, Bill and Melinda Gates Foundation 

Bernard Joffe

, (see picture) CEO, Jangolo, Cameroun
Although the EU is at the forefront of promoting agricultural development in Africa, and many partner countries have chosen agriculture and food security to be among the first priorities of their development programmes, strengthening SPS is not so prominent on this priority list. Notwithstanding the multiple SPS capacity building programs and the various SPS capacity evaluation studies carried out by FAO, the World Animal Health Organisation and the International Plant Protection Convention, huge needs remain to overcome trading partners' import requirements. Institutional weaknesses and compliance costs are amongst the root causes. Moreover, recent studies indicate that the domestic spill-over effects of SPS capacity building on local safe food supplies are minimal. 
Vytenis Andriukaitis

, EU Commissioner DG Health and Food Safety 'European Union SPS

policy and food safety in the EU single market' 

H.E. Prof. Dr. Ezz El-Din Abu Steit,

Minister of Agriculture and Land Reclamation, Arab Republic of Egypt 'Proposed Action Plan for Promoting and Strengthening SPS Standards in Africa'

Panel Moderator,

Matthew Hudson

, European Commission, DG Health and Food Safety 

Lucy Muchoki,

Pan African Agribusiness and Agroindustry Consortium, PAnAAC

Marlynne Hopper

,  (see picture) Standards and Trade Development Facility, WTO-STDF 

Godfrey Bahiigwa

, African Union Commission, Department of Rural Economy and Agriculture, AUC-DREA 

Bernhard Url,

European Food Safety Authority, EFSA 

Jeremy Knops,

Europe-AfricaCaribbean-Pacific Liaison Committee, COLEACP
Side event 1:
TFRA recommendations, with focus on climate action
In May 2018 the Task force rural Africa (TFRA) was created to advise the European Commission on how best to contribute to sustainable development and job creation in Africa's agri-food sector and rural economy.
On 7 March 2019, this task force presented its report with recommendations, grouped along four strategic areas for action
– a territorial approach for income and job creation
– sustainable land and natural resources management, and climate action
– sustainable transformation of African agriculture
– development of the African food industry and food markets
Key Note Speaker:

Tom Arnold,

TFRA Chair 
Short presentation of the Results Online Consultation on the TFRA Report (by DG Agri) 
Comments on the TFRA 'climate action' recommendations:

Rebecca Carter,

 (see picture) Deputy Director of the Climate Resilience Practice, World Resources Institute; 
Debate with AU and EU Ministers 
EU Commissioner

Hogan

closed the event with his comments and way forward
The side event on Continental Strategy for Geographical Indications in Africa: launching of activities will present the strategy, its action plan and will launch the implementation of the three core actions.
a training plan for GIs in Africa, 
a web platform for the dissemination of updated information on GIs in Africa, 
pilot GIs projects in Africa.
Perspective from the African Union

Godfrey Bahiigwa

,(see picture)Director, Department of Rural Economy and Agriculture, African Union Commission 
Perspective from the European Union

John Clarke

, Director of International bilateral relations, Directorate general for agriculture and rural development, European Commission 
Presentation of Producer's experience

Maimouna Sambou

, Présidente de Casa Ecologie, Casamance, Senegal 
Perspectives from the Intellectual Property Organizations

Denis Loukou Bohoussou,

Director General, Organisation Africaine de la Propriété Intellectuelle (OAPI)

Pierre Runiga

, Head of Policy, Legal and International Cooperation, African Regional Intellectual property Organization (ARIPO) Experience from Mozambique

Higino Francisco de Marrule

, Minister of Agriculture and Food Security of Mozambique 
Experience from Benin

Gaston Cossi DOSSOUHOUI

, Ministre de l'agriculture, de l'élevage et de la pêche du Benin 
Side event 3:
Africa Food Safety Agency
The AFSA will be established building on AU Commission's previous and ongoing food safety work. The Commission's commitment to prioritizing food safety was highlighted when it initiated and successfully convened the First AU/FAO/WHO International Food Safety Conference which took place on 12-13 February 2019 at the AU Conference Centre in Addis Ababa, Ethiopia with the aim of prioritizing food safety globally in order to effectively deal with food safety challenges at all levels, national and continental level. The AU Commission also launched a project on the Africa Food Safety Index (AFSI).
Dr. Godfrey Bahiigwa

, Director, Rural Economy and Agriculture, AUC 
EU Experience in Food Safety

Dr. Matthew Hudson

, Director, DG Health and Food Safety, European Commission Panel Discussion: 

Prof. Dr. Ezzaldin Abustein

, Minister of Agriculture, Egypt 

Hon. Gaston Dossouhoui,

Ministre de l'Agriculture, de l'Elevage et dela Pȇche, Bénin 

Hon. Owusu Afriyie Akoto

, Minister of Food and Agriculture, Ghana 

Hon. Koutéra Bataka,

Ministre de l'Agriculture, de la Production Animale et Halieutique, Togo
Side-Event organized by PAFO, AgriCord and the Ifad
Moderator,

Dr Hamady Diop

, Head of the Natural Resources, Governance, Food Security and Nutrition Program, NEPAD Agency 
Conditions and type of credit for the financing of agricultural activities by

Ibrahima Coulibaly,

President of ROPPA
What incentives can be set up in order to finance the investments structuring family farms and their economic organizations? by

Salifou OUEDRAOGO,

Minister of Agriculture and HydroAgricultural Development of Burkina Faso 
Which Public-Private partnerships (PO, Cooperatives) to access financing, perspective of European farmers by

Marianne Streel

, President of the Walloon Federation of Agriculture (FWA) and representative of AGRICORD 
What mechanisms and masteries in the hands of stakeholders to finance useful innovations?by

Jean-Philippe Audinet,

Senior Technical Specialist of Producer Organizations and Rural Development at IFAD 
Role and responsibility of PAOs and their structures in the effectiveness of Maputo's commitments in relation to the financing of rural development by

Mohamed Mansouri

, Director of the FAO Investment Center 
This panel shared lessons from businesses, donors, financial institutions and farmers' organizations to learn from each other's gender smart agri-development approaches and support to small- and mediumscale agri-businesses. 
Amir Abdulla

, Deputy Executive Director of the World Food Programme 

Noel Bataka,

Minister, Ministry of Agriculture Togo 

Rahel Moges,

 (see picture) Managing Director, EthioGreen Production and Industry Plc
Rahel Moges and her company Ethio-Green LLC, represents a great example of how smart investments coupled with a good diversification strategy can turn a traditionally home-made product like Injera into a booming international business. With the support of the Ethiopia Climate Innovation Center (ECIC), Rahel has invested in an innovative solar–powered drying system that allowed her company to export Injera all over the world without compromising its characteristic taste. Now, by tapping into the vibrant Ethiopian diaspora, the company is expanding its presence on several international markets, including the US. She co-founded Ethio-Green LLC back in 2008 in Washington DC with her business partner Woineshet Yirga-Keefe. We wanted to import fresh Injera – the traditional Ethiopian bread – to the Washington DC metropolitan area. Ethio-Green was one of the first companies to import fresh injera to the US.

Carla Montesi

, Director Planet and Prosperity, Directorate General International Cooperation, European Union 

Nicole Wendyam Ouedraogo

, President, Asy Cooperative, Burkina Faso 

Thouraya Triki,

Director, Sustainable Production, Markets and Institutions Division, IFAD
Moderator:

Annie Mutamba

, Co-founder of Meridia Partners and Africa Communications Week
The past decades has witnessed state-led mechanization efforts throughout the continent, which often failed due to challenges such as the lack to spare part, the lack of adapted machinery and training. Mechanization needs therefore to be linked with adequate education. It is also necessary to analyse what kind of machinery and what kind of business models (such as cooperation, syndicates, leasing models etc.) make sense. This side event discussed those challenges and also raised the issue if mechanization is labour replacing or enhancing. When looking at these challenges it becomes clear, that the agribusiness sector also has to work closely with the finance sector in order to find solutions for specific needs: the access to mechanization can be facilitated through various financing models such as combined credits for sellers and buyers, micro-credits or joint financing through a community. 
Frank Nordmann

, Co-Chair German Agribusiness Alliance, Member of the Board Afrika-

Verein, General Sales Manager Africa, Southeast Asia, Oceania, GRIMME Landmaschinenfabrik GmbH & Co. KG 

MinDirg. Friedrich Wacker (see picture) Head of the Directorate "International Cooperation and World Food Affairs" Federal Ministry for Food and Agriculture (BMEL) 

Dr Benjamin Kwasi Addom

Team Leader ICT for Agriculture CTA 

Dr Theo de Jager

President World Farmers Organisation  Representative African Development Bank (tbc) 
Moderator:

Anna Sophia Rainer,

Manager German Agribusiness Alliance, German-African Business Association