24 – 26 October 2018. Johannesburg, South Africa. "4 PER 1000″Africasymposium on soils for food security and climate was organised by the NEPAD Planning and Coordination Agency and Regeneration International.
#4per1000
NEPAD is the implementing agency of the African Union, aiming at eradicating poverty and fostering Africa's sustainable growth and development through the promotion of regional and continental integration. It facilitates and coordinates the development of NEPAD continent-wide programs and projects, mobilises resources and engages the global community, regional economic communities and member states in the implementation of these programs and projects. Under the area of work "Natural Resources Governance and Food Security", four programs are being coordinated by NEPAD:
Comprehensive Africa Agriculture Development Programme (CAADP)
African Forest Landscape Restoration Initiative (AFR100)
Climate Smart Agriculture (CSA)
Sahel and West Africa Program in Support of the Great Green Wall Initiative (GGWI)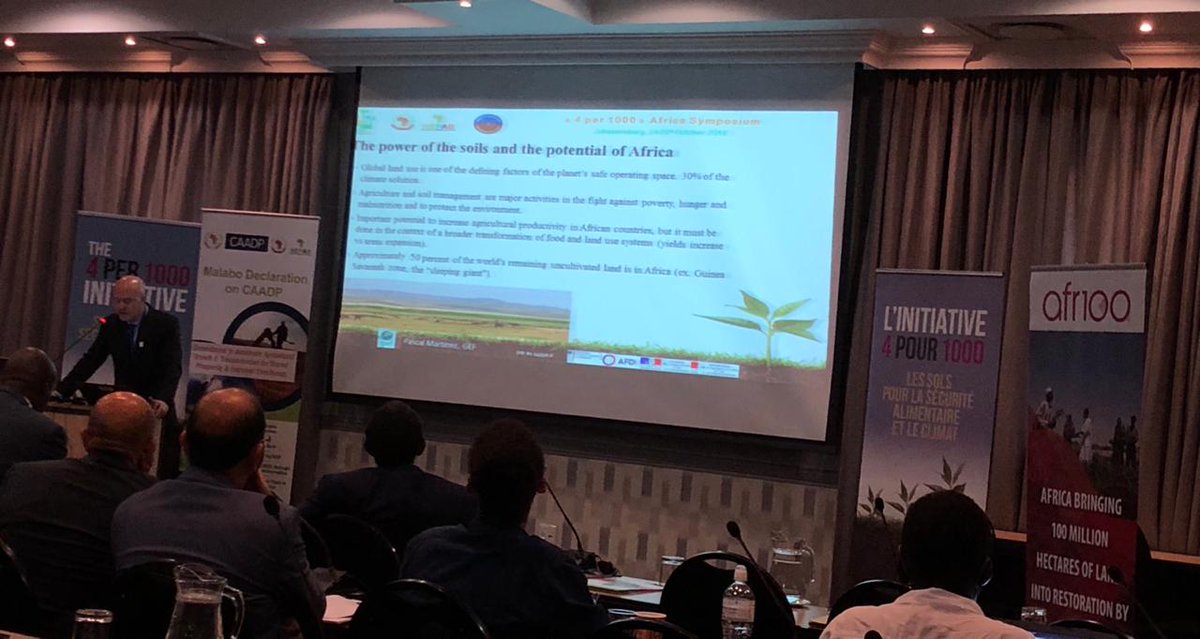 These four programs deal directly with the target topics of the 4 per 1000 initiative, namely climate change and food security. A key objective of the symposium was to bring together relevant stakeholders active in these three programs to explore and introduce synergies between them and the 4 per 1000 initiative.
SESSION 1 – AFRICAN AND GLOBAL CONTEXT
Climate change from an African and global perspective – challenges and opportunities – Mr. Pascal Martinez (see picture), the GEF
What are the existing Instruments to address those issues and Challenges in Africa – General presentation of the Initiatives: CAADP, AFR100, CSA, GGW – Mr. Martin Bwalya  (see picture), Mr. Amb Amadou Diallo,

Mr. Augustin Wambo Yamdjeu,

NEPAD 
Overview of Africa's potential as part of the global solution and success stories on the ground –

Mr. Andre Leu

, Regeneration International
Case Study: Soil programs in South Africa and the importance of data and information systems – 

Mr. Ramakgwale Klaas Mampholo,

DAFF
Case study: Multi-country-program Soil Protection and soil Rehabilitation for Food Security (

Mr. Alexander Erlewein

, GIZ 
Case Africa Centre for Holistic Management – experiences from Kenya, Zimbabwe and South Africa – 

Mr. Simon Garikayi

, Africa Centre for Holistic Management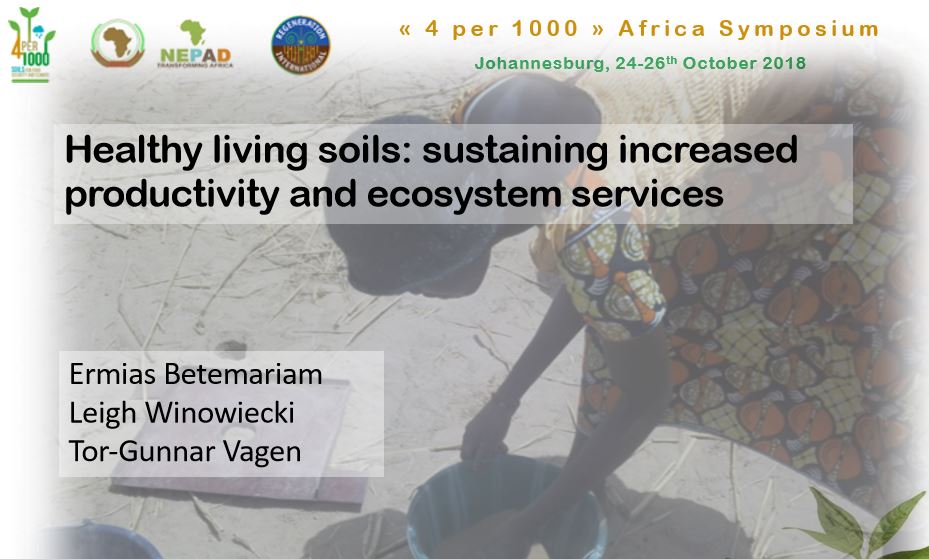 THE FOUR PILLARS: I. HEALTHY LIVING SOILS, II. FOOD SECURITY, III. ADAPTATION TO CLIMATE CHANGE, IV. CONTRIBUTION TO GLOBAL MITIGATION 
The importance of healthy living soils in sustaining increased productivity and ecosystem services – 

Mr. Ermias Betemariam 

(see picture) and Leigh Winowiecki (see picture) , UNCCD-SPI/ICRAF/WLE
Success story from Ethiopia – Conservation-Based Agricultural Development-Led Industrialization –

Mr. Atinkut Mezgebu Wubneh

, Government of National State of Tigray
Food Security – concepts, dimensions and strategies –

Mr. Jean-Luc Chotte,

IRD France
Achievements in food security on the ground –

Mr. Rolf Shenton

, Grassroots Trust Zambia
Adapting agriculture to climate change in Africa – the answers from science –

Mr. Rachid Moussadek,

INRA Morocco

Agricultural communities adapting to climate change –

Ms. Ntombizakhe (Zakhe) Mpofu Mlilo

, ORAP Zenzele South Africa
Agricultural greenhouse gas emissions and removals – potentials and contribution to global climate change mitigation – 

Mr. John Recha

, CGIAR-CCAFS/ILRI
SA-EU dialogue on soil information
22 to 23 October 2018, Agricultural Research Council, Pretoria, South Africa
Southern Africa regional hub from CIRCASA
23 October 2018, Birchwood Hotel
Background 4/1000 Initiative
The 4 per 1000 initiative was launched in 2015 at the UNFCCC COP21 as part of the Lima-Paris Plan of action and the follow-up Global Climate Action Plan adopted at the COP22.
The overarching goal of this initiative is to assist contributing countries and non-state organisations to develop evidence-based projects, actions and programs to promote and encourage actions towards reducing greenhouse gas emissions through protecting and increasing the amount of soil carbon. 
The target rate of a "4 per 1000" (0.4%) per year represents hereby an aspirational goal. 
The initiative aims to avoid loss of organic matter from soils and improve soil carbon sequestration with the ultimate goal of improving food security and reducing climate change.