7 – 9 June 2021. African Youth Dialogue; Pre-UN Food Systems Summit 
Agenda
Concept Note
This dialogue was convened by the Young Professionals for Agricultural Development (YPARD Africa), CAADP Youth Network, and The African Youth Initiative on Climate Change (AYICC) supported by Policy Link and SEI – Stockholm Environment Institute.
Among other objectives, this dialogue mobilized African #YouthInAg networks to speak with one voice as they make input to the UNFSS to facilitate the inclusion of youth in agribusiness in National Agricultural Development Strategies on the continent. The dialogue:
established a roadmap for meaningful youth engagement with national governments and relevant stakeholders beyond the food systems summit.
produced an Africa Youth in Agribusiness and Climate Change Position Paper /Advocacy
Framework on "The Pro-Youth Africa Food Systems We Want"
Day 1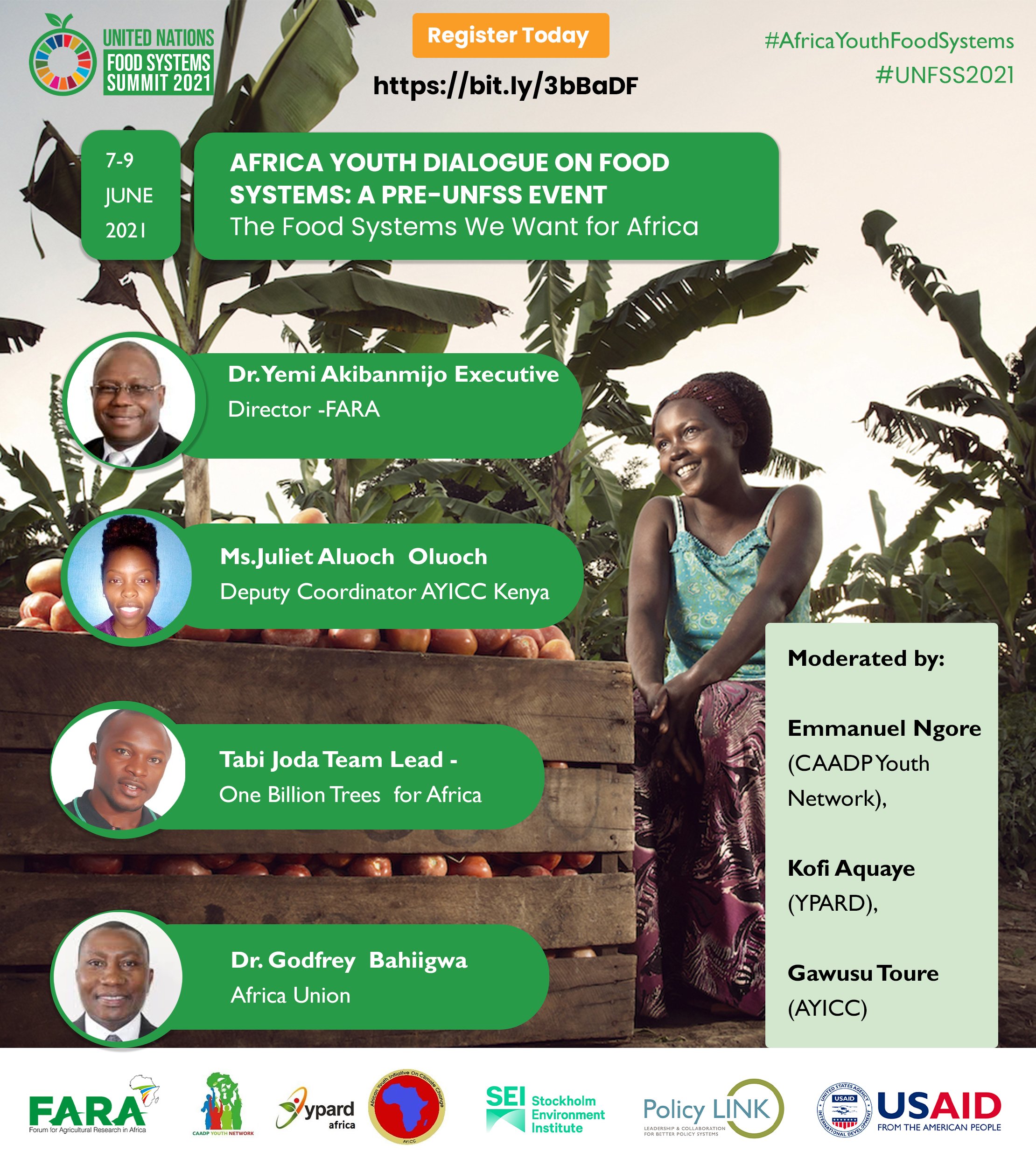 African Youth discussed their role and impact in ensuring sustainable food systems and the need to collaborate with other stakeholders to build a more resilient Food Systems in Africa that can support
not only Africa but also the rest of the world.
The key questions of discussion at the opening session focused on the 5 UN Food Systems Summit Action Tracks namely.

Ensure access to safe and nutritious food for all
Shift to sustainable consumption patterns
Boost nature-positive production
Advance equitable livelihoods
Build resilience to vulnerabilities, shocks and stress
The key questions were:
What should development partners commit to do to ensure/ support to African Youth in their quest to contribute to the achievement of the goals of the next 10yrs Decade of Action for Ecosystems Restoration?
What would you advise African Governments and other stakeholders to change to achieve the decade of ecosystems restoration – with regard to supporting African Youth in Agribusiness and Climate change Organizations?
Panelists:
Dr. Yemi Akibanmijo

(Executive Director FARA),

Ms.Juliet Aluoch Oluoch

(Deputy Coordinator AYICC Kenya),

Tabi Joda

(Team Lead – One Billion Trees for Africa),

Dr. Godfrey Bahiigwa

(Africa Union)
Session Moderator:

Emmanuel Ngore

(CAADP Youth Network)
Day 2: Breakout Sessions 
Breakout Sessions discussed the summary of a Review Paper whose development emerged from a consultative Pre-Dialogue online survey and literature review. The breakout sessions were led by Youth networks (CYN, AYICC and YPARD) and involved up close engagements with participants. 
Yunike Phiri

– Action Track 1

Mavis Nduchwa

– Action Track 2

Emmanuel Ngore

– Action Track 3

Gawusu Toure

– Action Track 4

Rehema Maria

– Action Track 5
Day 3: Closing Plenary
This session will clearly outline what African Youth expect from their leaders and the rest of the world especially in terms of engagement beyond the food systems summit. Additionally, this session will establish a mechanism for ensuring all African Youth in Agribusiness, Ecosystems Management, Landscapes and Climate Change realize the need to work closely together and speak with one voice going forward.
Presentation of Position Paper (Emmanuel Ngore, CAADP Youth Network)
Closing Panel Discussion – Insights and the next steps.
Dr. Yemi Akibanmijo

(Executive Director FARA),

Robert Ouma

(Policy Link),

Philip Osano

(SEI),

Dr. Godfrey Bahiigwa

(Africa Union)
Closing remarks by by

Ann Vaughn

, Senior Advisor for Climate Change, Bureau of Resilience and Food Security, U.S. Agency for International Development (USAID).
Moderator:

Gawusu Toure

(AYICC)