8-11 September 2020. AGRF Virtual Summit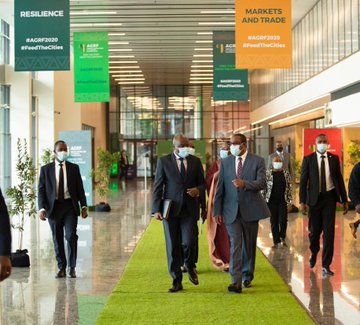 In light of the COVID-19 pandemic, the Tenth Annual Summit of the African Green Revolution Forum (AGRF), which brings together over thousands of delegates from governments, the civil society, the private sector, research community and development partners will be held virtually from 8-11 September 2020 and will be co-hosted by the Government of Rwanda and the AGRF Partners Group.
9 September 2020. (selection) THEME OF THE DAY: NUTRITIOUS FOOD
This session examined policies, technologies, and investments that are needed to make food systems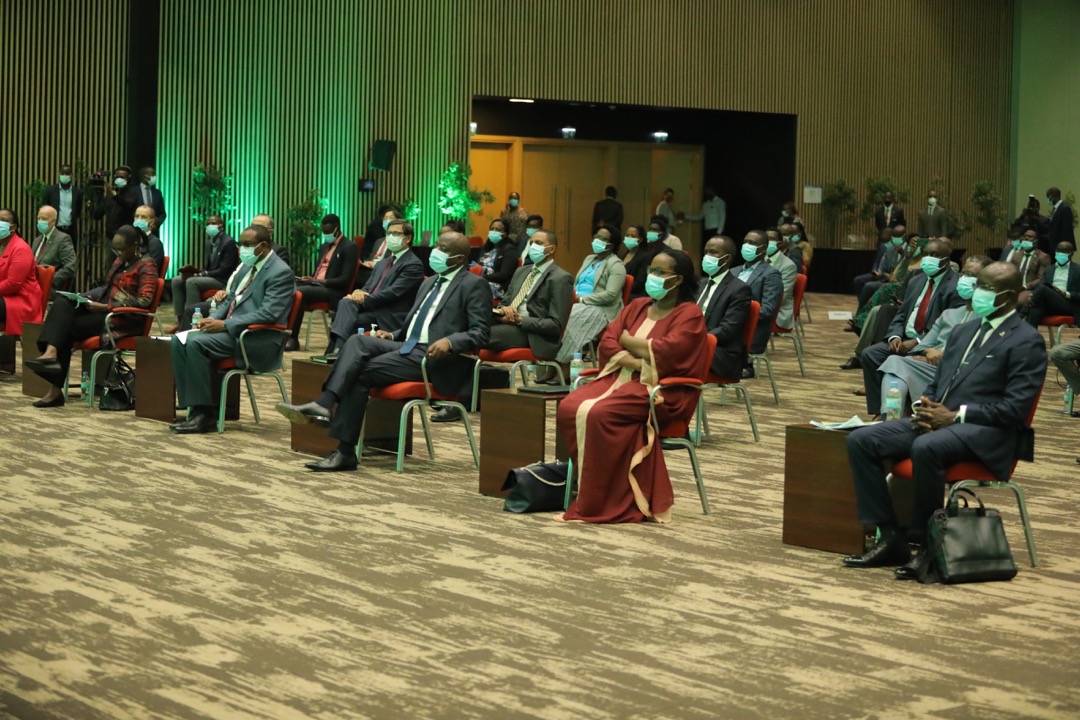 supply chains more responsive, reliable, and resilient for urban populations in Africa. The merits of local, regional, or global supply options were interrogated and amplified and mechanisms for connecting smallholder producers with urban consumers will bewere defined. Technological and product innovation can further improve the nutritional content of foods and increase access to more-nutritious foods among urban populations. See the recording here
Ms. Yewande Kazeem,

Moderator, reator, Wandieville Media

Mr. Nnaemeka C. Ikegwuonu

CEO, Coldhubs (Yara Prize Winner, 2013)

Dr. Julie Howard

Board member, World Vegetable Center

Dr. Leonard Mizzi

DG International Cooperation and Development, EU Commission

Ms. Angel Adelaja

Founder, Fresh Direct

Mr. Joost Oorthuizen

CEO, IDH

Ms. Robin Miller

Partner and Global Digital & Data Practice Lead, Dalberg Advisors

Mr. Cyril Khamsi

CEO, Kumwe Freight

Ms. Toyin Onigbanjo

CEO, August Secrets
Sustainable Productivity: Maintaining Technology and Input Delivery Systems
Rural retail agro-dealers and their suppliers face many challenges when selling and distributing agricultural inputs to smallholder farmers, including high transaction costs, stock-outs, and working capital constraints, and pressing needs such as acidic soils and major pest outbreaks.
Dr. Usha Zehr

Director and Chief Technology Officer, MAHYCO 

Dr. Yemi Akinbamijo

Executive Director, Forum for Agricultural Research in Africa 

Ms. Dinnah Kapiza

Founder and CEO, Tisaiwale Trading 

Ms. Faith Mulwa

Chief Financial Officer, Agri-Wallet Dr. George Bigirwa Deputy Vice President Program Innovations and Delivery – Technical, AGRA 

Dr. Joseph DeVries

President, Seed Systems Group 

Mr. Jason Scarpone

President and CEO, The African Fertilizer and Agribusiness Partnership (AFAP) Bio Mr. Øystein Botillen Stakeholder Relations and Business Development Manager, YARA 

Ms. Jihane Ajijti

Head of Business Development & Digital, OCP Africa Bio
Africa's farmers are a vibrant community. Mixed or specialized; local or global; urban or rural – food producers discuss the paths that drive their sustainability. This panel discussed how to survive recent challenges and increase resilience.
Mr. Daniel Gad

Owner and General Manager, Omega Farms Bio 

Ms. Onyaole Patience Koku

CEO, Replenish Farms 

Mr. Motlatsi Musi

Family Farmer, Global Farmer Network 

Dr. Dick Kamuganga

President, The Uganda National Farmers Federation 

Ms. Hellen Akinyi Onyango

Crop Aggregator, Farm to Market Alliance 

Mr. King David Amoah

President, Ghana Federation of Agricultural Producers (GFAP)/ Farmers Organizations Network of Ghana 

Dr. Fadel Ndiame

Deputy President, AGRA Dr. Theo de Jager President, World Farmers' Organisation (WFO) 

Mr. Joe Mzinga

Coordinator of ESAFF 

Dr. Agnes Kalibata

President, AGRA and Special Envoy of the UN Secretary-General for the 2021 Food Systems Summit 

Mr. Ishmael Sunga

CEO, Southern African Confederation of Agricultural Unions (SACAU) 

Nelly Mukangwije IIGC (Inspire Igiceri Gasabo Cooperative) Women cooperative 

Mr. Pascal Mugabarigira

Twitezimbere Muhinzi Mworozi Kinyinya
Building Back Better – Growing the Continent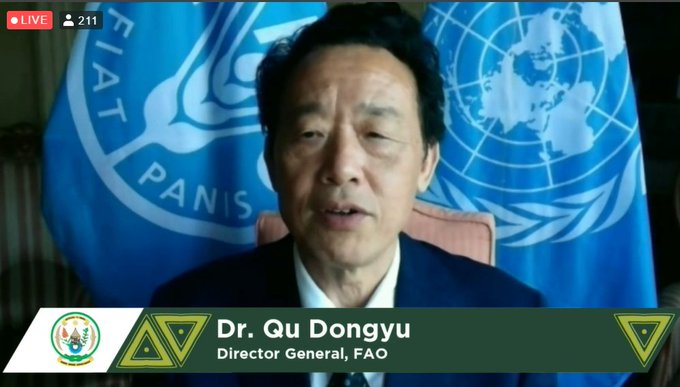 Create demand for African products that fuel diverse, healthy diets with the safety and quality every consumer needs. This Policy Symposium discussed the UN The State of Food Security and Nutrition in the World 2020 (SOFI 2020)
Hon. Dr. Gérardine Mukeshimana

Minister of Agriculture and Animal Resources, Rwanda 

Mr. Simeon Ehui

Regional Director for Sustainable Development for Africa, World Bank 

Dr. Jemimah Njuki

Senior Program Specialist, IDRC 

Dr. Qu Dongyu

Director-General, FAO 

Mr. Rodger Voorhies

President, Global Growth and Opportunity, BMGF 

Ms. Wambui Gichuri

Acting VP for Agriculture Human and Social Development, AfDB 
Growing Africa's Food – African Leaders Unpack Nutrition Indicators
Practitioners showcased how we can create demand for African products that fuel diverse, healthy diets with the safety and quality every consumer needs.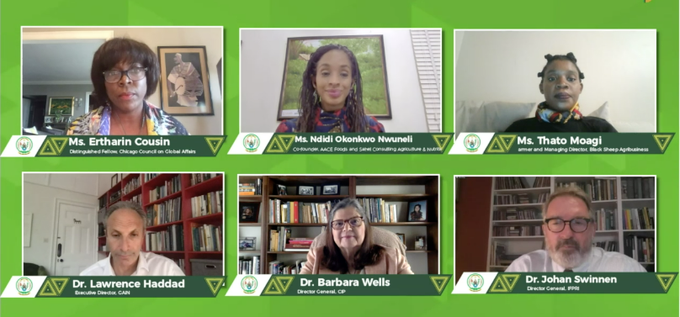 African food and African food products generate agriculture-driven economic growth in Africa that develops urban food markets, fosters urban-rural linkages, and contributes to reducing poverty and hunger in Africa. It also celebrates the rich food culture across the continent.
Dr. Johan Swinnen

Director General, IFPRI 

Ms. Ertharin Cousin

Distinguished Fellow, Chicago Council on Global Affairs 

Dr. Lawrence Haddad

Executive Director, GAIN 

Ms. Ndidi Okonkwo Nwuneli

Co-founder, AACE Foods & and Sahel Consulting Agriculture and Nutrition 

Ms. Thato Moagi-Mugonda

Farmer and Managing Director, Black Sheep Agribusiness Bio
AfDB, IFAD, USAID, SACAU, MCF, Syngenta Foundation, Syngenta, FAO, Wasafiri, CTA, Corteva.
Generation Africa as a platform together with like-minded institutions are supporting collaboration to improve the ecosystem for agripreneurship. Three consistent members of the year-round Generation Africa Members working Group, discussed an action plan on how to serve young agripreneurs' needs better, noting opportunities to collaborate on finance, education, business support, policy reform and advocacy.
Dr. Simon Winter

Executive Director Syngenta Foundation for Sustainable Agriculture 

Ms. Sharon Cromer

Mission Director, Ghana, USAID 

Dr. Kanayo Nwanze

CEO, FAYODE, Nigeria (Africa Food Prize Laureate, 2016) 

Ms. Evelyn Ohanwusi

ENABLE TAAT Youth Coordinator, IITA 

Mr. Dana Bolden

Chief Communications Officer, Corteva Agriscience 

Ms. Bonolo Monthe

Managing Director, Maungo Craft 

Ms. Anne Maria Makhulo

Chief of International Cooperation