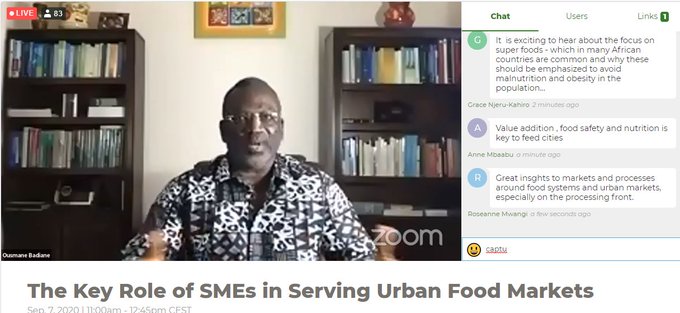 7 September 2020. This panel discussed new opportunities for the agri-food sector and the value chain actors offered by rapid urbanization, population growth, regional integration processes and free trade agreements in the continent. 
See bio of the speakers

Private sector companies and Small and Medium Enterprises (SMEs) are the drivers of economic growth in Africa. SMEs source directly from millions of farmers across the continent and operate along the value chain providing multiple services (processing, transport, packaging, transport…). They employ millions of people, including women. 
This panel shared various experiences and successes from policy, research, finance and private sector experts. 
It focused on the investments and changes needed to strengthen quality and safety in the food reaching urban centers. 
It showcased innovative solutions in key areas of the value chain, including finance, technology and knowledge.
Speakers
Jane Maina

– Managing Director, Vert Ltd Kenya

Ayodeji Ibosiola

– General Manager, L.A.T.C Agro, Nigeria

Elizabeth Nsimadala

– President, Panafrican Farmer's Organisation (PAFO)

Jeremy Knops

– General Delegate, COLEACP

Dr. Leonard Mizzi

– Head of Unit, European Commission, Directorate-General (DG) for International Cooperation and Development – Rural Development, Food Security and Nutrition,

Marco Wopereis

– Director General, World Vegetable Centre

Soléne Prince-Agbodjan

– Credit Portfolio Manager, Agri Business Capital (ABC) Fund

Dr. Ousmane Badiane

– Executive Chairperson, AKADEMIYA