8-11 September 2020. AGRF Virtual Summit
In light of the COVID-19 pandemic, the Tenth Annual Summit of the African Green Revolution Forum (AGRF), which brings together over thousands of delegates from governments, the civil society, the private sector, research community and development partners will be held virtually from 8-11 September 2020 and will be co-hosted by the Government of Rwanda and the AGRF Partners Group.
10 September 2020. 
(selection
) 
THEME OF THE DAY: Markets and Trade
Innovative Financial Solutions for Africa's Agribusiness Sector
This session explored how innovative development finance solutions can help Agribusiness enterprises grow, scale and reach their full potential to transform and support livelihoods.
Dr. Eleni Gabre-Madhin Chief Happiness Officer, Blue Moon Ethiopia (Yara Prize Winner, 2012) 
Ms. Tanja Havemann Founder and Director, Clarmondial 
Dr. Bettina Prato Senior Coordinator, The Smallholder and Agri-SME Finance and Investment Network (SAFIN) 
Mr. Emanuele Santi Bamboo Capital, ABC Fund 
Ms. Barbara Schnell Director, Sector Policy, KfW 
Mr. Jeremy Oppenheim Founder and Managing Partner, SYSTEMIQ 
Mr. Ibrahim Magagi Gourouza Chief Operating Officer, Grow Africa 
Hon. Min. Muhammed Sabo Nanono Honorable Minister of Agriculture and Rural Development, Nigeria
This session explored ways of advancing sustainable food and nutrition security data and market information gathering through use of digital technology in crop production forecasting for decision making.
Mr. Sean de Cleene Member of the Executive Committee, The World Economic Forum 
Mr. Richard Choularton Director of Agriculture and Economic Growth, Tetra Tech 
Mr. John Bee Global Public Affairs, Nestlé  
Mr. Ziad Hamoui Executive Director of Transport and Operations at Tarzan Enterprise Ltd Bio 
Mr. Gerald Masila Executive Director, Eastern Africa Grain Council 
Mr. Pierre Vercueil President AgriSA, South African Agricultural Union 
Ms. Alice Ruhweza Regional Director, Africa, WWF / Board Member CGIAR 
Prof. Hamadi Boga Principal Secretary, State Department for Agricultural Research in the Ministry of Agriculture, Livestock, Fisheries and Irrigation, Kenya B
Ms. Joanna Ruiter Advisor Satellite Applications, Netherlands Space Office (NSO) 
Chairs: AGRA and AUC, with support from BMGF, AfDB, FAO, USAID, SACAU, DFID, CTA, Grow Africa, World Bank, Tony Blair Institute, NEPAD, ASARECA
Countries and Regional Economic Communities (REC) are advancing and implementing their policy and political commitments as well as priorities of AU CAADP goals and targets. Stepping up governments' capacity to attract agro-investments is essential for economic recovery and responsiveness to changing market dynamics, and to accelerate the rate of growth of agriculture and food-systems.
Mr. Thomas Kehoe Deputy Director Africa Agriculture – Bill & Melinda Gates Foundation 
Dr. Abebe Haile-Gabriel Assistant Director-General, Regional Representative for Africa, FAO 
Dr. Holger Kray Practice Manager for Agriculture and Food Security, World Bank 
Dr. Apollos Nwafor Vice President for Policy and State Capability, AGRA 
Mr. Ted McKinney Under Secretary of Agriculture for Trade and Foreign Agricultural Affairs, USA 
Mr. Harry Hagan Group Head, East and Central Africa and Prosperity, FCDO
The Great Debate – Food, Markets, Trade and Agriculture in the context of COVID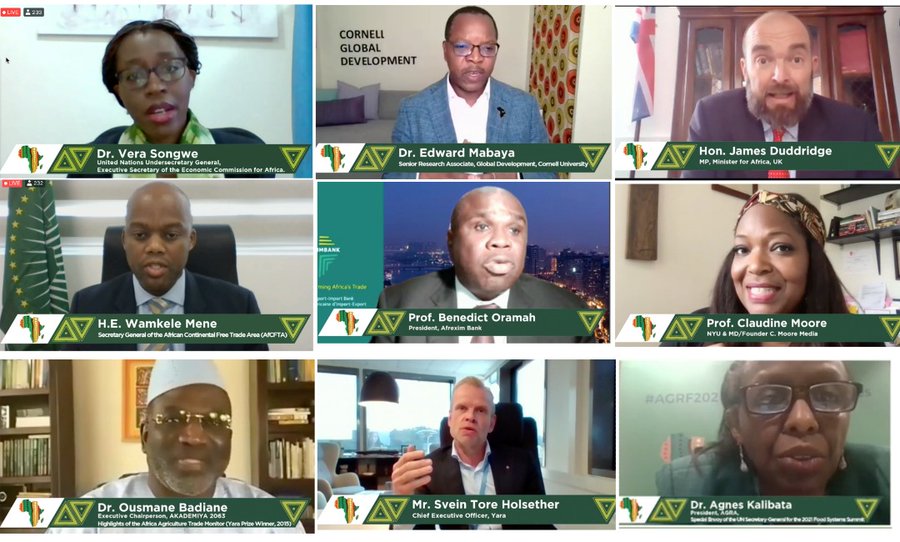 The continent has been challenged to find a path for food security in the face of COVID19. The interplay between food, markets, trade and agriculture was explored in the Great Debate among some of the leading minds on agri-food policy. Focusing on how to build back better, it focused on the most pressing policy decisions before Africa.
Dr. Ousmane Badiane Executive Chairperson, AKADEMIYA 2063 Highlights of the Africa Agriculture Trade Monitor (Yara Prize Winner, 2015) 
Prof. Benedict Oramah President, Afrexim Bank 
Mr. Svein Tore Holsether Chief Executive Officer, Yara 
Dr. Edward Mabaya Senior Research Associate, Global development, Cornell University Bio Hon. James Duddridge MP, Minister for Africa, UK 
Dr. Vera Songwe United Nations Undersecretary General and Executive Secretary Of the Economic Commission for Africa 
Prof. Claudine Moore NYU & MD/Founder C. Moore Media H 
H.E. Mr. Wamkele Mene Secretary General of the African Continental Free Trade Area Secretariat
Related:
11 September 2020
.
A survey commissioned by the Pan-African Private Sector Trade and Investment Committee (PAFTRAC)
highlighted the private sector's desire for considerable reforms to make the global trade rules system fairer and more transparent.
The analysis, done ahead of the selection of the new WTO director general, surveyed a total of 200 CEOs around issues concerning the WTO and trade in general.
It covered a number of areas which revealed a general consensus that the current rules penalise the African continent and its private sector.
12 September 2020
. Nairobi. The Economic Commission for Africa (ECA) has launched a
new COVID-19 cross-border trade report
urging governments on the continent to adopt and harmonize policies that will help continent strike an appropriate balance between curbing the spread of the virus and facilitating emergency and essential trade.
Titled Facilitating cross-border trade through a coordinated African response to COVID-19, the report says continued inefficiencies and disruptions to cross-border trade presented significant challenges for Africa's fight against COVID-19, and risked holding back the continent's progress towards the attainment of the sustainable development and goals and Africa's Agenda 2063.