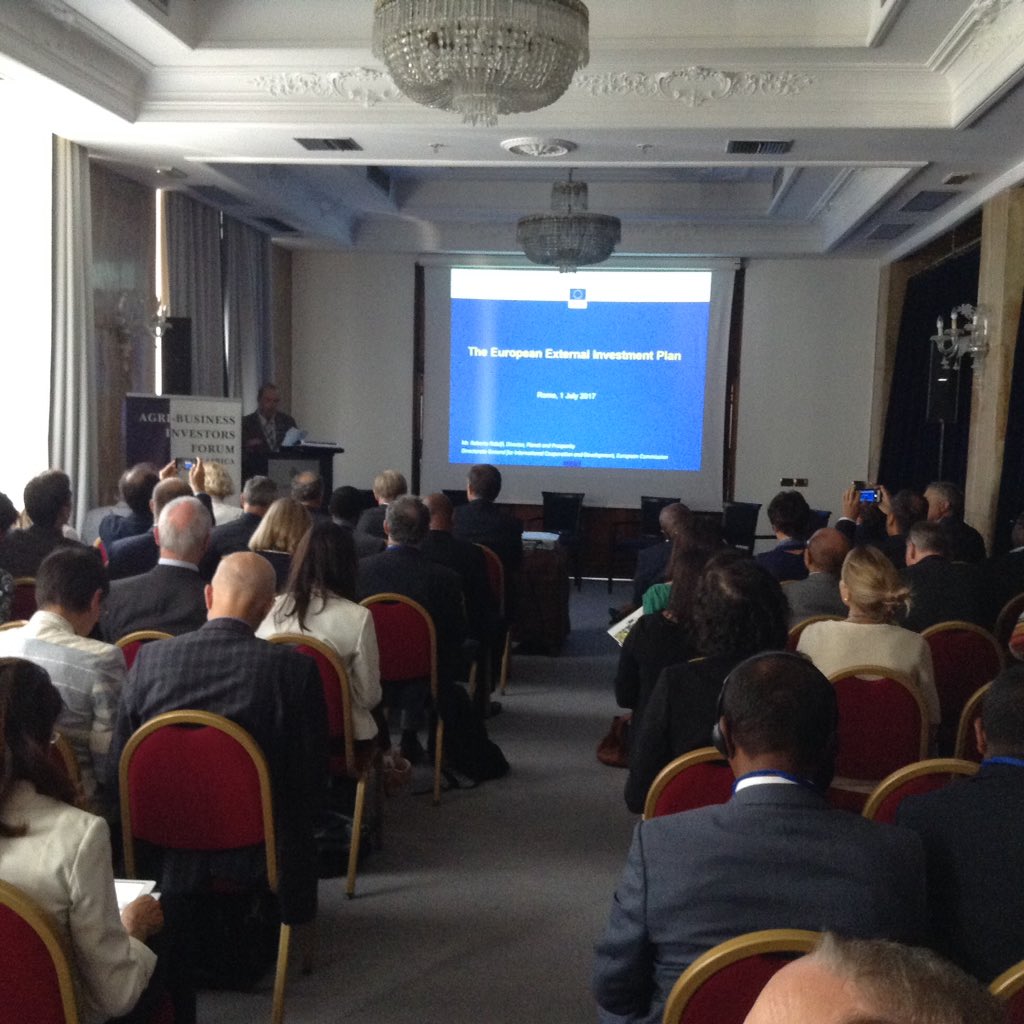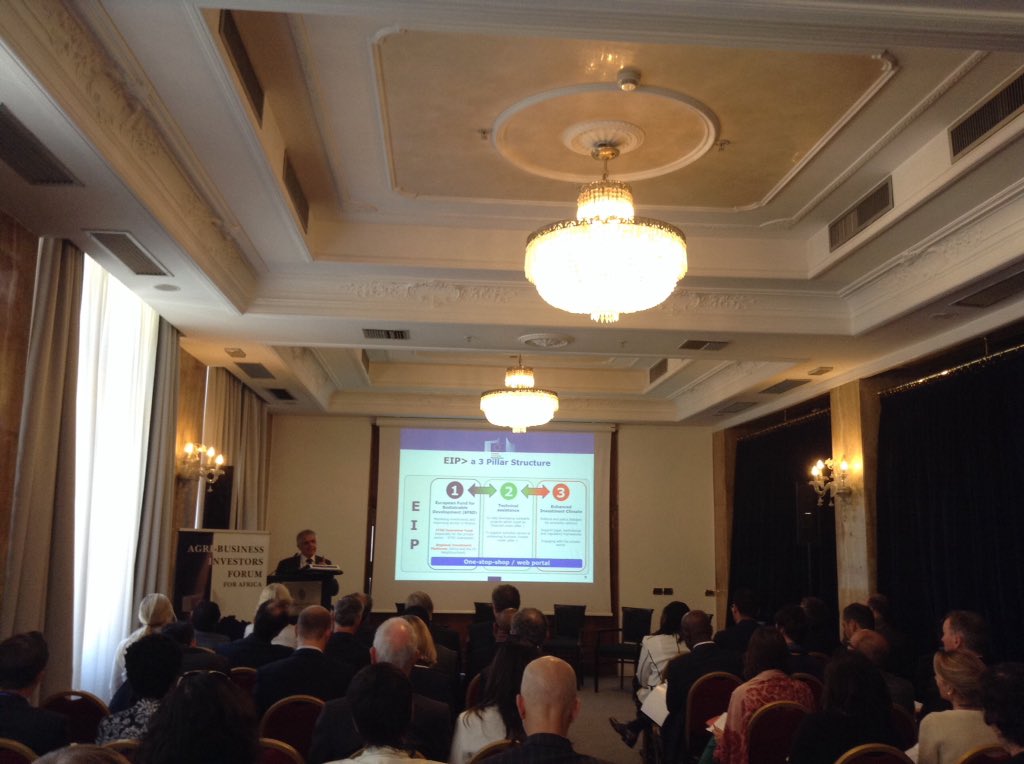 1 July 2017. Rome. The External Investment Plan and the new opportunities it offers for sustainable investment in agriculture and agribusiness.
This meeting was focused on private investors in African agriculture. The increasing alignment of interests between development assistance (concerned with poverty reduction, nutrition improvements, or job creation) and private investors in agriculture (in search of profit) presents valuable opportunities for cooperation in sustainable agricultural investment. This high-level forum seeks to accelerate such cooperation.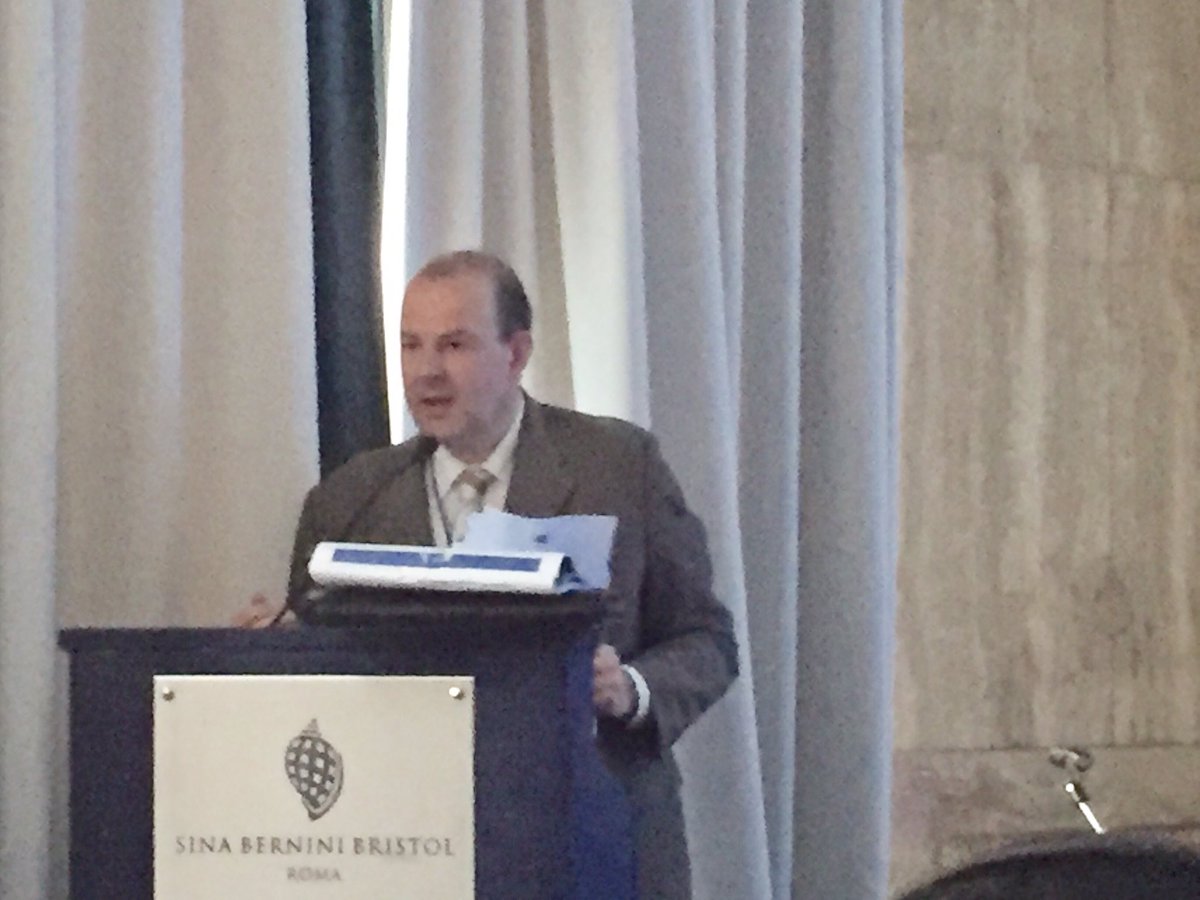 Leonard Mizzi, Head of Unit,
Rural Development, Directorate
General for International
Cooperation and Development,
European Commission
The Commission has proposed the European Investment Plan (EIP) in order to kickstart such blended investment, by offering guarantees, and other blending tools, to prospective investors.
In parallel to greater funding, there will be accompanying efforts to support the preparation of sound investment proposals though technical assistance, as well as a more structured approach to improve the investment climate in the beneficiary countries, in order to improve the likelihood of investment succeeding.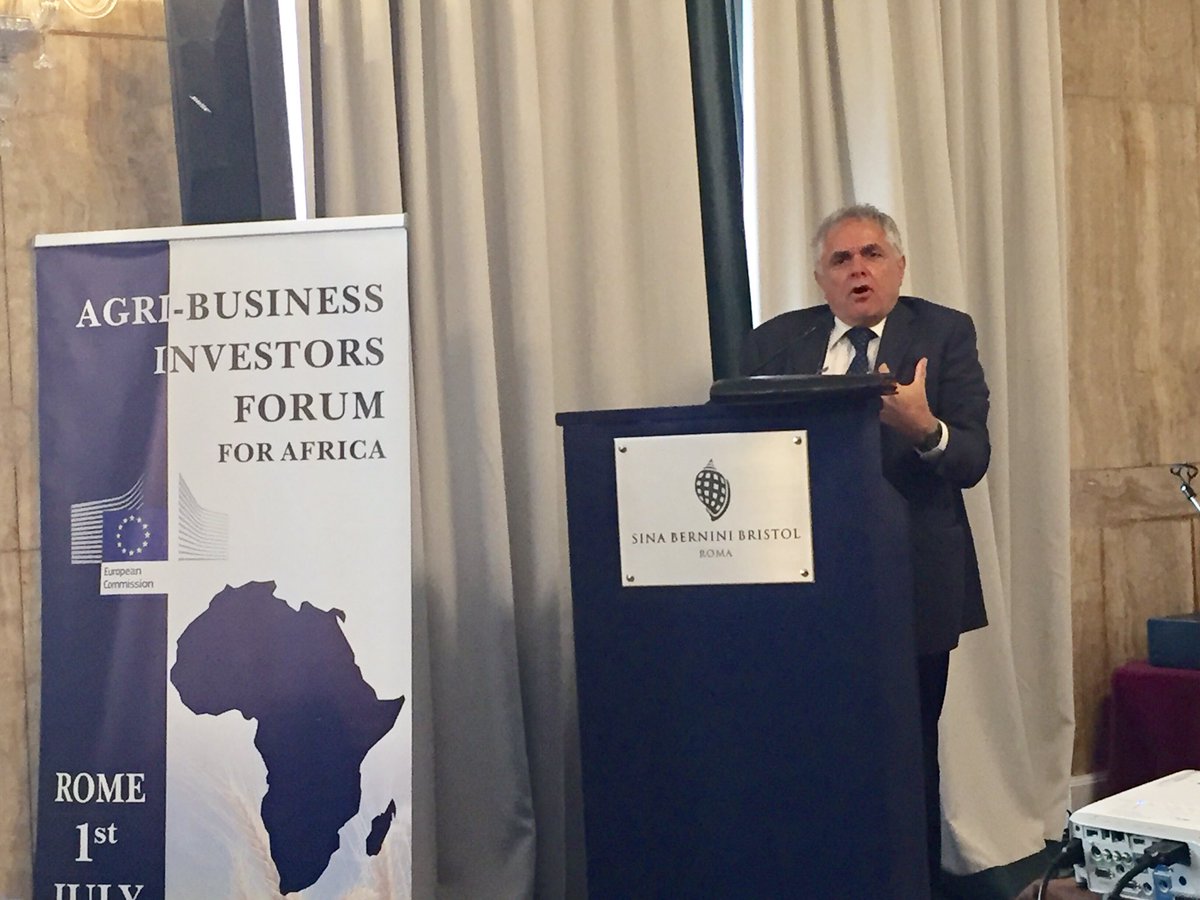 Roberto Ridolfi

at

#AIFA17

: agriculture in Africa should become a real impact and responsible business
Blended finance in the agricultural sector requires a dedicated discussion, and the Commission seeks
to launch this discussion by opening the forum with a presentation of the EIP. Access to EU funding is through Development Finance Institutions, who act as lead promoter of investment proposals to blend EU development funds with private investments.
The Forum brought together those who are willing and interested in investing in African agriculture – major European and African companies – as well as those providing the financing to make these investments possible – the financing institutions in both the public and private sector. This represents a key target group for the success of the EIP.
Keynote address on agricultural investment finance Gilbert Houngbo, President of IFAD 15h35-
Panel discussion: The External Investment Plan and the new opportunities it offers for sustainable investment in agriculture and agri-business.
Bernard Giraud,

President and Co-Founder of Livelihoods Fund 

Nanno Kleiterp

, Chair of European Development Finance Institutions 

Walter Odongo Ogwal

, GroFin East Africa Regional Investment Director 

Jean-Luc François

, Head of the Agriculture, Rural Development and Biodiversity Division, Agence Française de Développement 

Ann Tutwiler

, Director General of Bioversity International
The Jacques Diouf award is presented biennially to individuals or national/regional institutions that have made a significant contribution to the improvement of global food security. Established in 2011, this award pays tribute to former FAO Director-General, Dr Jacques Diouf, recognizing his outstanding leadership, personal engagement, and untiring advocacy in the fight against poverty, hunger and malnutrition.
The Jacques Diouf 2017 Award was jointly granted to The International Organization for Migration (IOM) and The Rabobank Foundation.
The International Organization for Migration (IOM) receives the award for having linked food security to the global debate over migration and development and influencing global development policies. 
The Rabobank Foundation is recognized for their unfaltering technical and financial support to rural producer cooperatives and agribusinesses that have outgrown eligibility for donations and microcredit, but are not yet entitled to standard bank loans.
In 2015 the winners were The African Union Commission (AUC) for leveraging resources to boost the Comprehensive Africa Agriculture Development Programme (CAADP) and The World Rural Forum (WRF) for effectively serving as a globe-spanning network of rural organizations and researchers.
24 January 2017. The European Union, the International Fund for Agricultural Development and the National Social Security Fund are working together to catalyse investment in the agriculture value chain.
The Yield Uganda Investment Fund, is a new impact Fund arranged by Deloitte Uganda and Pearl Capital Partners Uganda (PCP). An initial €12 million (Ugx 46 billion) has been made available to provide much needed access to capital for small and medium agri-businesses in Uganda. The Fund is expected to attract additional €13m (Ush 49.8 billion) by the end of 2017 to reach €25 million (Ush 95.8 billion) in total commitments.
Yield is a partnership between public and private investors that will offer innovative and tailored financial solutions, using equity, semi-equity and debt, to about 20 Small and Medium-sized Enterprises (SMEs) having the potential to generate both strong financial returns and significant social impact. The Fund will be managed by PCP Uganda who will make investments in the range of €250,000 to €2 million (Ush 958.3 million to Ush 7.7 billion).
The Fund targets agriculture-related businesses across all value chains including supply of agricultural inputs, production and agro-processing within all sub-sectors, post-harvest storage and distribution, but also peripheral activities such as transportation, communications and certification. The Fund seeks to support businesses with a clear competitive advantage and ambitious local management.
See Paepard blog posts about the Agro Equity Impact Fund for Uganda