24-27 August 2015. Libreville, Gabon. The 2015 US – sub-Saharan Africa Trade and Economic Cooperation Forum (known as the AGOA Forum) had this year as theme Charting a Course for a Sustainable U.S.-Africa Trade and Investment Partnership. Representatives from the private sector, civil society, and the U.S.-sponsored African Women's Entrepreneurship Program (AWEP) participated in the Forum.
The program included two sessions related to agriculture:
WORKSHOP 1 – Building capacity to comply with international SPS standards to increase food security, agro-business investment, and AGOA exports 
PLENARY 5 – The Missing Middle – Supporting African women entrepreneurs to participate in global supply chains
Ambassador Linda Thomas-Greenfield assistant secretary, United States Bureau of African Affairs joined CNBC Africa to discuss key takeaways from this year's forum.
There has been a standoff between the U.S and the South African poultry industries over South Africa's anti-dumping duties. Carol O'Brien, executive director of the American Chamber of Commerce in South Africa joined CNBC Africa to discuss the other end of the Agoa story.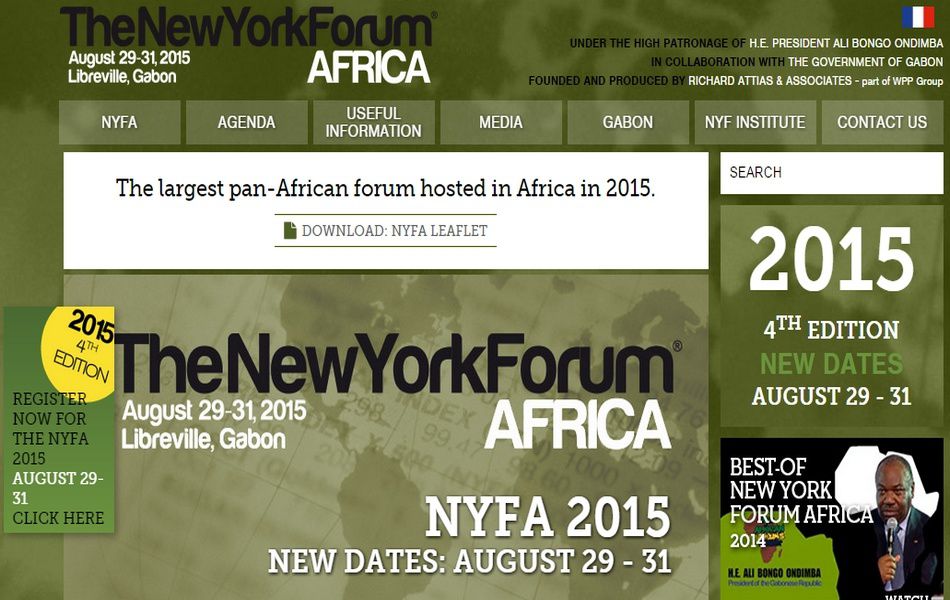 28 – 30 August 2015. Libreville, Gabon. The New York Forum AFRICA examined the key areas of growth, and the investment opportunities that lie therein. Richard Attias and Associates advised the Government of Gabon to organize a large-scale business and economic summit. Using the firm's flagship brand, The New York Forum, and under the banner of its non-profit The New York Forum Institute, the summit was branded The New York Forum AFRICA. In 2012, the inaugural edition of the NYFA took place, and has been followed by subsequent editions in 2013, 2014 and 2015.
These conferences, drawing more than 1,500 participants each, have been held under themes that address the investment and development priorities of global and African investors, and take a multi-stakeholder approach to understanding the continent's challenges. In addition, it has become the umbrella brand for new initiatives for job creation, climate change, and political integration on the continent.

Extracts of the programme:
The NYFA 2015 hosted the Climate South Initiative to underline the connections between climate change, economic development, and investment in advance of the December COP21 meeting in Paris.
CLIMATE SOUTH INITIATIVE: GREEN IS THE COLOUR OF SUCCESS
With $50 billion in annual investment going into Africa, there is an unprecedented opportunity to leverage the private sector and build Africa into a green continent.
How can we scale up innovation in green businesses so we also maximise their job creation potential? How can we optimise the collaboration between entrepreneurs and lead innovators and 'big business'? What can be done to harness the power of the informal economy in the battle against climate change? What new innovations in energy tech will represent change for the most people in Africa?
FOOD SECURITY AND LAND MANAGEMENT PRACTICES
See White paper:DRIVEN BY NEED: FOOD SECURITY, BUT FOOD FIRST
The wealth of the African continent lies in its land, with two-thirds of Sub-Saharan Africa's population relying on land activities such as agriculture, freshwater fishery and forestry for their livelihoods. But we need to prioritise the reduction of tropical deforestation associated with the sourcing of commodities and turn to a more market-driven approach.
CLIMATE SOUTH INITIATIVE: GREEN STRATEGIES FOR CITIES AND REGIONS
Cities and regions do not need to wait for global climate agreements to be reached, and can start acting immediately with nimble policies designed to encourage energy efficiency and tackle climate change affordably.
What examples on policy innovation can be learned from regions around the world? How can these be scaled up to be implemented by cities across Africa?