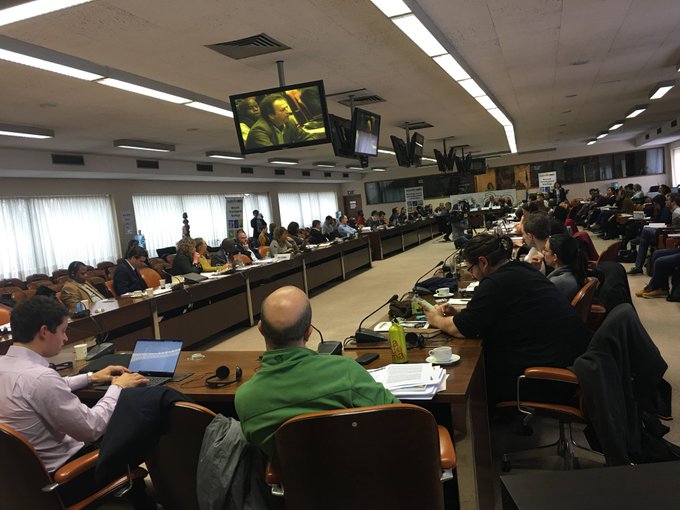 15 January 2019. The briefing "Agroecology for Sustainable Food Systems" was organised by CTA, the European Commission/EuropeAid, the ACP Secretariat, CONCORD and IPES-FOOD
The briefing brought various perspectives and experiences on agroecological systems to support agricultural transformation. Experts presented trends and prospects for agroecological approaches and what it implies for the future of the food systems. Successes and innovative models in agroecology in different parts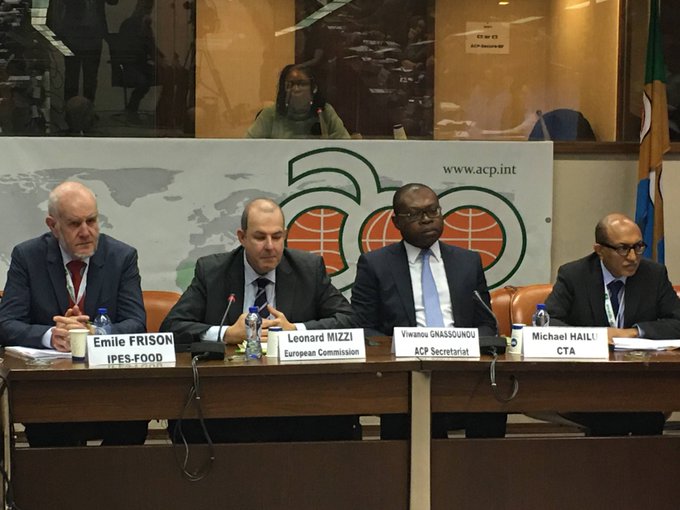 of the world and the lessons learned for upscaling were discussed.
The audience consisted of ACP-EU policy-makers and representatives of the EU Member States, civil society groups, research networks and development practitioners, the private sector and international organisations based in Brussels as well as representatives from ACP regional organisations.
Note and Programme
Biodata of speakers
Twitter: Brussels briefing
Introduction to the Briefing:
Isolina Boto

, Manager, CTA Brussels Office and Coordinator of the Briefings 
Introductory remarks:

Viwanou Gnassounou

, Assistant Secretary General, ACP Secretariat; 

Leonard Mizzi

, Head of Unit, Devco C1, Food Security, Nutrition, Europeaid, European Commission; 

Emile Frison

, Member, International Panel of Experts on Sustainable Food Systems, IPES-FOOD; 

Michael Hailu

, Director, CTA. 
Panel 1: Agroecological systems to support agricultural transformation 
This panel discussed concepts, trends and prospects for agroecological approaches and what it implies for the future of the food systems.
From Uniformity to Diversity: A paradigm shift from industrial agriculture to diversified agroecological systems

Emile Frison

, Member, International Panel of Experts on Sustainable Food Systems 
Agroecology to meet the SDGs: Scaling-up Agroecology Initiative

Ronnie Brathwaite

, Senior Agriculture Officer, FAO 
How local application of agroecological principles can transform food systems

Fergus L. Sinclair

, Principal Scientist, World Agroforestry (ICRAF), Kenya 
Agroecology and the Right to Food

Alejandra Morena

, Right to Food and Nutrition, Capacity-Building Coordinator, FIAN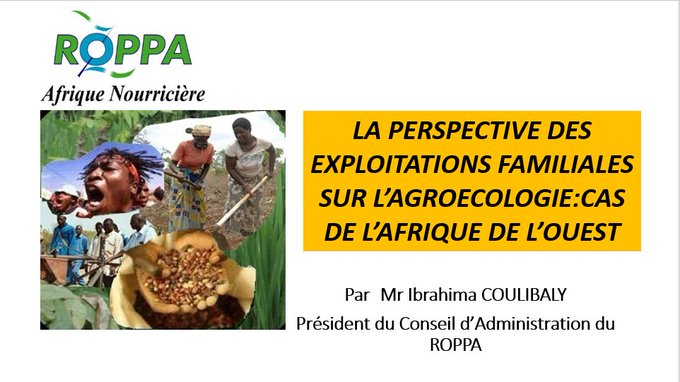 Panel 2: Agroecology in practice: experiences and lessons learned 
This panel presented some successes and innovative models in agroecology in different parts of the world and the lessons learned for upscaling them. 
The farmer's perspective to agroecology: the case of West Africa

Ibrahima Coulibaly

, President, ROPPA 
Agroecology in the European agenda of sustainable development: Best practices

Paola Migliorini

, President, Agroecology Europe 
Agroecological participatory action research and advisory systems

Tibasiima Kahigwa Thaddeo

, Farmer Advisor on Agroecology, Uganda 
Promoting reforestation and agroforestry practices

Mansour Ndiaye

, Executive Director, APAF, Senegal 
Supporting climate-resilient agroecology in Malawi

Ellen Matupi,

President, Coalition of Women Farmers (COWFA) 
Related: AGROECOLOGY: the bold future of farming in Africa 
This 88 page illustrated book (2016) raises 15 case studies, showing how agroecology benefits Africa in terms of food and nutrition, livelihoods, restoration of biodiversity, knowledge and innovation, and climate change resilience.
Leading experts in their fields explain how agroecology reforms food systems to promote better nutrition and health, especially among poor communities; how it diversifies livelihoods and defends the dignity of women farmers; how it enables and empowers us to revive our soils and lands, cultivate relevant crops, advance food sovereignty, and build resilient ecosystems and communities; and how such innovative production systems, based on indigenous knowledge, meet the nutritional, cultural and spiritual needs of Africa's people.


Related:
18/07/2019 – Agroecological and other innovative approaches for sustainable agriculture and food systems that enhance food security and nutrition
Full report can be downloaded here!
In this report, the HLPE explores the nature and potential contributions of agroecological and other innovative approaches to formulating transitions towards sustainable food systems (SFSs) that enhance FSN. The HLPE adopts a dynamic, multiscale perspective, focusing on the concepts of transition and transformation. Many transitions need to occur in particular production systems and across the food value chain to achieve major transformation of whole food systems. Both incremental transitions at small scales and structural changes to institutions and norms at larger scales need to take place in a coordinated and integrated way in order to achieve the desired transformation of the global food system
Related:
Interview with Emile Frison. He joined the International Panel of Experts on Sustainable Food
Systems. "There is an urgent need to alert policy makers to the high risks related to short-term thinking and concentration of power in the hands of fewer, large-scale retailers and corporate agri-businesses." See: From Uniformity to Diversity