11-13 November 2019. Lomé, Togo. The International Food Policy Research Institute (IFPRI), in partnership with the African Union Commission (AUC), convened the ReSAKSS Annual Conference to promote review and dialogue on the Comprehensive Africa Agriculture Development Programme (CAADP) implementation agenda.
Download Conference Note (English: PDF 281K) | French: (PDF 283K)
This year's conference theme
"Gender Equality in Rural Africa: From Commitments to Outcomes"
called for deliberations on the key findings and policy recommendations of the ReSAKSS 2019 Annual Trends and Outlook Report (ATOR). State and non-state reflected on how stakeholders should apply a gender lens to various issues among rural populations. The conference
Discussed progress, research evidence, and recommendations on gender equality presented in the 2019 ATOR.
Reviewed progress in promoting mutual accountability through agriculture JSRs and preparing the 2019 CAADP Biennial Review report to be presented at the African Union Assembly of heads of state and government in January 2020.
Assessed progress in formulating evidence-based, Malabo compliant second-generation NAIPs.
Evaluate progress in operationalizing effective local analytical networks for SAKSS platforms to support CAADP data and analytical needs at the country level.
Reviewed the status of CAADP implementation and progress toward achieving key goals and targets.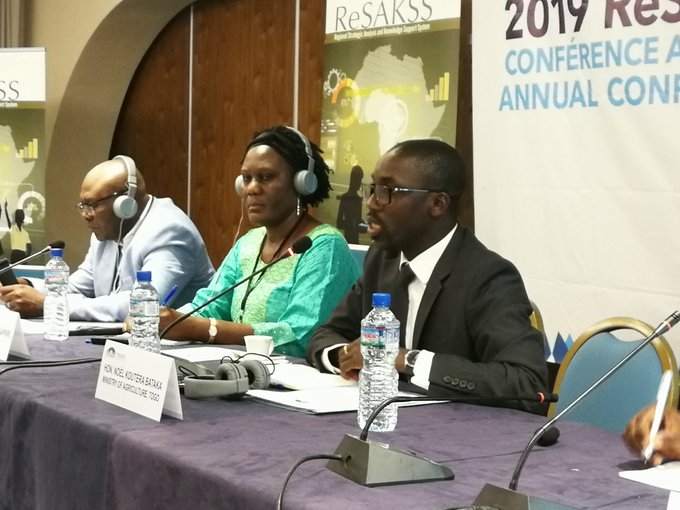 Extracts of the programme:
Download the programme
(20 pages)

GENDER EQUALITY IN RURAL AFRICA: FROM COMMITMENTS TO OUTCOMES
Overview of the 2019 Annual Trends and Outlook Report (ATOR)

Agnes Quisumbing

, Senior Research Fellow, Poverty, Health, and Nutrition Division (PHND), IFPRI, USA 
Keynote Address: Gender Equality in Rural Africa: From Commitments to Outcomes Namumbya Monica Kapiriri (see picture), Development Facilitator, Mentor and Coach, Uganda 

Noël Koutéra Bataka

, Minister, Ministry of Agriculture Animal Production and Fisheries, Togo 

Elizabeth Nsimadala

, President, Pan-African Farmers' Organization, Kenya 

Apollos Nwafor,

Vice President, Policy and State Capability, Alliance for a Green Revolution in Africa (AGRA), Kenya 

Afeikhena Theo Jerome

, Special Advisor, AUC-DREA, Ethiopia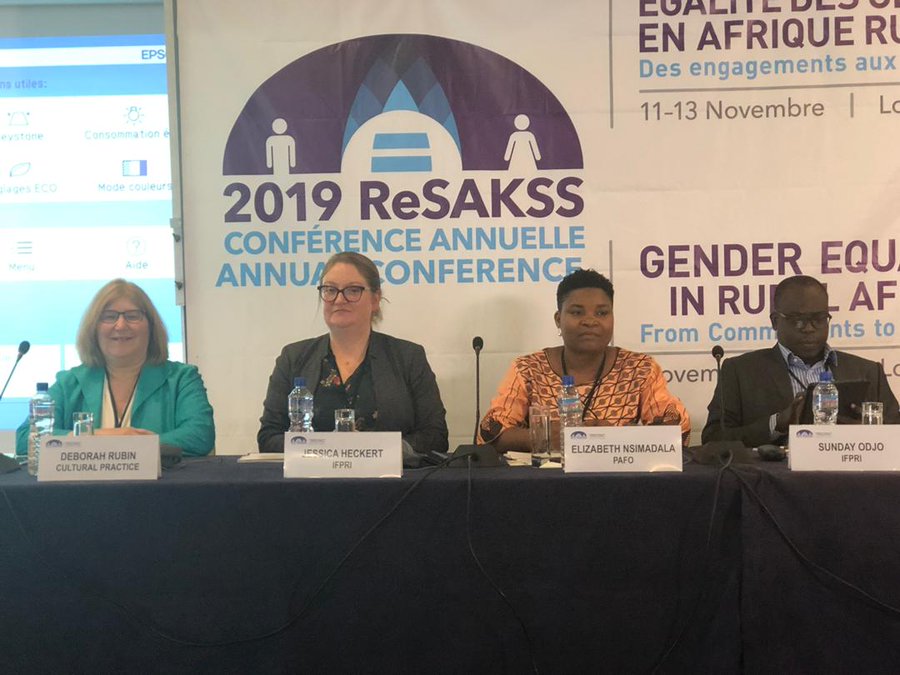 GENDER: SOCIAL NORMS AND LEADERSHIP
Chairperson:

Ismahane Elouafi,

Director General, International Center for Biosaline Agriculture (ICBA), United Arab Emirates 
Gender and Social Norms in Agriculture: A Review

Edward Bikketi

, Research Scientist, INCLUDOVATE Research Hub, Kenya 
Gender and Leadership in Africa: Exploring the Nexus, Trends and Opportunities Michele

Mbo'o-Tchouawou,

Deputy Director, Programs, African Women in Agricultural Research and Development (AWARD), Kenya 
The role of men in nutrition: Reflections from Malawi

Elizabeth Mkandawire

, Research Assistant, University of Pretoria, South Africa
SIDE EVENT # 1: Through the Water Lens: Exploring the Diversity of Gender, Youth, and its Implications for Agricultural Transformation in Africa 
Youth Participation in Small-Scale Fisheries, Aquaculture and Value Chains

Likimyelesh Nigussie

, Researcher, IWMI-Ethiopia 
Addressing the Rights and Ownership Challenge: Gender, Youth and Land Rights in Patrilineal Societies

Dr Inga Jacobs-Mata

, Country Representative, IWMI-Southern Africa 
Who Works in Agriculture? Exploring the Dynamics of Youth Involvement in the Agri-Food Systems of Tanzania And Malawi

Kashi Kafle,

Researcher, IWMI-Sri Lanka 
Discussion Moderator:

Dr. Greenwell Matchaya

, Senior Researcher and ReSAKSS Coordinator for Southern Africa, IWMI-Southern Africa 
Each year, ReSAKSS produces an Africawide ATOR that presents analysis on a feature topic of strategic importance to the CAADP agenda. The 2019 ATOR discusses progress and research evidence on gender equality, a cross-cutting theme in the Malabo Declaration and a key commitment of the 2004 Solemn Declaration on gender equality in Africa.
Applying a gender lens to various issues among rural populations will facilitate women's social, political, and economic participation in agricultural development and provide additional evidence needed to advance gender equality. 
Gender-sensitive policies and programming
are central to effectively advancing Malabo's agricultural transformation agenda. But what is the progress in achieving gender equality? What are the major challenges, and what are the effective means of overcoming those challenges? What are best practices and successful experiences in Africa and elsewhere? What can we learn from the research evidence?
The 2019 ATOR takes an in-depth look at gender in Africa by examining the intersections between gender and i) context and institutions, ii) assets, iii) shocks and resilience, iv) livelihood strategies, v) income and control of income, and vi) well-being.
As in previous ATORs, the 2019 Report also assesses progress toward achieving CAADP goals and the Malabo Declaration commitments using the 2015-2025 CAADP Results Framework.
A recent policy seminar at IFPRI presented an upcoming CGIAR publication on the topic
October 30, 2019. Policy Seminar: Crafting the Next Generation of CGIAR Gender Research
What does research reveal about how agriculture and natural resource management can advance gender equality? And why is it important to ask this question, rather than the more standard question of what gender analysis brings to agriculture and natural resource management? This was the focus of an Oct. 30 policy seminar, organized by the CGIAR Research Program on Policies, Institutions, and Markets (PIM) and the International Food Policy Research Institute (IFPRI), to present key reflections from an upcoming publication on the topic.
Seminar recording and presentations; (9 videos)
Dina Najjar, Gender Scientist with the International Center for Agricultural Research in the Dry Areas (ICARDA), presented the chapter analyzing gender-transformative approaches (GTAs), which focus on creating an enabling social environment and more equitable formal and informal institutions that expand life choices for both women and men. GTAs use a combination of tools to lead participants through a process of change and allow for existing norms to be challenged in a safe environment. While several CGIAR research projects have shown success with GTAs, there is still much to be learned, including how to achieve lasting transformation at scale.
The publication is a joint effort by authors from all CGIAR centers and research programs. The initiative is led by the CGIAR Collaborative Platform for Gender Research, hosted by PIM.
The authors aim to achieve three main objectives, said Rhiannon Pyburn of the KIT Royal Tropical Institute and Coordinator of the Gender Platform, in her introduction. First, to synthesize what we already know from the research undertaken within CGIAR. Second, to stimulate creative perspectives and new insights on this body of research. And third, to set a forward-looking agenda for gender research in the areas of agriculture and natural resource management.