5 July 2018. Uganda. End of project dissemination workshop for the PAEPARD project "Enhancing nutrition security and incomes through adding value to indigenous vegetables in East and Central Uganda".
The project communication has created awareness about the African Indigenous Vegetables (AIV). It has published stories that demonstrate othe project impact on their website at http://afri-sol.org/.
It encourages everybody to be part of the voice advocating for improved nutrition and income through investing in African Indigenous Vegetables by following and connecting via social media through Facebook, Twitter, Instagram using @afrisolug and the hashtag #BetterVegetablesBetterLives.
Download the Dissemination Note: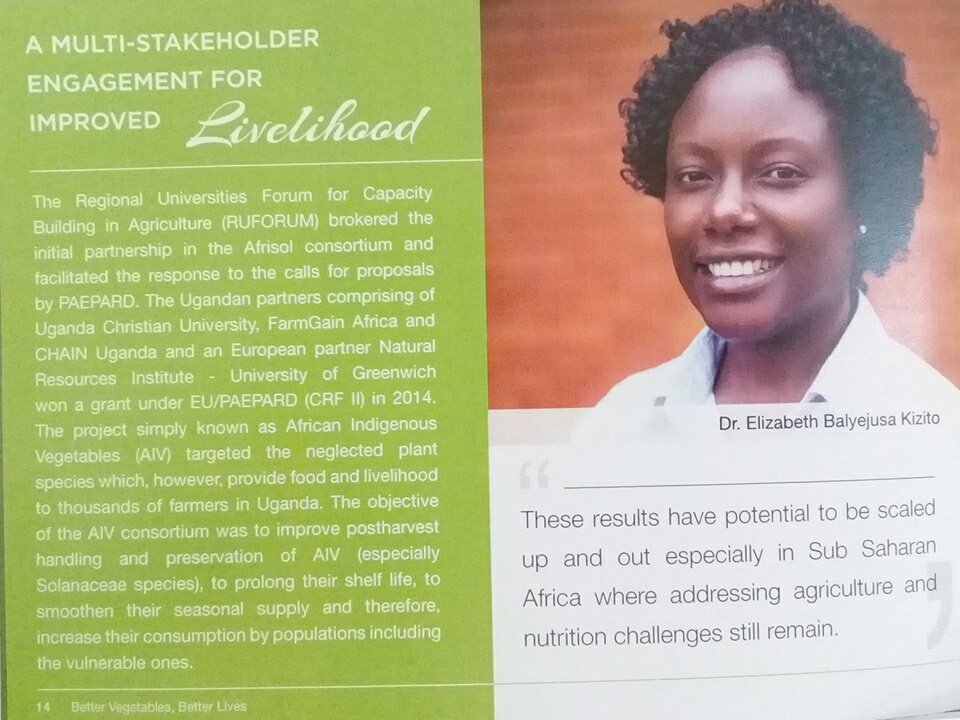 PAEPARD, 2018. Better Vegetables, Better Lives Improving African Indigenous Vegetables for greater nutrition and income African Solanacease Network (Afri-Sol): Mukono, Ganda 32 pages
Working with FarmGain Africa, Chain Uganda, University of Greenwich, FARA, and the European Union; farmers in Central and Eastern Uganda have benefited from engaging in Indigenous vegetables. 
250 farmers, 11 undergraduates, 7 Masters, 1 PhD trained through the #BettervegetablesBetterLives project
The charcoal cooler was designed working jointly with the farmers in Jinja and Wakiso to preserve the vegetables. The Charcoal Cooler is an appropriate technology that extends shelf life of vegetables from one to three days.

Eriya Matovu, a youth vegetable farmer vends vegetables during the open market and collects approximately US$800 in sales revenue. On average, Eriya's weekly sales amount to about US$3,200.
"We noticed an increase in the farmer market access and a greater awareness on the importance of indigenous vegetables"  Dr. John Jagwe from Farmgain Africa (see picture right)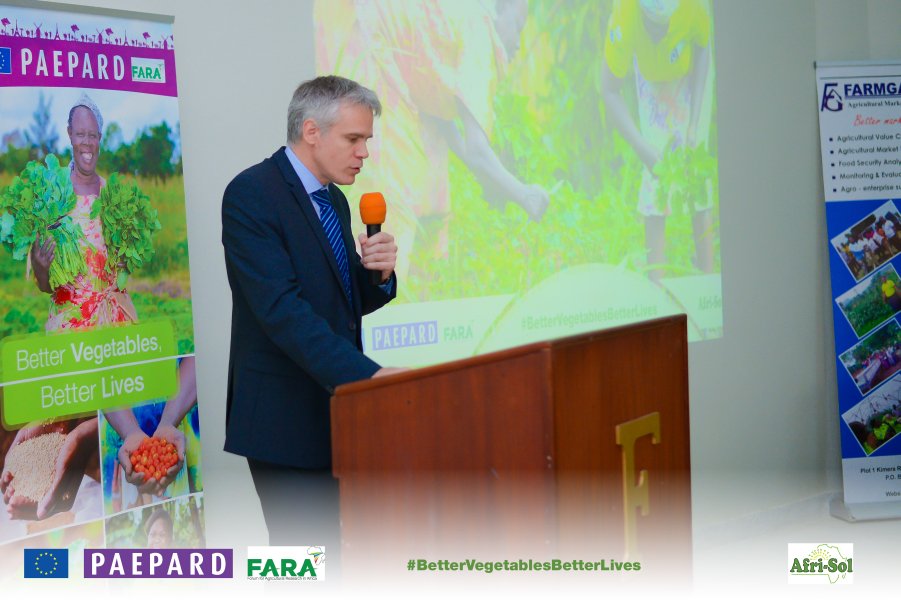 Merel CEDRIC 
IMPROVED INDIGENOUS VEGETABLE SEED PROCESSING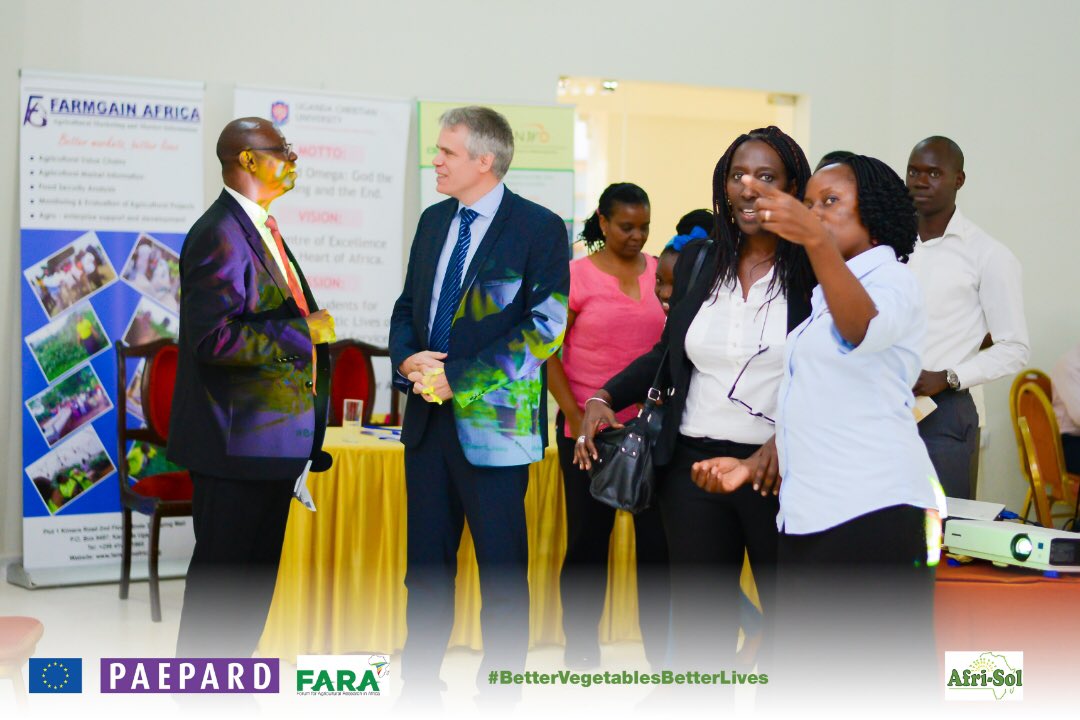 During the project life span, farmers participated and developed on-farm seed varieties lines. In the selected farming communities, the trainings on seed processing and value of vegetable nutrients have increased awareness on the nutritional value and consumption of vegetables in the communities. Farmers can now select the vegetable seed variety and determine the vegetable quality of their harvest. This has improved and sustained the pure seed quality and increase their income resulting from bumper harvests. The participating farmers from Jinja, Mbale and Wakiso are known for their pure seed quality making them reference points for pure seed business.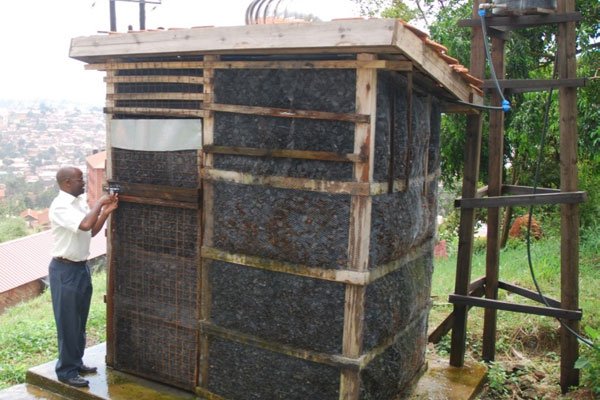 BUILDING APPROPRIATE TECHNOLOGIES TO REDUCE POST-HARVEST LOSSES
Two charcoal coolers were constructed in Jinja and Wakiso to reduce on the post-harvest losses. Previously, farmers would harvest and keep their vegetables in their houses and some under the tree shade. This has changed with the building of affordable and sustainable charcoal coolers. 


The vegetable shelve life has increased from 1-3 days allowing the farmers to store any extra vegetables that may have not been sold on that day. Identifying packing materials that address appearance, texture, flavor, nutrition value and safety for the vegetables has enabled better handling and reduced loss of vegetable quality during their transportation to the markets. 

"Working with farmers, we have been able to identify technologies that are appropriate for farmers to reduce post-harvest losses and maximise profits such as the charcoal cooler and packaging materials" Dr. Apolo from CHAIN Uganda (picture left).


Pemela Kabod (Makere University)
and Liz Kizito 
(Uganda Chrisian University)
"Quality is very important for our business to thrive. The improved packaging materials have greatly helped us during transportation of our vegetables to the market." Mr. Odongo, farmer from Jinja.

MOBILIZING RESOURCES
From left ro right:
1. Mr Joseph Okee from the Ministry 
of Agriculture, Animal Industry 
and Fisheries (MAAF)
2. Jonas Mugabe (FARA)
3. Rev. Dr John Musisi Senyonyi, 
Vice-Chancellor UCU
4. Remi Kahane (CIRAD) and
African Indigenous Vegetables research team through this project honed proposal writing, resource mobilization, management and governance skills. The team submitted eight proposals for different calls and won three for funding. One of the proposals approved focuses on the functional vegetable seed system, a result from the prioritization exercise while working with the framers and other stakeholders. Other proposals included: 
UCU lead project with funding from Third World Academy of Sciences (TWAS): Phenotyping water use efficiency in Solanum aethiopicum, shum group. 
UCU and CHAIN partnership with funding from (ARF/ WOTRO): Developing a gender responsive commercial seed system for African Indigenous vegetables in Uganda 
Global Challenges Research Fund (GCRF – SASSA – Sustainable Agriculture for Sub-Saharan Africa): Improving production efficiency of African egg plant, (Solanum aethiopicum) for small holder farmers in Sub-Sharan Africa 
Chain Uganda also received funding from the Dutch, a result of the efforts from the Indigenous Vegetable project.