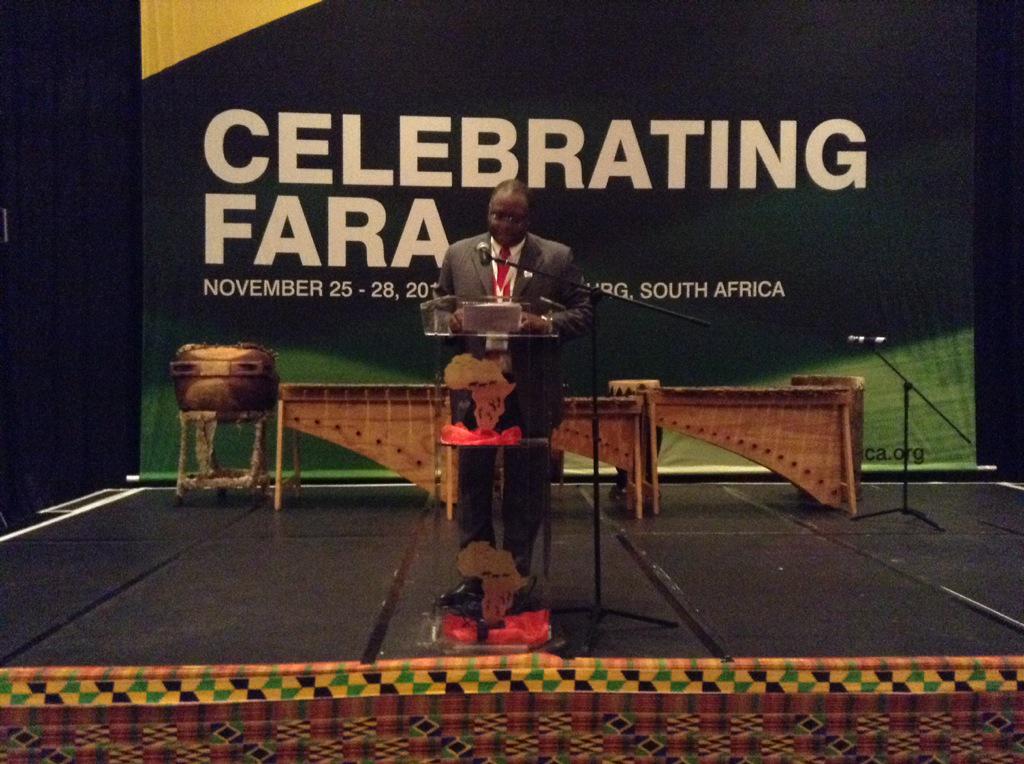 26–27 November 2014. Johannesburg, South Africa. The Forum for Agricultural Research in Africa hosted a series of events to celebrate 15 years of promoting research and innovation in Africa. The renewal, repositioning and refocusing of FARA (FARA-3R platform) was the central element of the 'Celebrating FARA' event.
Click here to download the agenda for the conference.
The purpose of Celebrating FARA was to take stock of its achievements and reposition FARA for the next decade.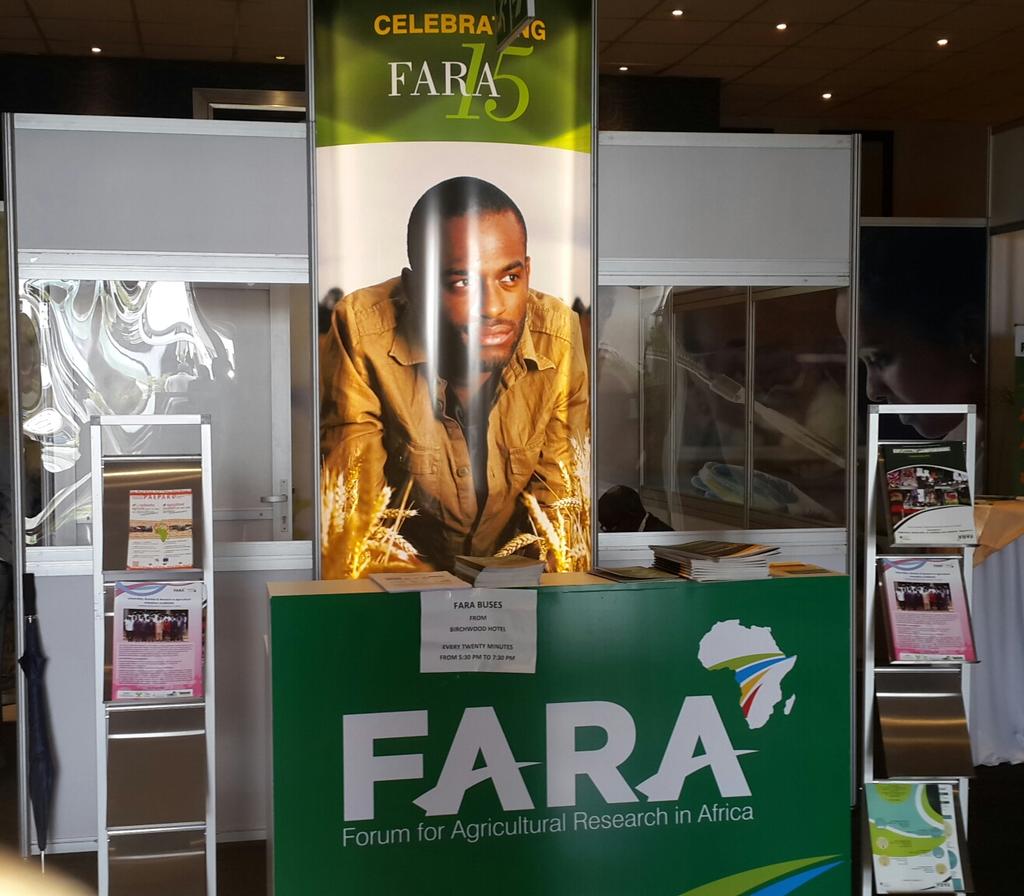 The Celebration of FARA took place, immediately after the 14th FARA Board of Directors meeting scheduled for 24th and 25th November. Pre-celebration and post-celebration events were organised in conjunction with the main event. The programme is summarized below.
The
main event
 featured the following activities:
26–27 November
Open Space Agricultural Technology Fair by CGIAR (Convened by ILRI), SROs, NARIs, and other institutions 
Side events of FARA programmes: PAEPARD; SSA-CP; ReMoCaSt; PSTAD; UniBRAIN; NORAD project on climate smart agriculture; Regional Policy Dialogue; and other meetings organized by partners
28 November
FARA Investment Strategy Dialogue, Science Agenda Operational Plan validation
Keynote Paper by Prof. Calestous Juma, Professor of the Practice of International Development, Harvard Kennedy School followed by a roundtable discussion featuring 6 inaugural Fellows of AAAST
Launch of Science Agenda for Agriculture in Africa by Dr Kanayo Nwanze (DSc), President of


Dr Alfred Dixon, Head of Partnership Coordination Office
(right in front) and leader of delegation from IITA with
other guests to mark the 15 anniversary of FARA in Johannesburg

IFAD; Launch of IAR4D Proof of Concept

Inaugural FARA Annual Lecture and Symposium, Prof. Monty Jones, Special Adviser to the President of Sierra Leone and Ambassador-at-large followed by a roundtable discussion featuring the other 6 inaugural Fellows of AAAST. 
Launch of refreshed FARA Brand (new logo, website, etc.); 
Launch of AAAST and associated publications; Induction and investiture of AAAST Fellows; 
Resolutions on the way forward and Closing
Pre-Celebration events
1 November
Launch of new FARA Website and Logo

7 November 2014
Launch of the FARA book: "Maximizing Impact from AgriculturalResearch: Potential of the IAR4D" at the European Commission Headquarters in Brussels, Belgium
28 November 28 2014
FARA unveiled a new visual identity developed by Alder Consulting of #Nigeria. Here's the story behind the new logo.
Science Agenda:
28 November 2014.
Launch of the Science Agenda.
The Science Agenda for Agriculture in Africa is an African Owned and African led process that will articulate the Science and Technology that African agriculture needs to prioritize in order to achieve its agricultural development targets; the complementary actions needed for the science and technology to be sufficiently harnessed; and the type and scale of investments required.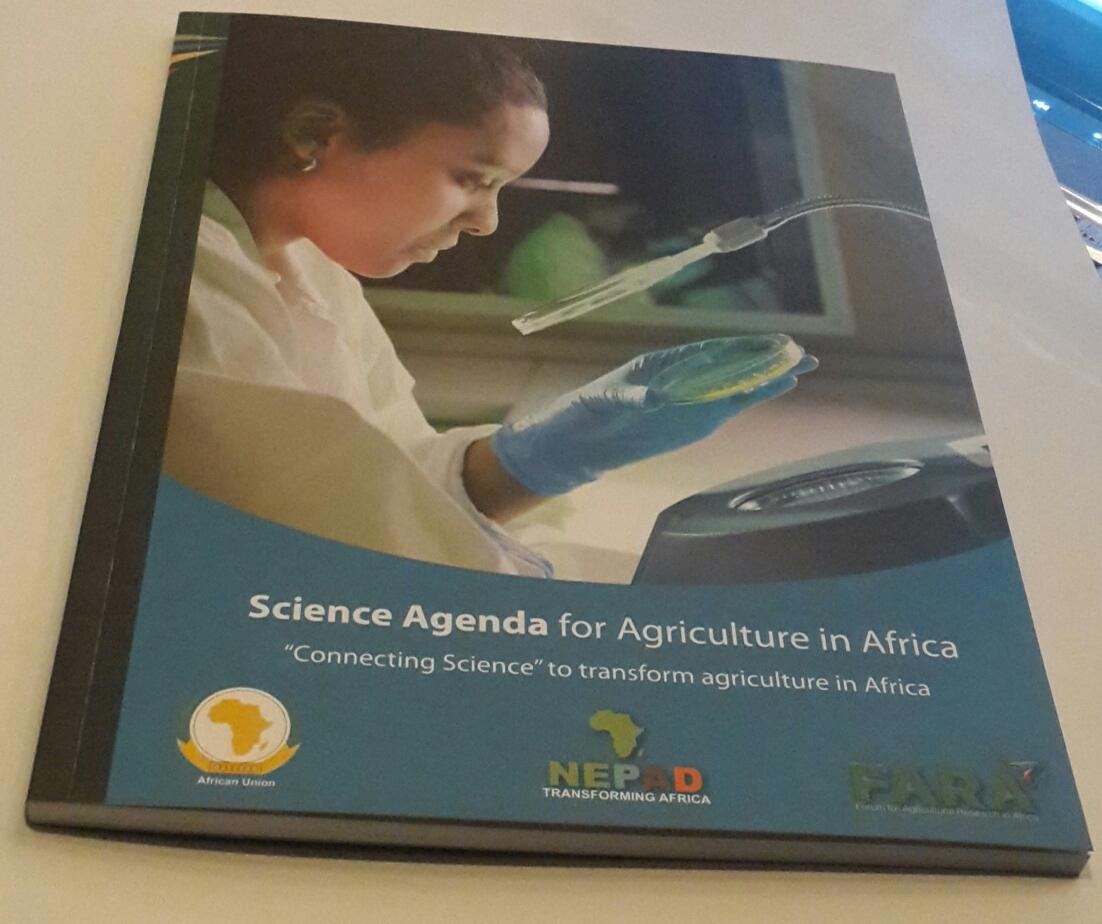 FARA, 2014. Science agenda for agriculture in Africa (S3A): "Connecting Science" to transform agriculture in Africa. Forum for Agricultural Research in Africa (FARA), Accra, Ghana
November 2014
94 pages

The Science Agenda's perspective encompasses the breadth of science, the meaningful engagements between disciplines (inter- disciplinary and multi-disciplinary) and the effective transfer of the outcomes of science to end users that are necessary to unlock the potential of agriculture in Africa.
The Science Agenda is, therefore, fundamentally about the strategic investments in science, technology and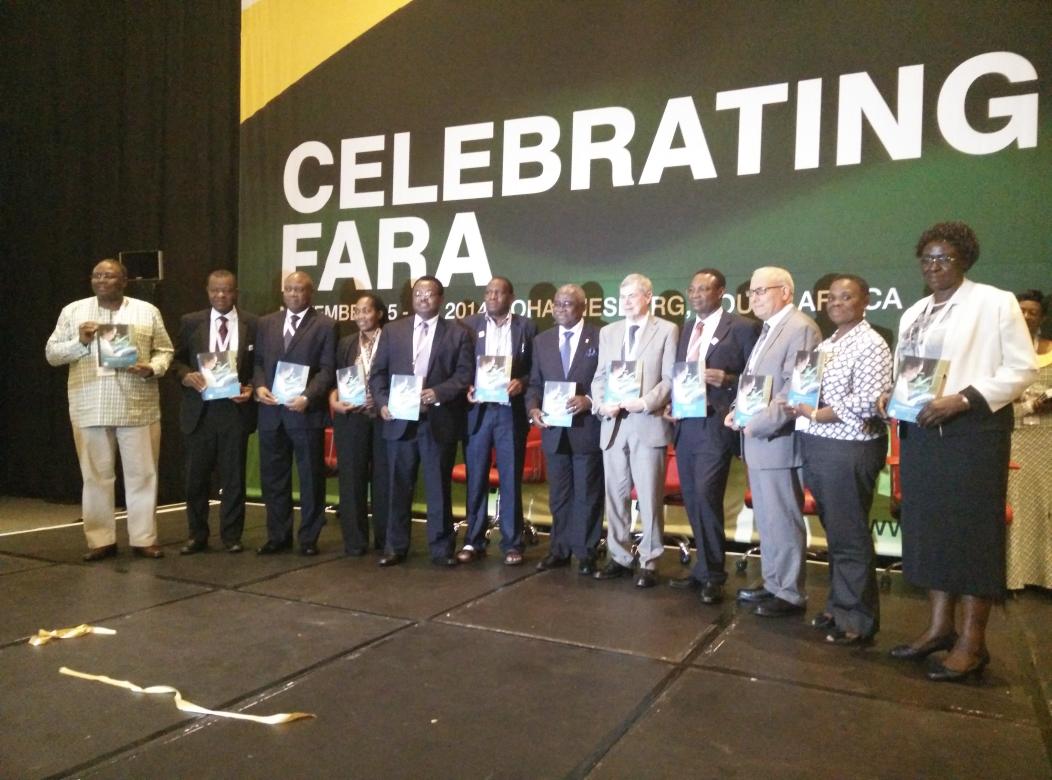 Delegates receive a copy of the science agenda
innovation that are needed to contribute effectively to productivity, equitable development and sustainable productive environments.
The other four work streams were:
Stocktaking and Mapping of planned and on-going agricultural research and development activities
Organisation of regional agricultural productivity workshops on how the CGIAR capacity can be better harnessed to advance the development of CAADP country investment programmes
Establishing a Memorandum of Understanding between the AUC and the CGIAR Consortium
Development of agricultural technology innovation platforms proposed by the G8 New Alliance for Food Security and Nutrition.
The development of a Science Agenda for Agriculture in Africa was one of the five work streams of the Dublin Process. Read More
Key messages:
Africa should commit to strengthening its role as a player in global science for agriculture to drive the transformation of agriculture and society
Science for agriculture in Africa is too important to be outsourced. African leaders must take responsibility for enhancing the role of science in their societies.
Science is critical for the preservation and use of Africa's rich biological heritage and indigenous and local knowledge.
Agricultural transformation in Africa will not happen without realizing the potential of women and young people.
Now is the time to increase investments in science for agriculture in Africa, when countries have the means and opportunities to invest, and gain returns.
African Solidarity in Science is an important dimension of the strategy for harnessing the power of science