Chinese Premier Li Keqiang delivers a speech 
at the World Economic Forum on Africa in 
Abuja, Nigeria, May 8, 2014. (Xinhua/Li Tao)
8 May 2014. Abuja, Nigeria. The Chinese 200-man strong delegation led by Premier Li Keqiang was second to none at the World Economic forum.
Premier Li Keqiang is paying official visits to Ethiopia, Nigeria, Angola and Kenya from 4th to 11th May 2014.
The ovation that greeted Keqiang's address at the official opening in Abuja was understandable. He announced a $30 billion China-Africa Fund which he said his country stood ready to deploy in an effort to give the continent a new lease of life.
He said: "China, in order to build infrastructure network in Africa, is ready to provide financing, technical and human resources support. We will increase investment on financing in Africa. We will add $10 billion to be committed to the Chinese credit line to African countries to reach a total of $30 billion.

"We will also put another $2 billion into the China/Africa Development Fund to make it $5 billion. We will also make good use of special loans, financing loans, commercial loans and other modes of capital.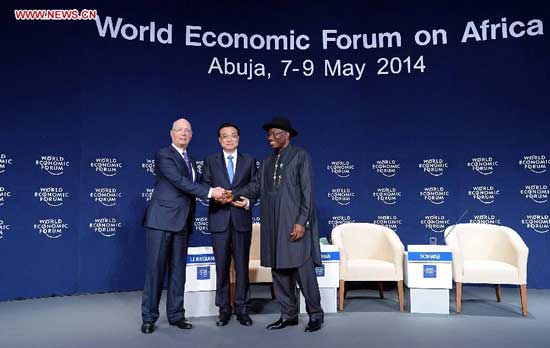 "China will advance Africa's talent plan under which we will provide 18,000 government scholarships to Africans and train 30,000 professionals in addition to other special trainings for Africa. The Chinese government means what it says. Here I wish to emphasise that China's cooperation with African countries is sincere and open".

"Africa has high demand for infrastructure and industrial development, while China has excess capacity in infrastructure construction and production. The two economies are highly complementary. And conducting mutually beneficial cooperation will definitely inject greater momentum into our economic and social development." Premier Li said.
Of all infrastructure projects, Li Keqiang stresses the importance of transportation, saying China will help connect African cities, and countries across the vast continent. The Chinese premier outlines three areas that will receive the most focus, which include high-speed railways, expressways and civil aviation. Li Keqiang also says China is ready to work with Africa to promote constrction in the telecom sector and electric power facilities.







Related:
02/05/2014 Premier Li Keqiang to visit Ethiopia, Nigeria, Angola and Kenya – CCTV News – CCTV.com English
08/05/2014 China, Nigeria vow to expand cooperation, upgrade ties – CCTV News – CCTV.com English
09/05/2014 CCTV Com China to expand cooperation with Africa in infrastructure construction
09/05/2014 Full Video: Premier Li addresses 2014 World Economic Forum on Africa – CCTV News – CCTV.com English
09/05/2014. Shanghai Daily. Africa's rich must invest in Africa to deepen job creation: business magnate
08/05/2014. BBC. Aliko Dangote to invest $2.3bn in north Nigeria
Speaking on the panel discussion on "Unlocking Jobs" at the ongoing World Economic Forum in Nigeria's capital Abuja on Thursday, Aliko Dangote a multi investor and an industrialist said African governments were doing their best to create enabling environment for investors while local investors who, mostly preferred to keep their monies abroad, were not taking the risk to promote intra-Africa trade. Dangote has factories manufacturing cement and sugar, while other aspects of his business also invest in agriculture and other businesses.
"There are a lot of business opportunities in Africa. The biggest challenge we are facing in Africa is that many Africans prefer to keep their monies abroad. By doing that, it means you are not encouraging confidence. You have to create confidence as an African to encourage foreigners to come here with their own money," the international business man stated.