23-27 January 2013, Davos, Switzerland. the World Economic Forum Annual Meeting 2013.
and its constituents are hosted 12 sessions related to food security, nutrition and agriculture during Davos.
A new report is titled Achieving the New Vision for Agriculture: New Models for Action, assesses progress to date and recommends action steps to advance progress in the 11 countries.
A second report is titled: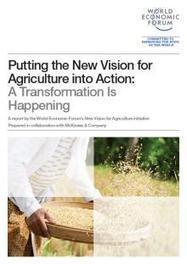 Putting the New Vision for Agriculture into Action: A Transformation Is Happening
The World Economic Forum's New Vision for Agriculture serves as a platform to build collaboration among stakeholders to achieve a vision of agriculture as a driver of food security, environmental sustainability and economic opportunity.
In the past three years, governments, business, farmers and civil society organizations have embraced and begun to implement this vision at global, regional and country levels.This report outlines the progress to date of partnerships catalysed by the New Vision for Agriculture, and the key challenges and next steps that must be addressed to realize the full potential of the multistakeholder partnership model.
Eight African countries are working with New Vision for Agriculture partners
through Grow Africa, a partnership
jointly convened by the African Union, New Partnership for Africa's Development (NEPAD) and the World Economic Forum.

"Smallholder farmers are on the frontline of Africa's food security," said Dyborn Chibonga, Chief Executive Officer of the National Smallholder Farmers' Association of Malawi and one of several farmer leaders participating in Davos sessions. "We need to improve access to markets, finance, technology and information, by working with the private sector and other partners."
The New Vision partnerships bring together relevant stakeholders at the national level to accelerate progress towards shared goals. Leaders of government, private sector, civil society, donor and farmer associations work together to increase investment, productivity and sustainability in specific crop value chains or regions of the country. For example, in Tanzania stakeholders are developing agriculture value chains and infrastructure along an agricultural growth corridor, and in Vietnam a public-private task force is focusing on five commodities. In Mexico, a partnership comprising more than 40 organizations is focusing on five commodities plus cross-cutting issues such as water management, information access and infrastructure.
In Africa, the African Union and NEPAD joined with the New Vision for Agriculture to create the 
Grow Africa
 partnership to support public-private partnership for sustainable agricultural growth in seven countries: Tanzania, Mozambique, Kenya, Ethiopia, Rwanda, Ghana and Burkina Faso. An eighth country, Nigeria, has joined in 2013.
Partnerships supported by the New Vision for Agriculture initiative have established new levels of trust and collaboration between stakeholders who traditionally have not worked together. All partnerships have set specific goals, developed work plans and mobilized activity or substantial investment commitments. However, the partnerships are still in an early stage, having been formed one to two-and-a-half years ago. Work is in an early stage, with tremendous potential for broader impact.
This report highlights specific actions that government, the private sector, civil society and others can take, calling on stakeholders to intensify their efforts to realize the transformational potential of these partnerships. This includes:
Refining partnership strategies to strengthen key areas, such as environmental sustainability or innovative financing, and to ensure scalability;
Engaging and activating key stakeholders, broadening networks to include perspectives and partnership from important sectors ranging from civil society to logistics experts, while reinforcing global support;
Strengthening implementation capacity of partnerships working at national level, to ensure the resources needed to deliver impact are in place, and to monitor, evaluate, learn from and share emerging results.
In Davos, African and global leaders discussed implementation of more than US$ 3 billion in private-sector investment commitments in 2012.
23 January 2013. How are Africa's leaders mitigating investment risk in Africa's economies? This session was developed in partnership with CNBC Africa.
The panel titled "De-risking Africa:How are Africa's leaders mitigating investment risk in Africa's economies?" was attended by African Heads of State President Jacob Zuma of South Africa, President Jonathan Goodluck of Nigeria, President Kagame of Rwanda along with Louise Arbour of the International Crisis Group, Chairman of SABMiller Graham Mackay and Chairman and CEO of Bharti Enterprise Sunil Bharti Mittal.