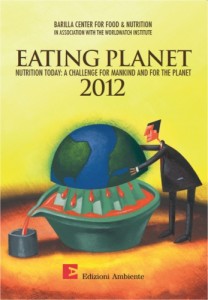 Eating Planet, Nutrition Today: A Challenge for Mankind and the Planet, a new book released by the Barilla Center for Food & Nutrition (BCFN), hopes to educate the public about food production and the challenges it faces and the benefits that reform could bring. The book is available for download from
here
.
Everyday one billion people go to bed hungry while 30 per cent of food is wasted and another billion people suffer from health problems related to obesity. As society has become more urban, younger generations have no idea as to how food is produced. Finally, the global agricultural system is responsible for one third of greenhouse gas emissions. Most of it coming from livestock, which accounts for about 20 per cent of the total, according to a UN report from 2006.
"Access to food is one of the first and most fundamental of all human rights," says Guido Barilla, chairman of the Barilla Group. "Where food is lacking, it becomes impossible to live with dignity, and the rights to a healthy life and peaceful coexistence are undermined."
The book was organized in collaboration with the Worldwatch Institute's Nourishing the Planet project, which provides an evaluation of environmentally sustainable solutions to alleviate hunger and poverty.
"The study's conclusions represent a major step toward ensuring that agriculture contributes to health, environmental sustainability, income generation, and food security," said Nourishing the Planet project director, Danielle Nierenberg. "The ingredients will vary by country and region, but there are some key components that will lead to healthier food systems everywhere."
The report is divided into four sections: Food for All, Food for Sustainable Growth, Food for Health, and Food for Culture. Each of these sections ends with concrete recommendations, proposals, and actions that need to be taken to solve the global food crisis. It also features contributions from experts such as Nobel Peace Prize winner Shimon Peres, Italian economist and former Prime Minister Mario Monti, philosopher and environmental activist Vandana Shiva and Carlo Petrini, founder of the International "Slow Food" Movement.
One of the points made in the book is that people in developing countries should be educated about the advantages of healthy foods, such as fruits and vegetables, before bad eating habits develop into deep-rooted cultural practices, which is already happening in places like India, where meat and dairy consumption are on the rise. It is important to develop healthy eating habits during childhood to ensure overall health later in life. Besides, healthy eating is also lighter on the environment since it is animal-derived produce that has a higher carbon footprint.
On June 28, 2012, the Barilla Center for Food and Nutriton and the Worldwatch Institute's Nourishing the Planet project teamed up to launch their new book, Eating Planet–Nutrition Today: A Challenge for Mankind and for the Planet. The event featured notable speakers such as Nourishing the Planet Director Danielle Nierenberg, food waste activist and author of American Wasteland, Jonathan Bloom; founder of The 30 Project and new member of the BCFN Advisory Board, Ellen Gustafson; publisher of "Edible Manhattan" and author of Eat Here, Brian Halweil; Stephanie Hanson, Director of Policy and Outreach for the One Acre Fund; Kelly Hauser, Agriculture Policy Director for the One Campaign; and founder and director of Citizen Effect, Dan Morrison.