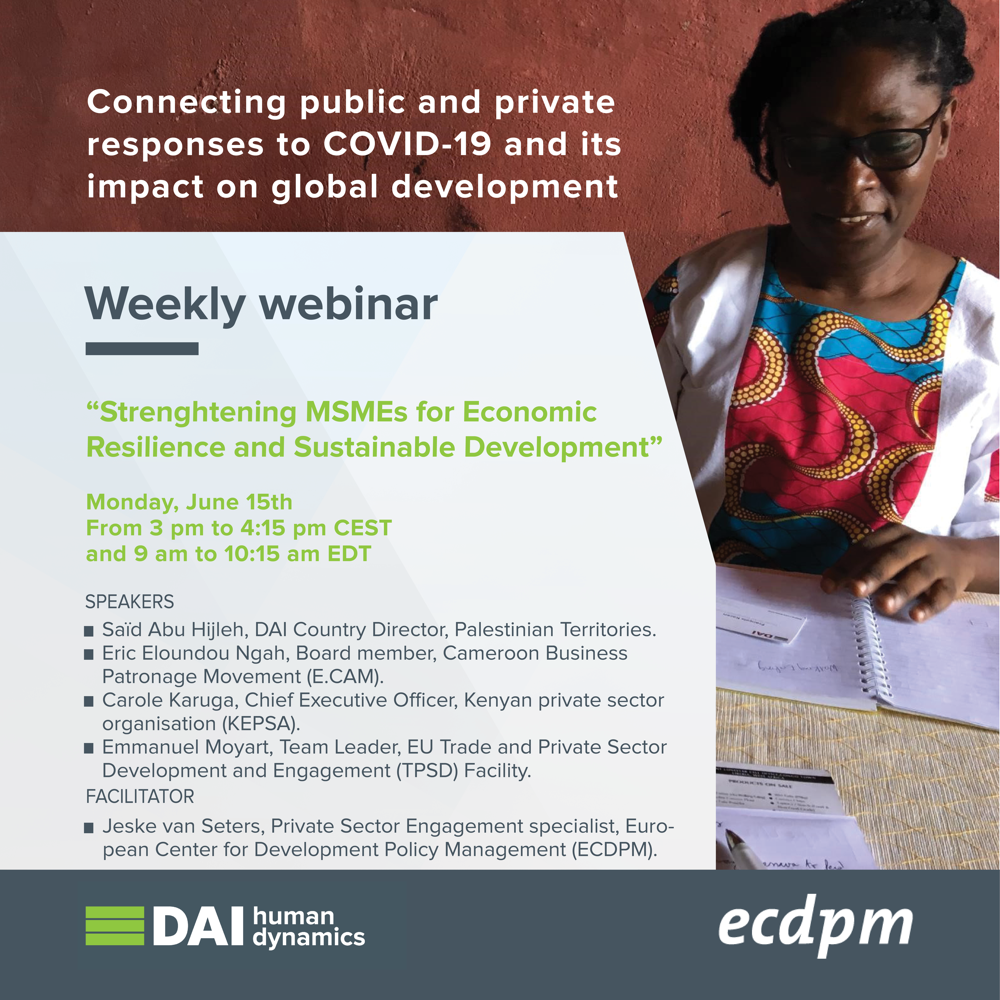 15 June 2020. ECDPM. Webinar 1: Strengthening MSMEs for economic resilience and sustainable development.
Recording forthcoming

Micro-, small-, and medium-sized enterprises (MSMEs) are dramatically affected by the coronavirus pandemic all over the world. The crisis has revealed their vulnerability to the supply and demand side, and as per a recent OECD paper: Coronavirus (COVID-19): SME policy responses, there is a serious risk that more than 50 percent of them will not survive the next few months.
In low-income countries, formal and informal MSMEs are significant engines of growth, employment, innovation, and social development. This webinar will showcase public and private sector initiatives to support MSMEs in the wake of the coronavirus outbreak, and discuss how governments and development partners could further engage with the private sector to pave the way to a quicker and environmentally sustainable economy recovery in developing countries.
The Trade, Private Sector Development, and Engagement (TPSD/E) facility (2017-2021) was established by the European Commission to support the implementation of its 2014 Private Sector Communication, and to shape and implement new policy orientations, in particular geared toward the European Union's External Investment Plan (EIP). By leveraging financial assistance and guarantees and supporting improvements to the business environment, the EIP aims to catalyse private sector investment in partner countries in Africa and the European Neighbourhood and contribute to meeting Sustainable Development Goals.
Results
Organised in-country short-term assignments for EU Delegations on the investment climate and the identification of potential investment opportunities.
Conducted a survey of the state of the structured dialogue with the private sector in Sub-Saharan Africa.
Designed Business Environment Reform Guidelines for EU staff.
Provided regular training on the private sector and trade and the External Investment Plan through classroom, remote, or recorded training sessions.
Developed the EIP in Practice e-learning modules.
Produced "EIP Stories" short videos.
Published a report on the scope of European investment in Ghana.
With the TPSD Facility, DAI provides technical expertise to EU staff working on private sector and trade in Brussels and worldwide, creates and shares knowledge inside the institution, and supports the visibility of the European Commissions' Directorate General for International Development Cooperation (DEVCO).