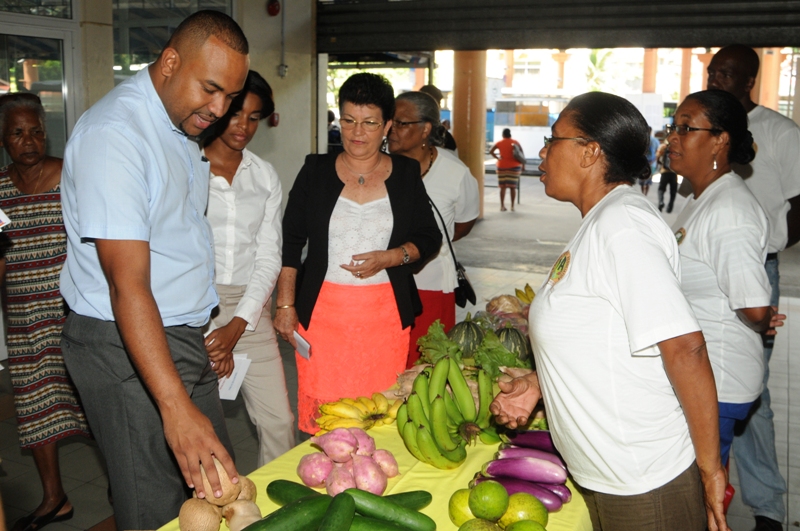 16 March 2015.
Seychelles.
Members of the public including schoolchildren who are also consumers have received a large amount of information on healthy eating habits, healthy food to prevent obesity, and other health problems. They did so
at an exhibition which was put together by the National Consumers' Forum (Natcof)
and its partners to commemorate World Consumer Rights Day on March 15 which this year fell on a Sunday.
The exhibition promoting this year's theme 'Consumers' rights to healthy food' brought together different partners, namely the Ministry of Health and the Ministry of Fisheries and Agriculture, concerned by the increase of health problems caused by
unhealthy eating and the amount of unhealthy imported products
.
In remarks to officially launch the exhibition, Natcof's executive chairperson Raymonde Course focused on healthy eating..
"In the world today consumers are facing many problems with their health, and many are being caused by nutrition, consuming food that is not good for our health. Food is one of the first priorities for us humans, for our development. 72% of the products that we consume are imported but we should consume more products that come from our fishermen and farmers. These are food that should be on our table," Mrs Course pointed out.
For her part Minister Larue reiterated her call that we pay more attention to what we eat.
"We need to focus on the way we eat. Healthy eating should start at a young age and it starts at home. We need to work together and promote good examples on healthy eating habits. We should stop eating fast food, because it is not good for our health. Unhealthy diets are linked to overweight and obesity, high blood pressure and high level of cholesterol. Sometimes when consumers go shopping to buy groceries, they buy products that are not good for their health but these are less expensive. All people are consumers. Contrary to popular belief, healthy foods are not just for people who want to lose weight but also suitable and a better choice of food for everyone" Minister Larue stressed.
At the exhibition many organisations had been invited to promote 'consumers' right to healthy food' and among them was the Seychelles Trading Company (STC) with its healthy organic food that people can purchase at the STC supermarket in Victoria. Many of the foods are sugar-free as well as gluten-free. People with allergies and who cannot tolerate certain food may also take comfort in the fact that safe food is also available. The Seychelles Fishing Authority (SFA) and the Fair Trading Commission (FTC) were also present at the exhibition.
Local farmers also had available on sale in their stalls local fruit and vegetables including cassava biscuits (galet), coconut juice, orange juice, bananas and mangoes.