9 July 2017.
Release of the publications related to the implementation of the project on 
'Strengthening Community Resilience to Change: Combining Local Innovative Capacity with Scientific Research (CLIC-SR).'
Drawing on its experiences in promoting farmer-led joint innovation that builds on the creativity of local people, the international Prolinnova network applied this approach in building local adaptive capacities and strengthening community resilience to various types of change, including climate change (CC).
Strengthen the resilience to change of smallholders and their communities, especially women, by enhancing their innovative capacity and thus their livelihood security through Participatory Innovation Development (PID)
Build the capacity of local organisations working in agriculture and natural resource management (NRM) to support smallholder communities in their efforts to adapt
Share and learn about farmer-led adaptation and about the relevance of PID in this process
Mainstream PID as an accepted approach in national and international policies and programmes related to agricultural development, NRM and climate-change adaptation.
The project was implemented in Uganda for four years (2012-2016) with financial support from the Rockefeller Foundation.
Related:
22-29 June 2017. Kampala. This year, Uganda was privileged to host The 11th International Conference on Community-Based Adaptation (CBA11) .
The
10th International Conference on Community-Based Adaptation(link is external)
(CBA10) was held in Dhaka, Bangladesh. The conference theme was 'enhancing urban community resilience'. The International University of Bangladesh (IUB) campus hosted the event, and more than 300 participants from around the world took part.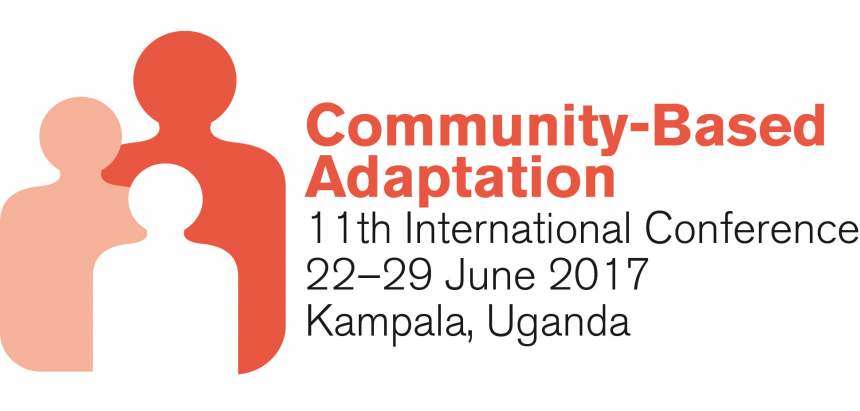 Community-based adaptation to climate change (CBA) focuses on empowering communities to use their own knowledge and decision-making processes to take action on climate change ,therefore the CBA International conferences which usually take place in different countries provide opportunities to review the latest developments in CBA practice, policy and theory with participants from around the world.
It aims to strengthen the existing network of practitioners, policymakers, planners and donors working on all levels of community-based adaptation, and enhance the capacity and knowledge of practitioners, governments and donors to help improve the livelihoods of the most vulnerable to climate.change
The Conference was organized by International Institute for Environment and Development (IIED), International Centre for Climate Change and Development (ICCCAD, Makarere University Centre for Climate Change Research and Innovation (MUCCCRI) and the Ministry of Water and Environment (MWE) of the Government of Uganda,it was attended by over 300 participants from over fifty countries from all the main continents of whom nearly 100 went on the pre-conference field visit who all had a great time.
On 23rd up to 25th, one of the CBA11 field visit groups visited Kikandwa and see how the community is adapting to the impacts of climate change. The learning sites /projects visited show cased opportunities and at the same time showed actions used to address the several challenges due to climate. (see the full report of this field visit).
Kikandwa Environmental Association (KEA) is a developmental community-based organization founded in 1999 with the purpose of addressing rural development issues and natural resource management. KEA was born out of the need to address the alarming low levels of agriculture productivity, high level of food insecurity, and low income in the rural communities in addition to protection against rapid degradation of natural resources on which more than 95% of the people of Mubende and Mityana depend for their livelihood. The organization is registered at district level as a CBO.
1. Half + Half 1000 Acre ProjectHalf + Half 1000 Acre Community Forest Project, a Nature Based Conservation is an innovation initiated by Kikandwa local community by small holder farmers to conserve and restore small forest patches ranging from ½ acre to 5 acres per household or leaving a piece of land to regenerate naturally into a forest by its own depending on the land one has to enhance action for the realization of sustainable development goals (SDGs) hence promoting Community Based Adaptation on climate change. This initiative also aims at sensitizing smallholder farmers by themselves to value forests and its ecological functions in their livelihood.
It is anticipated that through campaigns and sensitization, these small forest patches or piece of land left to regenerate into forests can make thousands of acres of forest conserved in a given local communities. The initiative is driven by the fact that it is no longer feasible to conserve large tracts of forest only in the face of the rapidly growing human population and competing economic priorities especially in Africa where land is becoming so scarce. It is assumed that thisinitiative can contribute to sustainable agriculture and food security, reduced soil erosion, stable rainfall pattern, stable income and alternative use of forest hence contributing to CBA while reducing the biodiversity loss.
2. Community Road water Harvesting promote CBA.There are many opportunities for making connections between road construction, maintenance, climate change adaptation and water management. Kikandwa community is exploring the technology by integrating climate change adaptation and road water harvesting practices which make it possible to use roads as instruments for climate resilience in ever changing weather specifically in developing countries,35-80% damage to roads is caused by water according to research, if road water harvesting is done well, there is control of soil erosion, flooding, water logging and drainage congestion, road water harvesting contribute significantly to better water resources management for crop irrigation, domestic use and animal watering hence contributing to CBA.