3-4 June 2015.  Milan, Italy. Over 50 ministers of agriculture and 370 delegates from 115 countries and international organisations participated in the International Forum on Agriculture at the Expo.
the Director-General of the Food and Agriculture Organization (FAO), Jose' Graziano da Silva; 
the European Commissioner for Agriculture, Phil Hogan; 
and former Brazilian president and President of the Lula Institute, Luiz Inacio Lula da Silva.
This event at the Expo is preceding the FAO assembly, the G7 and G20 summits, and in the next Millenium Goals to be defined by the UN in September. The Charter of Milan, which documents and preserves the spirit and achievements of the Expo, was presented during the Forum.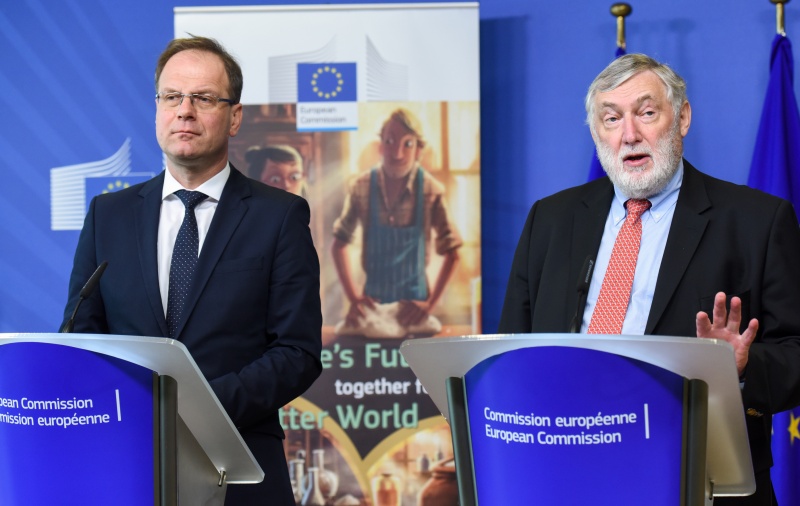 The European Commission has launched on 13 April 2015 an online consultation on how science and innovation can help the EU ensuring safe, nutritious, sufficient and sustainable food globally.
The discussion is linked to the theme of this year's Universal Exhibition (Expo Milano 2015) "Feeding the Planet, Energy for Life", which aims to go beyond cultural activities and open a real political debate on global food security and sustainability.
The paper was presented by Tibor Navracsics (left), Commissioner for Education, Culture, Youth and Sport, and responsible for the Joint Research Centre, together with Franz Fischler (right), Chairman of the Expo 2015 EU Scientific Steering Committee.
The consultation will underpin the debate on a future research agenda to help tackle global food and nutrition security challenges. It will focus on the areas where the EU's research efforts can have the strongest impact, such as how to improve public health through nutrition, increase food safety and quality, reduce food loss and waste, make rural development more sustainable, increase agricultural yields through sustainable intensification, as well as how to better understand food markets and increase access to food for people around the world.
The consultation is available online for input by all interested stakeholders until 1 September. The results of the consultation will be published on 15 October, ahead of World Food Day, and will contribute to shape the EU's legacy for Expo 2015. They will complement the scientific programme taking place at the EU's Expo Pavillion, which will bring together experts and decision makers from around the world.