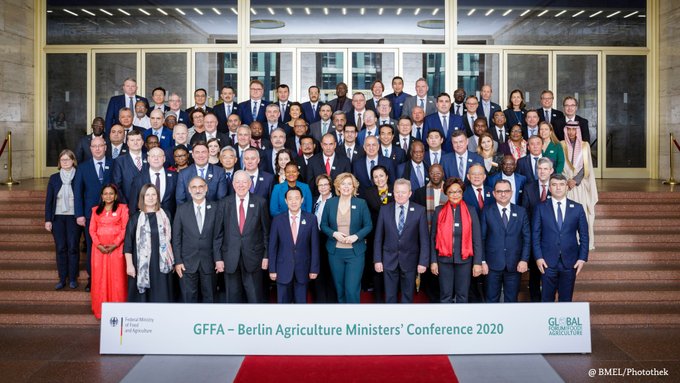 16 – 18 January 2020. Berlin. Global Forum for Food and Agriculture 2020 Food for all! Trade for
Secure, Diverse and Sustainable Nutrition.
18/01 Global Forum for Food and AgricultureCommuniqué 2020
The GFFA is an international conference that focuses on crucial questions concerning the future of the global agri-food industry. This year, the GFFA was for the twelfth time during the International Green Week in Berlin. The conference gave representatives from the worlds of politics, business and civil society an opportunity to share ideas and enhance political understanding on topics of current agricultural policy within the context of food security. The Forum was organised and hosted by the Federal Ministry of Food and Agriculture (BMEL) in cooperation with the Berlin Senate, Messe Berlin GmbH and the GFFA Berlin e.V.
Food for all! Trade for Secure, Diverse and Sustainable Nutrition
Tereza Cristina Corrêa da Costa Dias

Minister of Agriculture, Livestock and Supply of the Federative Republic of Brazil 

Jan Bock

Head of Purchasing at Lidl Germany 

Joachim von Braun

Director at the Center for Development Research of the University of Bonn (ZEF), President of the Pontifical Academy of Sciences and Vice-President of the Welthungerhilfe 

Ertharin Cousin

Distinguished Fellow at The Chicago Council on Global Affairs, Visiting Scholar at Stanford University and former Executive Director of the UN World Food Programme (WFP)
FAO Side Event Digital Council
16/01
An international Digital Council for Food and Agriculture (refer as Digital Council) will:
advise governments and other relevant actors;
drive the exchange of ideas and experiences and
help everyone harness the opportunities presented by digitalization.
In this side event, the Concept Note for establishing an International Digital Council for Food and Agriculture (28 pages) was presented and discussed. The specific areas and functions of the Council were developed through an open and inclusive consultation with multi-stakeholders and organisations. What should be the role and task of the Council? Which legal form will the Council take? How will it be governed? What working approach will it take? What impact will it have? 
In the communiqué of the GFFA 2019, FAO was asked by the ministers of agriculture from 74 nations to work out a concept note for considering the establishment of an International Digital Council for Food and Agriculture, in cooperation with international organisations. This Digital Council should advise governments and other relevant actors on digital solutions in the food and agriculture sectors, promote the exchange of ideas and experiences, and thus help make opportunities of digitalisation more accessible to all.
EU reporter: There is an urgently need for a global leadership that will chart a path towards greater digitalization for agriculture that helps produce more food for more people with ever fewer resources. This is especially critical for developing countries, as demonstrated in last year's flagship report on the opportunity of digitalisation for African agriculture. There may currently be more than 400 different digital agriculture solutions, services and platforms with 33 million registered farmers across sub-Saharan Africa, but this is just the tip of the iceberg, with 90 per cent of the estimated market still untapped.
See also: RDA Webinar Series in Agriculture: Mobilizing Capacity Development for Bridging the Digital Divide in Agriculture, 12 December 2019
Organiser: Swiss Federal Office for Agriculture FOAG
16/01. 
WFO President

Theo de Jager

joined the discussion on trade and sustainable development in agriculture, addressing the audience of the Expert Panel Discussion. The event, organised by the Swiss Federal Office for Agriculture (FOAG) within the framework of the 12th Global Forum for Food and Agriculture (GFFA 2020), aimed to analyse the role played by trade and an integrated trading system to increase agricultural productivity in a sustainable manner and ensure global food security.
Putting on the table the farmers' needs and expectations,
de Jager
highlighted that farmers could benefit from open markets, but they need international trade standards to protect human, animal and plant life so that food security and sustainable development are not threatened. Farmers can experience fair competition and receive a fair share of value-added from global value chains.
He also noted that trade rules should permit domestic policy measures which promote stability of supplies, such as safety nets, orderly marketing and supply management.
The panelists who joined the debate included representatives of governments, multilateral and international organisations, research centres and academia, private sector entities: 
Thomas Cottier

, Professor emeritus, World Trade Insitute, University of Berne, Switzerland; 

Martina Fleckenstein

, Global Policy Manager Food, WWF International; 

Martin Schüller

, Referent for Development Policy, Standards and MEL, Fairtrade, Germany; 

Jürg Maurer

, Deputy Head of Economic Policy Department, Migros, Schweiz.
High-level international conference "The Future of global pork production under the threat of African swine fever

" 
17/01 
The aim of this event was to foster coordinated global actions to reduce the impact of ASF on pork production and international trade.It was 
organised by the European Commission 
The Development Potential of Agri-Food Trade: A win-win Opportunity for Africa, EU and the World
19/01. 
The aim was to discuss the importance of international agricultural trade and an integrated trade system for global food security in order to archive major relevance in the light of the Sustainable Development Goals (SDG) of the United Nations, in particular SDG 2 – end hunger, achieve food security and improved nutrition and promote sustainable agriculture – and SDG 12 – ensure sustainable consumption and production patterns. The focus of this panel will be on agri-food trade with African countries, the importance trade has for agricultural development and the role of
food security within African countries.
Agri-food trade is increasing for most African countries, driven by population growth, a changing consumption pattern and limited growth in national and regional production. In most Sub-Saharan countries, because of insufficient infrastructure it is often cheaper to import from global markets than to import from the remote hinterland or from neighbouring countries. Still 31 African countries continue to need external food aid (FAO 2019). Most forecasts now estimate that crop yields will decline in much of Africa and the developing world as a result of the effects of climate change. The hardest hit areas coincide with the regions that are also expected to produce the highest population growth rates in the coming decades. In this context, it is particularly important to explore the future sustainability and resilience of agri-food production in Africa.
The food trade balance has worsened in most African Countries over the last decades (FAO) and in particular basic food commodities such as cereals, dairy products,

edible oils and fats as well as meat products are increasingly imported. With the African Union Malabo Declaration from June 2014, African countries committed to triple intra African trade by 2025. The African Free Trade Area is an ambitious project of the African Union. If achieved, this may help to improve food security and contribute to the achievement of SDG 2 in Africa. Panel discussions points were:
Agri-trade
SPS/AU Food Safety Agency: During the 3rd AU-EU Agriculture Ministerial Conference on 21 June 2019 in Rome, AU ministers welcome the efforts around setting up appropriate food safety governance structures across Africa and agreed to cooperate on SPS issues.
Improving a responsible food supply chain
Promoting agricultural development and investment in Africa
GIs! What can we do to speed up the process?
Organiser: GFFA Berlin e.V.
Klaus Josef Lutz

, CEO Baywa, Munich, 

Jo Swinnen

, Director General IFPRI, Washington D.C.

Joe Healy

, Farmer and President of the Irish Farmers' Association (IFA), Dublin

Gustavo Idígoras

, President Chairman Argentine Edible Oil Association & Grains Exporters, Buenos Aires

Andrea Dreifke-Pieper

, Director International Economy, WWF International, Berlin
Organiser: 
Organisation for Economic Co-Operation and Development (OECD)
Alan Matthews Professor Emeritus of European Agricultural Policy, Department of Economics
Trinity College, Dublin
Johannes Sauer Professor of Agricultural Production and Resource Economics, Centre of Life and Food Sciences, Technical University of Munich
Koen Deconinck, Economist, Trade and Agriculture Directorate, Organisation for Economic Co-operation and Development
Shivani Kannabhiran, Lead, Responsible Agricultural Supply Chains, Organisation for Economic Co-operation and Development
Organiser: Bread for the World, German Forum on Environment and Development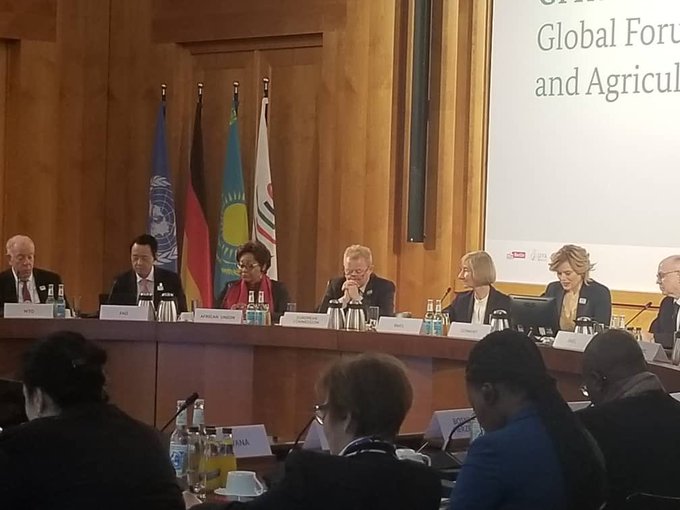 Free and Fair Agricultural Trade in and with Africa: The Role of the AfCFTA for Food Security
Organiser: German-African Business Association, German Agribusiness Alliance, Ministry for Economic Cooperation and Development, World Bank Group