21 April 2020. Four years ago, the EU, FAO and WFP created the Global Network Against Food Crises. Together with its partners, the Global Network – an international alliance working to address the root causes of extreme hunger – released the latest figures on how many people are facing acute hunger and malnutrition in crisis prone countries, in a new edition of its annual report, the Global Report on Food Crises.
The data and the analyses in this report were prepared before the global crisis of the COVID-19 pandemic and do not account for its impact on vulnerable people in food-crisis situations.
The Global Report on Food Crises (GRFC) 2020 is the result of a joint, consensus-based assessment of acute food insecurity situations around the world by 16 partner organizations.
Key findings of the Global Report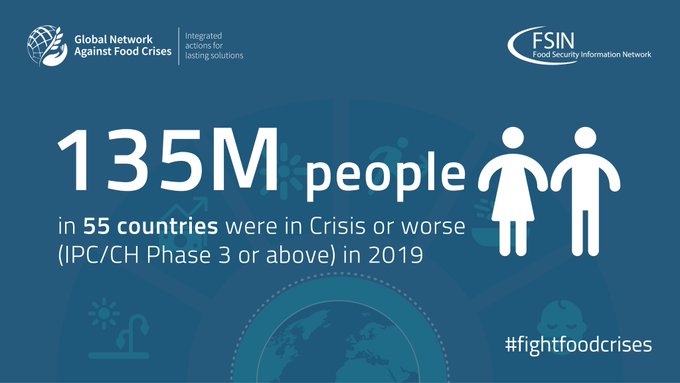 The report indicates that at the close of 2019, 135 million people across 55 countries and territories experienced acute food insecurity* (IPC/CH Phase 3 or above). Additionally, in the 55 food-crisis countries covered by the report, 75 million children were stunted and 17 million suffered from wasting in 2019.
This is the highest level of acute food insecurity* and malnutrition documented by the Network since the first edition of the report in 2017.
Additionally, in 2019, 183 million people were classified in Stressed (IPC/CH Phase 2) condition — at the cusp of acute hunger and at risk of slipping into Crisis or worse (IPC/CH Phase 3 or above) if faced with a shock or stressor, such as the COVID-19 pandemic.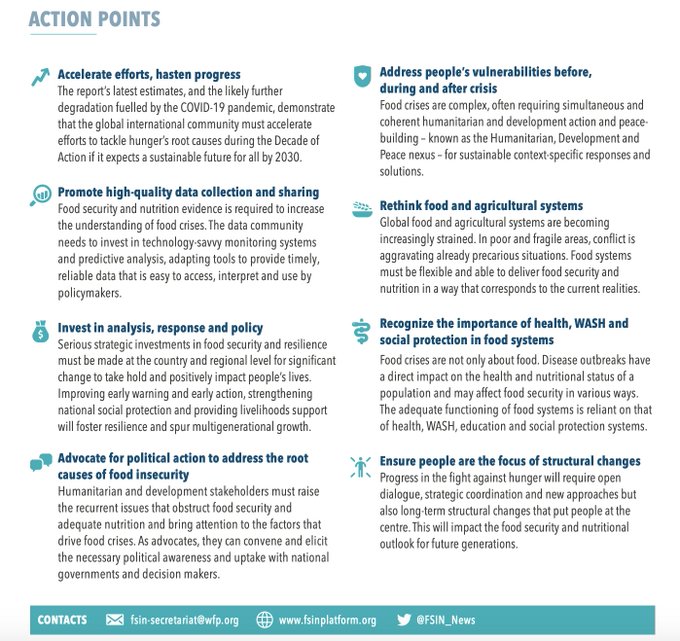 More than half (73 million) of the 135 million people covered by the report live in Africa; 43 million live in the Middle East and Asia; 18.5 million live in Latin America and the Caribbean.
The key drivers behind the trends analysed in the report were: conflict, (the key factor that pushed 77 million people into acute food insecurity), weather extremes (34 million people) and economic turbulence (24 million).
The increase by more than 20 million people since last year takes it to a record level in the four years the report has been compiled. The increase was due to conflicts, economic shocks and weather-related events such as drought. While data collection for the report ended before the outbreak of the novel coronavirus outbreak, the authors of the report warned the pandemic will make the situation worse.
Alongside the report, Network's partners issued a statement outlining their collective commitment to respond to multiplying food crises across the globe that are now being compounded by the COVID-19 pandemic, as well as their plan to protect and strengthen food systems in the post-pandemic world.
"The number of people battling acute hunger and suffering from malnutrition is on the rise yet again. The upheaval that has been set in motion by the COVID19 may push even more families and communities into deeper distress" Antonio Guterez, Secretary General UN
"COVID-19 is potentially catastrophic for millions who are already hanging by a thread. It is a hammer blow for millions more who can only eat if they earn a wage. Lockdowns and global economic recession have already decimated their nest eggs. It only takes one more shock – like COVID-19 – to push them over the edge. We must collectively act now to mitigate the impact of this global catastrophe." Arif Husain WFP's Senior Economist
Statement of Jutta Urpilainen, European Commissioner for International Cooperation and Development , for the release of Global Report on Food Crises 2020.
Local food systems risk collapsing : in the Horn of Africa, is affected this year by Desert Locusts. West Africa is already affected by growing insecurity. The Democratic Republic of the Congo, Afghanistan, Yemen, are hotspots of fragilityThe European Union announced on 8 April 20 billion EUR global COVID response package. We will work with our partners and with the Global Network against Food Crises.
Statement of Janez Lenarčič, European Commissioner for Crisis Management, for the release of Global Report on Food Crises 2020.
"Humanitarian support becomes even more difficult with access being hampered, when those on the margin of society slip further into poverty. The global report can guide us in addressing the needs of the most vulnerable in terms of food security, nutrition and livelihoods"
The 4th Global Reporton Food Crises gives consensual, evidenced-based information on food crises. 
The report and supporting messages and contents are made available via a digital campaign under the hashtag
The number of internally displaced people has increased
following rapidly escalating armed conflict that has spread
from northern to eastern parts. Conflict cut off humanitarian
access to some camps and IDP hosting areas,
particularly in the Centre-Nord and Sahel regions.
Extract from the Global Report on Food Crises 2020
1. For households dependent on food production and livestock rearing, any disruption in the supply chain of agricultural inputs or the inability to access livestock markets, will likely lead to declines in crop and livestock production and sales. (Page 4)
2. Whether or not localized food price spikes will trickle down to remote rural markets will depend on the level of integration of local markets, as well as other factors such as harvest performance, seasonality, infrastructure and security. (Page 5)
3. Given the unprecedented nature of the crisis, creating a better understanding of the potential
Following years of drought and poor rainy seasons in
the Somali region pastoralists faced another
extended dry and hotter-than-average period in 2019.
impacts of COVID-19 on food security, nutrition and related vulnerabilities is of paramount importance and urgency. (Page 5)
5. It is important to scale up support for food processing, transport and local food markets, and advocate for trade corridors to remain open to ensure the continuous functioning of the critical food supply chain and agri-food systems in food-crisis countries. (Page 5)
6. Overall, around USD 4.2 billion was allocated to development and USD 6 billion to humanitarian assistance in food-related sectors in the 32 countries in 2017. In many countries, especially those affected by protracted conflict, the spending on humanitarian assistance far
A Rohingya refugee girl in Cox's Bazar stands outside
shelters damaged by floods during September's heavy
monsoon rains that triggered landslides,
 flash flooding and renewed displacement.
outweighed that on development assistance. (Page 7)
7. There is much room to improve the coordination between humanitarian and development efforts in order to enhance impact and address the root causes of protracted crises. (Page 7)
8. Macroeconomic shocks tend to coincide with increases in acute food insecurity. Increases in prices of staple grains, oil or agricultural inputs can affect food availability, food prices and incomes. (Page 12)
9. Microeconomic shocks are characterized by rising food prices, lack of income sources and consequent reduction in purchasing power, which directly affect households' food security. (Page 12)
10. The refugee population remains heavily dependent on humanitarian food assistance to meet its
Clashes in northeastern Democratic Republic of the Congo
forced thousands into Uganda in 2019, fleeing extreme brutality.
Nearly two in three were children.
minimum food and nutrition needs, but funding shortfalls have forced ration cuts in food and non-food assistance in Djibouti, Ethiopia, Kenya and the Sudan. (Page 32)
11. Southern Africa is experiencing the brunt of the climate crisis: it is warming at about twice the global rate and many countries were buffeted by multiple weather shocks in 2019. The region has had only two favourable agricultural seasons since 2012 and many areas have yet to fully recover from the devastating impact of the 2015–2016 El Niño season. (Page 34)
12. Between late 2018 and the end of 2019, the number of IDPs in the Central Sahel countries increased dramatically because of insecurity – by 300 percent in the Niger's regions of Tahoua and Tillabéry, by 66 percent in Mali and by 1 270 percent in Burkina Faso. (Page 37)