Grow Markets, Fight Hunger:A Food Security Framework forUS-Africa Trade Relations
By Andrea Durkin March 2015
Copyright © 2015 by The Chicago Council on Global Affairs
22 pages

3 March 2015. A new framework for US-Africa trade relations focused on agriculture and food can advance African food security while positioning US businesses to benefit from Africa's growing food market, which is expected to reach $1 trillion by 2030.
This report presents evidence that an effort by the United States focused on bolstering regional trade and harmonizing food standards and regulations across countries would drive economic growth while improving the availability and affordability of nutritious foods throughout Africa.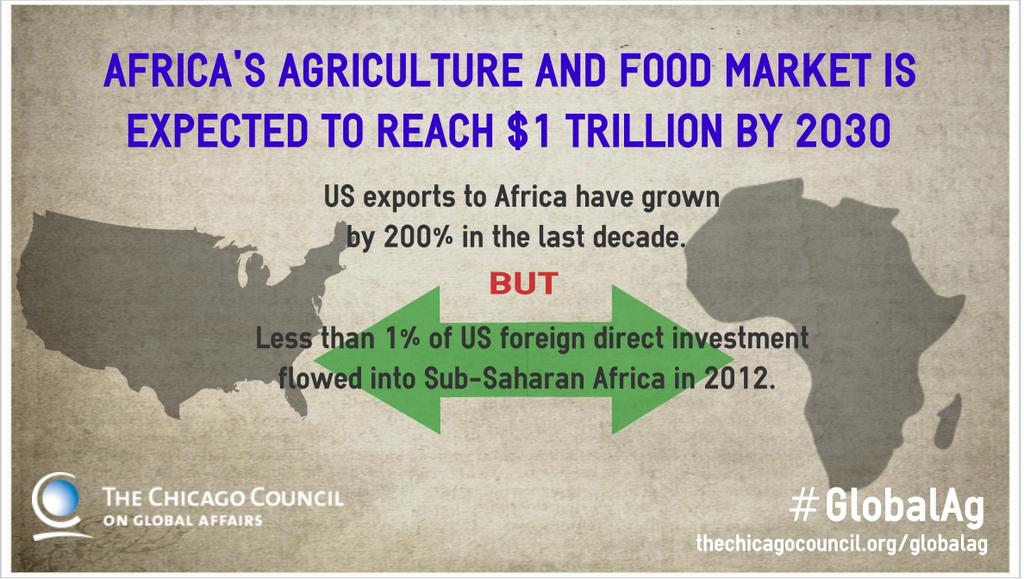 The Council recommends that the U.S. government will build on the African Growth and Opportunity Act (AGOA) Forum by creating a U.S.-Africa Food Dialogue to advance regional economic integration; reduce technical regulations and standards barriers to agriculture and food trade; and implement trade facilitation measures.
"African and American farmers and agrifood businesses stand to make big gains if we can increase regional trade in Africa through tackling some of the inconsistencies in standards and regulatory frameworks," said Dan Glickman, former U.S. secretary of agriculture and co chair of the Council's project on global food security. "We need to make more headway in reducing the cost of moving agricultural products and food within and between countries."
Summary of Report Recommendations