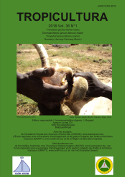 Tropicultura
publishes original articles, research and synthesis notes, book and thesis summaries as well as reviews of films and videos relative to all aspects of rural development: plant and animal production, veterinary science, forestry science, soil science, rural engineering, environmental sciences, bio-industry, agro-food science, sociology and economy.
The review is published with the aid of the "Direction générale de la Coopération au Développement (DGD), Ministère des Affaires du Commerce extérieur et de la Coopération au Développement" of Belgium and the "Région Bruxelles – Capitale" by Agri-Overseas in order to establish common-interest professional relationships between people working on overseas rural development.
Agri-Overseas is composed of both individual members and members of the following Belgian Institutions: the four faculties of agronomy (Gembloux – GxABT, Ghent – UGent, Leuven – KULeuven and Louvain-La-Neuve – UCL), the two faculties of veterinary medecine (Ghent – UGent and Liège – ULG), the Department of Production and Animal Health of the Institute of Tropical Medecine in Antwerp – IMTA, the inter-faculty section of agronomy of the "Université libre de Bruxelles" (Brussels – ULB), the "Facultés universitaires de Notre Dame de la Paix" (Namur – FUNDP), the "Département des Sciences et Gestion de l'Environnement de l'Université de Liège" (Arlon – DSGE ULg), the Directorate General for Development Cooperation (DGD) and the Royal Academy for Overseas Sciences (KAOW – ARSOM).
Tropicultura is published four times per year.