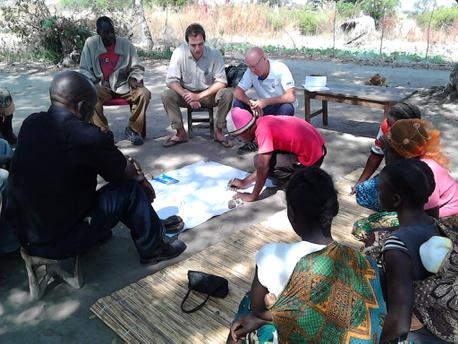 Fishing community drawing a map of their fishing area,
Tangatanga fishing village, Senanga , Zambia
25-26 September 2015. Fishing communities are working alongside researchers in Malawi and Zambia to evaluate post-harvest fish processing practices to improve their effectiveness, reduce losses, and promote greater equity among the men and women who work in the fisheries sector.
Working with fishing communities in Barotse and Lake Chilwa, and other partners, the project is analyzing fish value chains, including the differing roles of men and women, to understand how losses occur in fish volume, nutrient content, and economic value.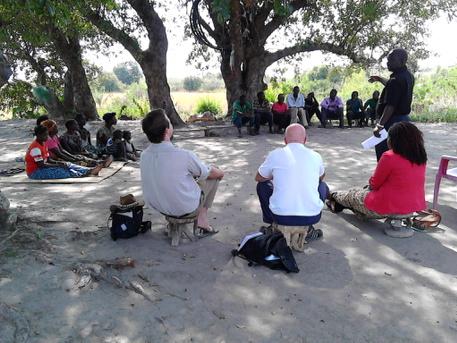 Research team discussing with fishing community at
Tangatanga fishing village on the banks of Zambezi River, Mongu.
The research team is developing and piloting interventions to reduce these losses, while also addressing issues connected to gender and power. These interventions include improved processing methods, such as paraboiling, solar drying, and kilning. Gender training and behaviour change communication activities will address the gender and social relations in the fisheries value chain. Working with policymakers, the team aims to increase recognition of the importance of fish production and gender equality in national and regional policies.
There is no local market for salted fish in Barotse because people are unaware of the methods for
desalting the fish in order to make it palatable. To address this, one of the groups involved in the project and traders based in local markets are creating awareness of desalting methods in order to develop the local market, and thereby provide a new outlet for fishermen and processors in the area.
One option is to develop packaging for salted fish products which includes desalting instructions;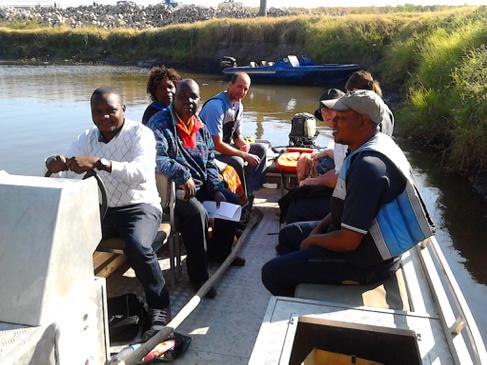 Heading for field work at 3 locations. CultiAF project
team from Fisheries,World Fish,University of Malawi,NAIS .
another is to hold demonstrations and taste tests in local markets, as well as raising awareness through radio broadcasts. Another group is investigating the use of solar tents made from plastic sheeting. These have the advantage of protecting the fish from dust and flies during the drying process and speeding up the time for fish to dry.
This project is funded by the Cultivate Africa's Future Fund Cultivate Africa's Future Fund (CultiAF). It is a CA$15 million joint program of the Australian International Food Security Research Centre of the Australian Centre for International Agricultural Research and Canada's International Development Research Centre. CultiAF supports research to achieve long-term food security in Eastern and Southern Africa.
Source: CultiAf Press Release 29/09/2015. Southern Africa: Improving Fish Post-Harvest Management and Marketing in Malawi and Zambia
Related:
15th September 2015. Addis Ababa. The FAO organised the East Africa Consultation Workshop on improving small-scale fisheries (SSF) in the context of food security and poverty eradication. This event was organized by the FAO Sub-regional Office for Eastern Africa (SFE) in collaboration with FAO HQ Fisheries Division.
The overall objective of the workshop was to facilitate the understanding of the principles of the SSF Guidelines and their application in order to support sustainable small-scale fisheries in the region; and, it is in response to direct demand from the region, and within the evolving framework of a Global Assistance Programme to support the promotion and application of the Securing Sustainable Small-Scale Fisheries.
The East Africa Consultation Workshop convenes 45 participants from government officers, civil society representatives, researchers, regional organization representatives and development partners from the countries covered by the FAO Sub-regional Office for Eastern Africa and from Tanzania.
More informations: