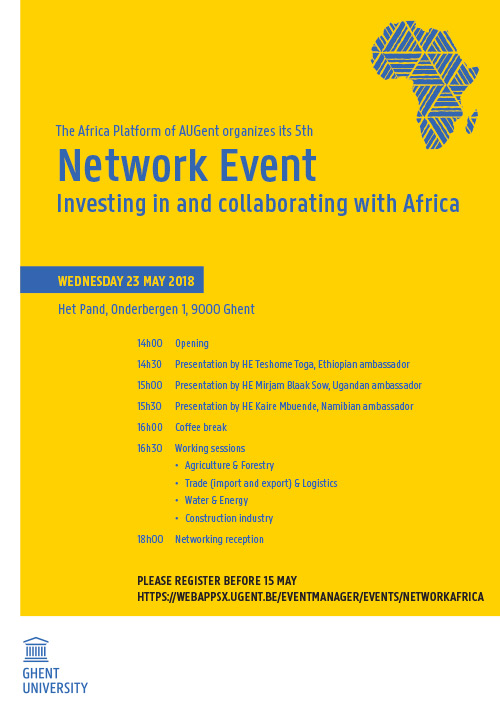 23 May 2018
. Gent. Symposium '
Network event 2018: investing in and collaborating with Africa
'.
This Ghent Africa platform event provided a forum to private companies, NGO people and academics to network and discuss collaboration with and in Africa
presentation by

HE Mirjam Blaak Sow,

Ugandan ambassador
presentation by

HE Kaire Mbuende

, Namibian ambassador
presentation by

Mr. Ewnetu Billta,

Deputy Head of Mission, Ethiopian embassy 
Working sessions
Agriculture and Forestry 
Trade (import and export) & Logistics 
Water and Energy 
Construction industry
FRISOMAT: cold-formed steel constructions
Since the start, 40 years ago, Frisomat has built 35.000 buildings across the world. Frisomat has subsidiaries in 14 countries and production plants in Belgium, Russia and Brazil. The cold-formed steel constructions consume 30% less steel, yet they are robust and sustainable. Frisomat is a family-owned business. The construction process is sustainable. Solar panels provide 50% of our energy. It uses less steel, smart transport and reduce waste to a minimum. Steel is 100% recyclable.
3,000 M² FOR THE FOOD INDUSTRY IN ACCRA, GHANA
Promasidor, a Ghanaian food producer, needed a warehouse with an integrated office building to distribute its products in Ghana and neighbouring countries. Frisomat therefore delivered a 3,000 m² storage building in Accra. "It is a very good structure for free spans," explains architect Patrick Osei-Wusu, "because you can span about 50 metres without columns." See how Osei-Wusu, his colleague-architect and the project manager further review the project.
TOP HARVEST is an international partner for fresh vegetables, fruit and potatoes. Specializing in Africa and located in Europe. 
TOP HARVEST was founded in 2016 by Nicolas Vandenbogaerde and his wife Delphine Vanhaelewyn. The trading company, specializing in import and export of fresh vegetables, fruit and potatoes is the result of their shared passion for travel, culture and wonderful fresh products processed in local dishes. 
TOP HARVEST is extremely flexible and supplies in different calibres and packages, all in accordance with the wishes of the consumer. Both full containers and mixed containers are possible, as far as the products allow so. 
TOP HARVEST organizes everything from A to Z, from the local farmer all the way to the port of destination.