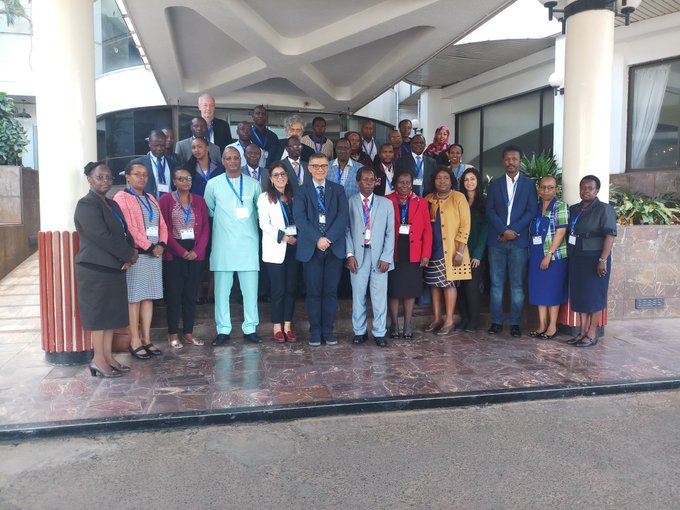 18 February 2020
. Nairobi. Within the framework of LEAP4FNSSA project, the 1st Dissemination Event Towards Decision Makers and
Research and Innovation Funders
was hosted by the 
Ministry of Education, Science and Technology of Kenya
in close collaboration with the
International Center for Advanced Mediterranean Agronomic Studies – Mediterranean Agronomic Institute of Bari
(and the
Ministry of High Education, Science and Research of Egypt
).
The aim of this event was the dissemination to decision-makers and of:
Research and Innovation funders
project strategies; 
background of the AU-EU research and innovation dialogue on FNSSA; 
prospects of regional cooperation on FNSSA.
The meeting conveyed participants from selected cooperation agencies, research institutions, private sector, research funding agencies, stakeholders and end-users' representatives from Kenya, neighborhood countries and Europe.
Members of the panel discussion: 
Luca Alinovi.

He has a PhD in Agricultural and Natural Resources Economics and a Laurea in tropical and sub-tropical agriculture, both from the University of Florence. Previously, he served as the Representative of the Food and Agriculture Organization (FAO) of the United Nations in Kenya, the Eastern Africa Resilience Hub Director, and the Global Deputy Resilience Coordinator for FAO. 

Mohamud Isse Farah.

He holds a Master of Arts in Environment, Peace and Development at the United Nations University for Peace (UPEACE), Mogadishu (Somalia). He is the Director of Food Security and Early Warning for the Somali Ministry of Agriculture and irrigation 

Mary Wairimu Kamau.

She is the former Director of Agriculture Extension in Kenya and currently a farmer. She is also a member and the immediate former Board Chair of The African Forum For Agricultural Services (AFAAS); a Board Member of The Global Forum for Rural Advisory Service (GFRAS) and its Policy Dialogue Team; a member and co-founder of The Kenyan Forum For Agricultural Advisory Service (KeFAAS); a member and the current Board Chair of Access Agriculture, an International Non – Governmental Organization.

Sintayehu Demissie.

Starting from April 2009 she is serving in the Ministry of Agriculture in different positions such as Monitoring and Evaluation Expert, Livelihood Implementation Coordination Unit Coordinator and currently she is working as Food Security Coordination Directorate Director and managing specifically the Ethiopian Rural Productive Safety Net Program in the Ministry of Agriculture. 

Jean Jacques Mbonigaba Muhinda.

During the last decade, he was charged of the following responsibilities: Executive Director of the Association for Strengthening Agricultural Research in Eastern and Central Africa (ASARECA, current position); Director General of the Rwanda Agriculture Development Board (RAB- a Government of Rwanda's apex organization in charge of Agriculture Research, Technology Transfer and Extension/Advisory Services;); Chairman of the Rwanda National Irrigation and Mechanization Task Force; Professor and Vice-Dean for Research and Postgraduate Studies at the Faculty of Agriculture, University of Rwanda; Senior Consultant for AGRA, FAO and WFP. He currently sits on the Board of the Forum for Agricultural Research in Africa (FARA).