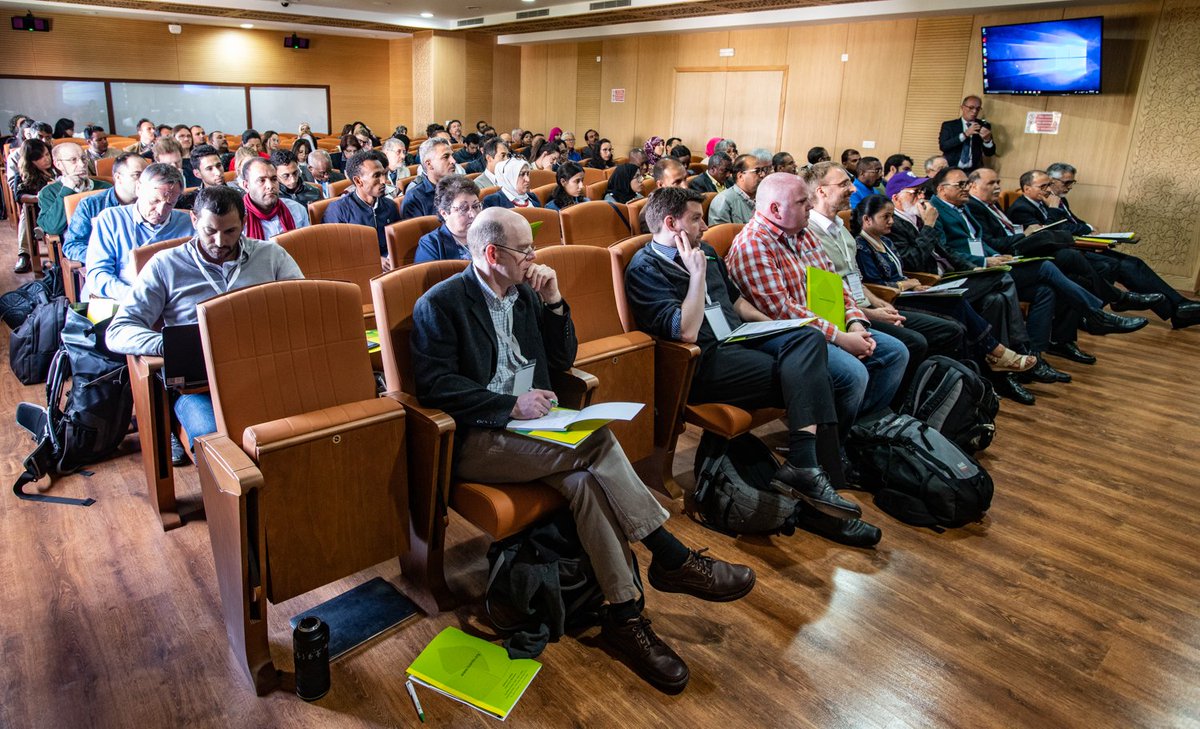 24-26 April 2019
, Rabat, Morocco. First International Experts
Workshop on Pre-breeding Utilizing Crop Wild Relatives (1st PBCWR).
Using crop wild relatives (CWR) in crop improvement is much more difficult than breeding with domesticated varieties.
Pre-breeding aims to isolate desired genetic traits (e.g. disease resistance) from unadapted material like CWR and introduce them into breeding lines that are more readily crossable with modern, elite varieties.Pre-breeding broadens the elite genepool by re-capturing lost beneficial genetic diversity.
ICARDA plays a crucial role in conserving dryland agrobiodiversity. It holds in-trust more than 157,000 accessions in the three genebanks in Lebanon, Morocco and Syria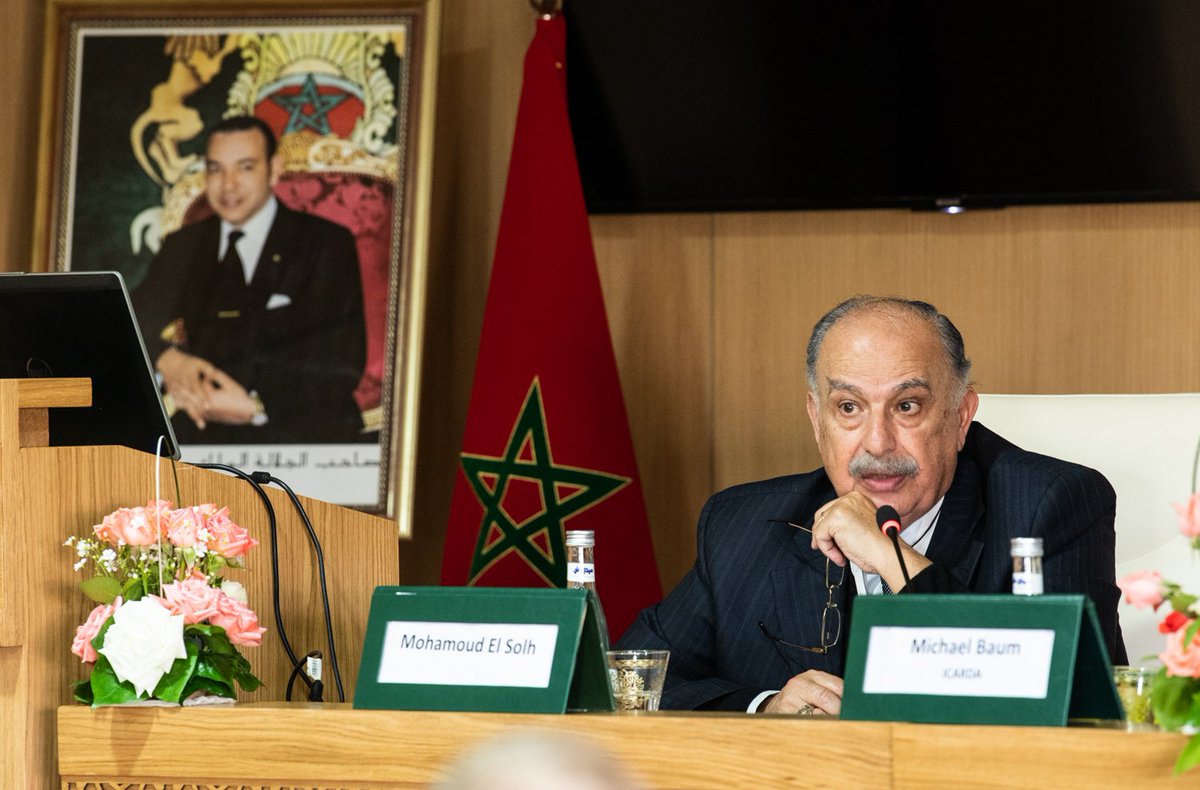 Dr Mahmoud El-Solh,
former Director General
of @ICARDA and
Advisory Group member
of the @CropWildRelativ Project
chaired the opening session
Extract of the program
Session 1: Opening lectures 
Mohamed Sadiki

(MoA),

Jacques Wery

(

ICARDA

),

Faouzi Bekkaoui

(INRA-Morocco),

Luigi Guarino

(GCDT),

Daniel van Gilst

(NORAD)

Bikram Gill

: Towards a Futuristic Elite Crop-CWR Germplasm Enhancement Program
Session 2: Collecting and conserving crop wild relatives 
Ahmed Amri (see picture): Promoting in situ/ ex situ conservation linkages of crop wild relatives of cereals and legumes

Chris Cockel

: The role of botanic gardens in collecting and conserving crop wild relatives + CWR initiative

Julian Ramirez

: Approaches for gap analysis for landraces and crop wild relatives

Vania Azevedo

: Conservation of tropical dryland food legumes and cereals genetic resources

Zakaria Kehel

: Targeting adaptive traits in ex situ collections and in situ natural habitats

Alain Tsobeng

: Use of tree genetic resources for land restoration: Case study of Dacryodes edulis G. Don Lam (Burseraceae) in Cameroon.
Session 3: Exploring the value of crop wild relatives 
Benjamin Kilian

: Global efforts to explore the value of crop wild relatives

Mona Schreiber

: Glimpses of domestication history of cereal crops through genebank genomics

Antonio Costa de Oliveira

: Improving efficiency in the exploitation of genetic resources through molecular techniques

Mustapha El-Bouhssini

: Evaluation of wild relatives and pre-breeding germplasm for resistance to major insects and diseases

Hisashi Tsujimoto

: Can we find abiotic stress tolerance in wheat related-wild species? – Experiences and lessons learned in pre-breeding of wheat with drought and heat stress tolerance

Professor Ian King of the
@UniofNottingham presented
the research of his team
on mobilizing useful genes
from distant species of wheat

Carla Ceoloni

: Chromosome engineering to leverage alien genetic variation and make a better wheat in the face of current and future challenges
Session 5: Strengthening pre-breeding efforts 
Kuldeep Singh

: Plant Genetic Resources Management and Pre-Breeding in Genomics Era

Verma Ramesh

: Excellence in pre-breeding efforts in barley

Izzat Taher

: Pre-breeding and breeding efforts for heat tolerance in cereals and legumes

Shiv Kumar

: Pre-breeding efforts in lentil, chickpea and grass pea

Shivali Sharma

: Utilizing the underutilized CWR: Pigeonpea pre-breeding from discovery to delivery

Zakaria Kehel of @ICARDA on
targeting novel diversity
in genetic resources

Christian Fatokun

: Utilizing the underutilized CWR: cowpea
Background:
Download CWR Pre-breeding Flyer
Pre-breeding Utilizing Crop Wild Relatives.
The initial phase of the initiative involves 19 projects focussed on creating new pre-bred materials derived from crop wild relatives.
In the current phase (2017-2020), the focus is on expanding the pre-breeding work and evaluating germplasm derived from CWRs. Newly developed pre-bred lines are being evaluated under field conditions in target environments with breeders and farmers. The project integrates promising materials into the breeding pipelines. Evaluation projects for 13 crops are supported.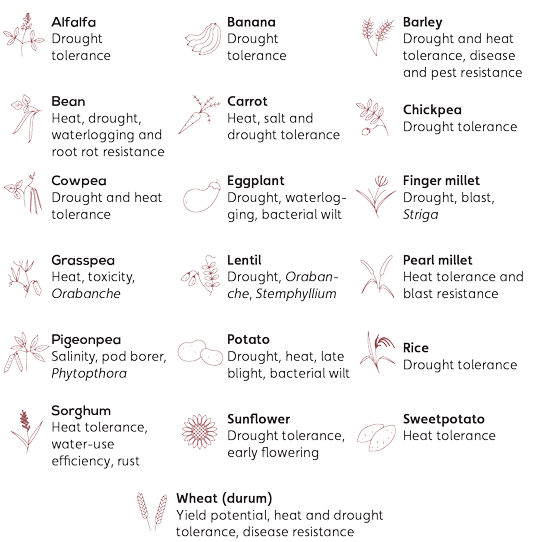 The two phases of the initiative together involve nearly 100 national and international partners in 48 countries. All projects have strong capacity-building elements and always involve research partners in a CGIAR center or a university, as well as national partners in the developing world.
All key germplasm material produced will be made available to users with the standard material transfer agreement (SMTA) under the International Treaty for Plant Genetic Resources for Food and Agriculture.
Related:The women finger millet advocates of Western Kenya
Women in Kakamega and Busia counties of Western Kenya are going against the grain. They are turning their backs on the commonly planted grains of sorghum and maize and on commercial sugarcane, and replacing them with a grain that not only better meets the nutritional needs of the family but also fulfils economic and agronomic requirements in a time of climate change.
The women are planting finger millet. Finger millet hardly needs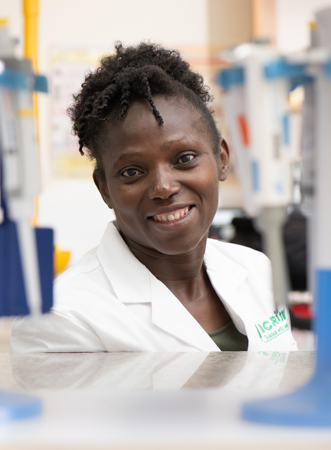 an introduction in Western Kenya. The crop is native to the highlands of Kenya, Uganda and Ethiopia and has been widely grown traditionally in Eastern and Southern Africa and South Asia for hundreds of years. It is now considered a minor crop in many of these areas. But perhaps not for long, according to the women who grow it and a woman who works to improve it.
ICRISAT's Dr. Damaris Odeny is the principal investigator of a five-year finger millet pre-breeding project and focuses on genotyping finger millet samples. [Photo: Michael Major/Crop Trust]