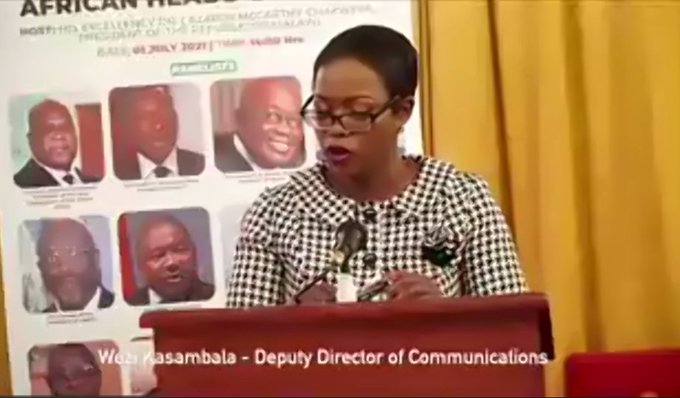 1 July 2021. His Excellency Dr. Lazarus McCarthy Chakwera, President of the Republic of Malawi on
1st July, 2021 hosted a Pre- United Nations Food System Summit 2021 Dialogue for African Heads of State and Governments.
The Summit brought together key players from the worlds of science, business, policy, healthcare and academia, as well as farmers, indigenous people, youth organizations, consumer groups, environmental activists, and other key stakeholders. Before, during and after the summit, these actors will come together to agree on key actions to bring about tangible, positive changes to the world's food systems.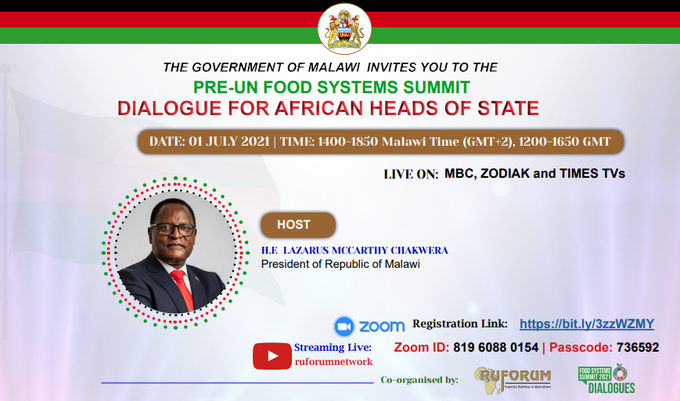 This Heads of State Summit builds on a series of Food Systems dialogue events that have been organised at country level and have generated a number of recommendations for delivering bold new actions to deliver progress on all the 17 SDGs by 2030.Convened by RUFORUM, Dialogue was addressed by, amongst others: H.E. Dr Qu Dongyu, FAO Director General.  
The Summit also considered other recommendations that have come from various dialogues at Sub-regional (North Africa and Middle East, East and Southern Africa, Central Africa, and West Africa), and continental (Africa Ministers' Policy Dialogue, Vice Chancellors Forum and Selected Advocates for Africa's Development, and global levels (Global Networks and Global Youth).
Session 1: Opening Session 
Documentary: The Africa I want (4 Minutes) 
Welcome address by the President of Malawi:

H.E Prof Lazarus McCarthy Chakwera 
Session 2: Statements from RUFORUM, AUC, FAO and UN Secretary General Special Envoy 
Statement from African Union Commission Chair H.E Moussa Faki Mahamat 
Statement from FAO Director General H.E. Dr. Qu Dongyu 
Statement from United Nations Secretary General Special Envoy & President of AGRA H.E Dr Agnes Kalibata 
Documentary: Building the Africa We Want – RUFORUM Story
Session 3: Perspectives from selected African Heads of State and Governments & African Development Bank 
Perspective from the President of DRCand Chairperson of the African Union H.E Félix Antoine Tshisekedi 
Perspective from the President of BeninH.E Patrice Guillaume Athanase Talon 
Perspective from the President of GhanaH.E Nana Akufo-Addo 
Perspective from the President of KenyaH.E Uhuru Kenyatta 
Perspective from the President of LiberiaH.E George Weah 
Perspective from the President of MozambiqueH.E. Filipe Jacinto Nyusi 
Perspective from the President of NamibiaH.E Dr. Hage Gottfried Geingob (TBC) 1725–1735 Perspective from the President of Rwanda H.E Paul Kagame 
Perspective from the President of Sierra LeoneH.E Julius Maada Bio 
Perspective from the President of South AfricaH.E Cyril Ramaphosa 
Perspective from the President of SudanH.E Abdel Fattah Al-Burhan 
Perspective from the President of Uganda H.E Yoweri Kaguta Museveni 
Perspective from the President of ZambiaH.E Edgar Lungu 
Perspective from the President of Zimbabwe H.E Emmerson Mnangagwa 
Statement from African Development Bank AFDB President H.E. Dr. Akinwumi Adesina 
Presentation of Summit Declaration 
Declaration Statement Malawi Minister of Education Hon. Agnes Makonda NyaLonje 
Open Discussion 
Vote of Thanks Prof Adipala Ekwamu, RUFORUM Executive Secretary 
Concluding Remarks by the Summit Host, The President of Malawi H.E Prof Lazarus McCarthy Chakwera