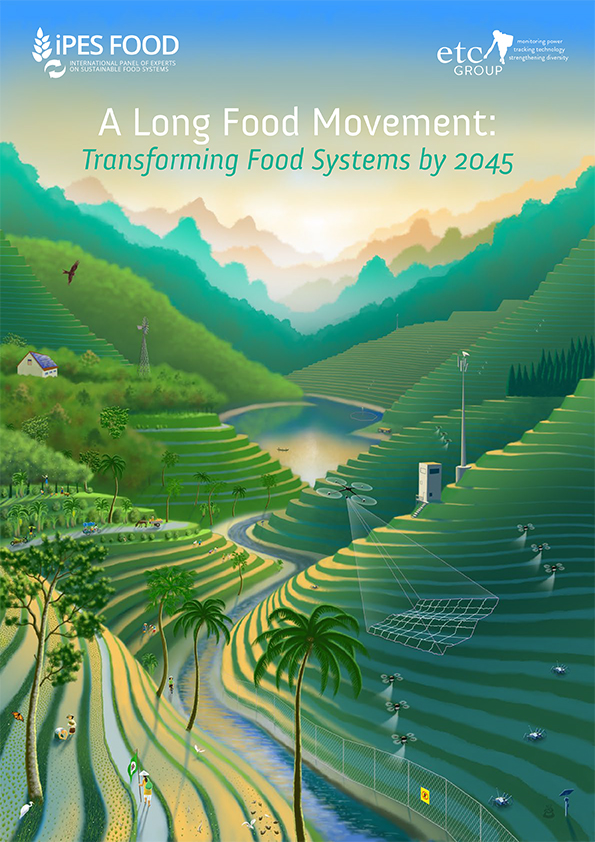 IPES-Food & ETC Group, 2021. A Long Food Movement:Transforming Food Systems by 2045.  176 pp. 
The IPES-Food and Action Group on Erosion, Technology and Concentration have issued a joint report warning of a "corporate tidal wave" threatening food security and the environment. Handing over systems and supply chains to bio-digital firms and data platforms could run the risk of turning resources and food supplies into "strategic assets" controlled by a few corporations.
Section 1.A new ab-normal: Pandemics, planetary boundaries, and food systems under unprecedented threats  
Section 2. Civil society as food system changemakers: the four basic ingredients of a 'Long Food Movement' 
Ingredient #1. Collaborating across multiple scales 
Ingredient #2. Broadening alliances and restructuring relationships 
Ingredient #4. Being ready for change and disruption 
Section 3. Looking ahead to 2045: Agribusiness as usual? (Scenario 1) 
Setting the scene: technological trajectories, corporate consolidation, and the arrival of new biodigital agri-food giants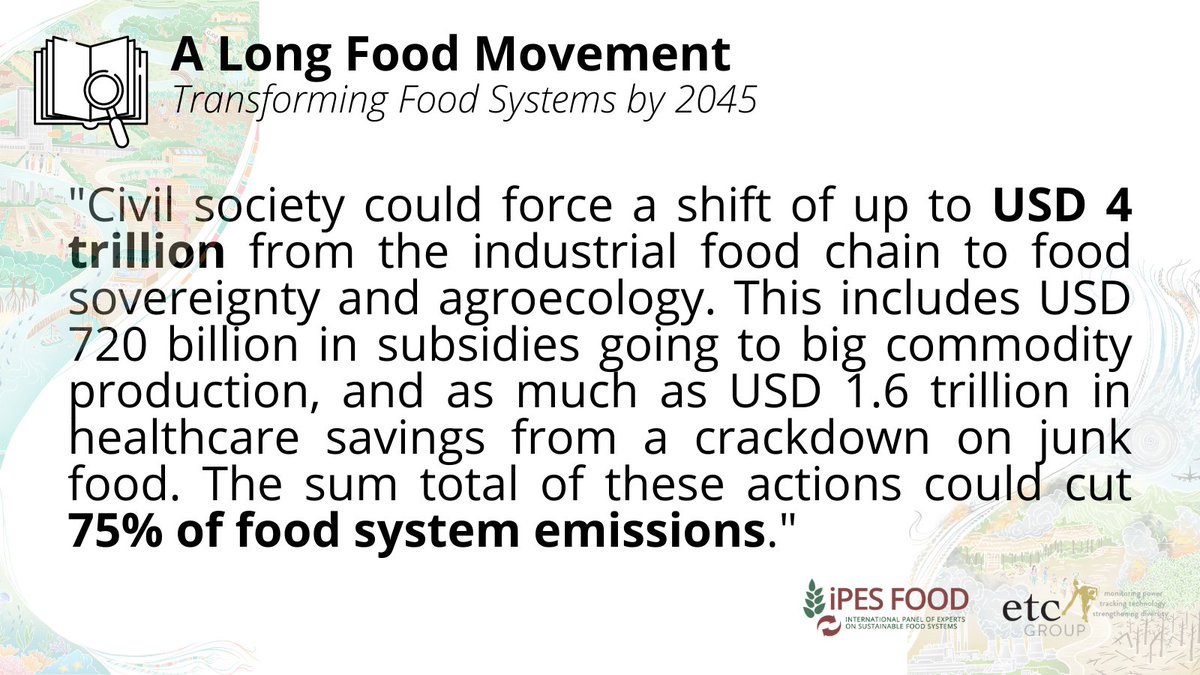 TREND #1: Precision-engineered ecosystems and the internet of farming things 
TREND #2: Logistics corridors, resource conflicts, and the new data geopolitics 
TREND #3: Hyper-nudging, personalized diets, and new frontiers in shaping the eating experience 
Conclusions: cracks and contradictions in an agribusiness-led future 
Pathway 1.
Rooting food systems in diversity, agroecology and human rights 
Pathway 2.
Transforming governance structures 
Opportunity # 4. Reviewing, reforming, and reconfiguring the UN's agri-food agencies 
Opportunity #5. Cracking down on corporate impunity and techno-fixes 
Opportunity #7. Building food policies, food policy councils, and new forms of citizen
participation 
Pathway 3.
Shifting financial flows 
Pathway 4.
Rethinking the modalities of CSO collaboration 
Opportunity #11. Making cross-sectoral collaboration the norm 
Opportunity #12. Developing new tools to block corporate commodity chains and hack closed-door negotiations 
Opportunity #13: Building new partnerships to finance a quarter century of food system transformation 
Conclusions: short steps to a Long Food Movement?