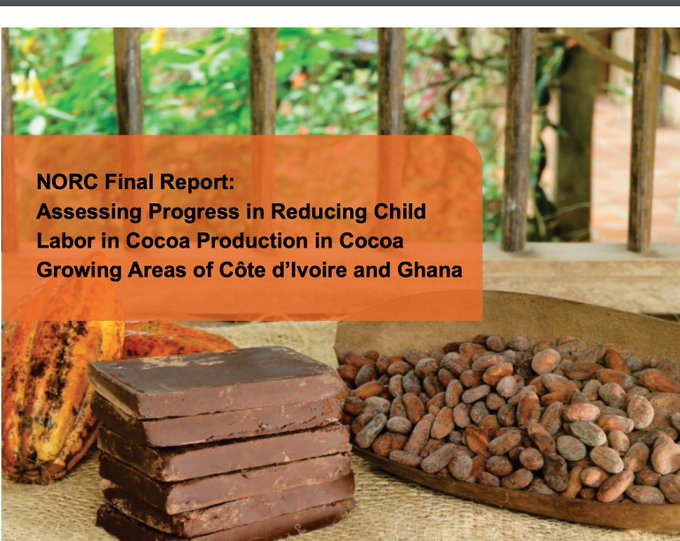 NORC Final Report: Assessing Progress in Reducing Child Labor in Cocoa Production in Cocoa Growing Areas of Côte d'Ivoire and Ghana. 301 pages
NORC has spent the last five years working closely and collaboratively with ILAB, the governments of Côte d'Ivoire and Ghana, Industry (represented by the World Cocoa Foundation (WCF)), Civil Society Organizations (CSOs), and multiple international organizations with an interest in child labor (including UNICEF, the International Cocoa Initiative (ICI), and the International Labour Organization (ILO)). 
This report is the outcome of that collaborative effort
to accurately measure and report on the issue of child labor and hazardous child labor in the cocoa growing areas of Ghana and Côte d'Ivoire.
As part of this study, NORC administered 2,824 roster surveys, 2,809 household head surveys, 5,552 child surveys, 158 community surveys, 372 cocoa shed surveys, and 260 school surveys across Ghana and Côte d'Ivoire.
The country-specific data indicates that in cocoa growing areas 38 percent of children in Côte d'Ivoire and 55 percent of children in Ghana living in agricultural households were engaged in child labor in cocoa production. Amid a 14 percent increase in cocoa production between 2013/14 and 2018/19 in Côte d'Ivoire and Ghana in aggregate, prevalence of child labor in cocoa production among cocoa growing households in each individual country remained stable.
In the 2018-19 season, 1.56 million children were involved in child labor working expanding cocoa harvest in Ivory Coast and Ghana. C. 45% of children from farming families in growing areas were working on plantations v. 31% 10 years ago.
Other Key Findings:
Cocoa is a key part of agriculture in the cocoa growing areas of both countries as can be seen from the fact that a predominant majority of agricultural households grow cocoa.
School attendance among children in agricultural households increased from 58 percent to 80 in Côte d'Ivoire and from 89 to 96 percent in Ghana.
The prevalence rate of child labor did not increase in the high cocoa production stratum while we observe substantial increases in prevalence within the low and medium production areas between 2008/09 and 2018/19. There was a similar trend in the change in prevalence of exposure to hazardous work during the same period. This indicates that future interventions should target low and medium cocoa production areas
When multiple interventions were implemented in a community, it led to a statistically significant reduction in the rates of child labor and hazardous child labor in cocoa production
Respondents recommend that engaging community leaders, including representatives for women and youth early in the design of the intervention helped promote sustainability
RESOURCES