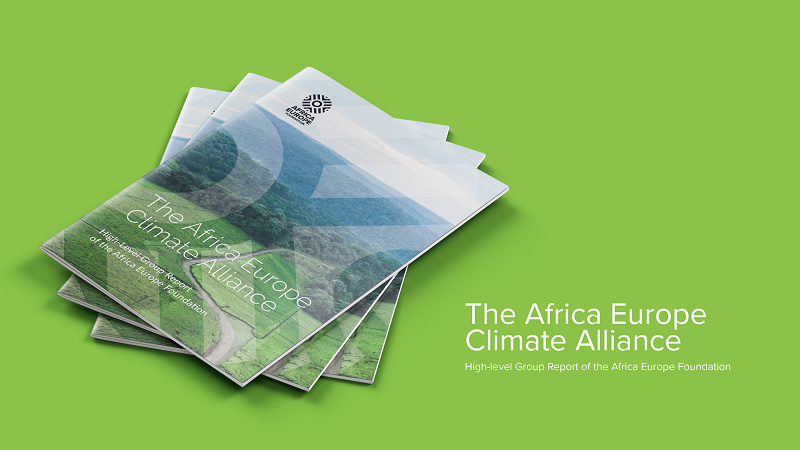 9 December 2020. The High-Level Group Report on Climate is the combination of work undertaken
during 2020 by the founding partners of the Africa Europe Foundation and under the strategic guidance of the "High-Level Group of Personalities on Africa-Europe relations".
The Africa Europe Climate Alliance High-Level Group Report of the Africa Europe Foundation,
November 2020. 19 pages
The report outlines how an innovative "Africa Europe Climate Alliance" based on mutual learning andjoint interest can be the foundation for relaunching the Africa-Europe partnership in 2021. Its' strategic areas of action focus on the priority domains of Sustainable Energy and Agriculture, at the nexus of climate and development.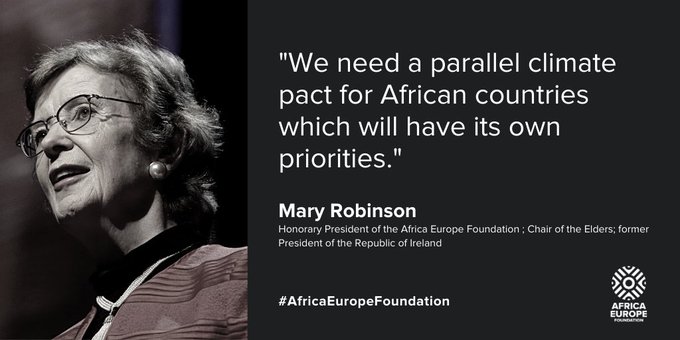 In terms of transforming dialogue into action, the HLG recognises two priority areas that are central to long-term transition and which demand major new sources of investment: sustainable energy and agrifood systems.
While African and European countries have different starting points when it comes to energy and agriculture, they have many common goals. Building a strong Africa Europe Climate Alliance allows both continents to pool their intellectual capacity to develop strategies to simultaneously build climate resilience and unlock new opportunities for economic and social development.
Short term: 
Laying the foundations of long-term sustainable African and European food systems through strengthening the resilience of local food systems, including livestock and fisheries, and the local economy including using decentralised structures to fund investment in climate resilience measures.
Mid term: 
Sustainable transformation of African and European agriculture, through promoting farmerto-farmer knowledge sharing, building solidarity strengthening decentralised energy access at farm and community level, and building systems for soil, water, nutrients, and seed which enhance resilience. 
Existing and new agri-digital technology offers farmers an array of options to help decision-making, in the face of changes in weather patterns, market information for crops and inputs, and other critical factors to ensure the success of local farming.
In the domain of sustainable agriculture, Member States of the Africa-EU partnership need to work with a multitude of stakeholders to explore: (page 13 of the report)
How best to combine increasing agricultural incomes, regenerating soils, and addressing rural poverty; 
Ways to connect small-scale farmers with largescale commercial systems; 
Combining competitive external trade, alongside meeting domestic food demand; 
Ways to build more climate resilient systems, lowering greenhouse gas emissions and meeting local people's needs; 
Avenues for encouraging domestic investment in agri-food systems; and 
Shifting from industrial forms of agricultural intensification based on high carbon inputs towards climate smart and decarbonised models of agricultural production, in which soil capital and biodiversity are enhanced.
Related: Looking Ahead to COP26: Strategic Conversation with Nigel Topping 
Nigel Topping was appointed by the UK Government as the High Level Climate Action Champion for UN climate talks, COP26.
As Africa and Europe seek to re-set their partnership, Friends of Europe is engaging with its partners across both continents about the long-term vision, as well as the diverging and converging issues at the heart of this established cooperation.
This is a novel pan-African instrument to support scientific excellence with a European support of €25 million from the EU's Development Cooperation Instrument. The pilot programme aims to enhance the conditions in which African knowledge is created and disseminated, and to make the African research ecosystem less vulnerable to brain drain.