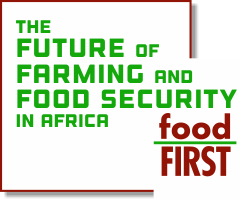 22 June, 2015. Utrecht. Rabobank. Conference "The Future of Farming and Food security in Africa".
Relive this event with 395 participants, with Her Majesty Queen Máxima of The Netherlands, and José Graziano da Silva, director-general of the FAO, Sharon Dijksma, State secretary Agricultural Affairs, a talkshow hosted by Ruerd Ruben and Andrew Makkinga, presentations by Dutch agro businesses.Videos of all the presentation are available on the the conference page.

Farmer organisations play a critical role in ensuring that the complex and dynamic developments that lie ahead "don't leave smallholder farmers behind, so that they can manage the risks, and opportunities, that come with the future," says Ishmael Sunga, CEO of the Southern African Confederation of Agricultural Unions (SACAU).
Uploaded on 22 Jun 2015
Published on 22 Jul 2015
Why African Farmers' Organisations need to modernise? Interview to Ishmael Sunga (CEO SACAU) In this conversation between Ishmael Sunga and Francesco Rampa, ECDPM's Head of the Food Security Programme, at this year's FoodFIRST conference, the CEO of SACAU explains that the modernisation of African farmers' organisations needs to include the use public-private partnerships, improvement of logistics, and the use of digital solutions for issues like training, so that it becomes more accessible at a lesser cost.


How can we engage the private sector in African agriculture? – Irene Visser, NABC
"Just with farmers, you are not going to make it", says Irene Visser, Managing Director of the Netherlands-African Business Council (NABC). Interviewed by Francesco Rampa, Head of the Food Security programme at ECDPM during this years FoodFIRST conference, she explained that engaging the private sector in Africa's Agriculture and Food Security requires an approach that takes into consideration the entire value chain, not only farmers – but also producers of equipments, fertilizers, animal feed, etc.