28 May 2015. This session at the World Summit of the Information Society examined the contribution of e-agriculture to address the Sustainable Development Goals' challenges. The WSIS Forum represents the world's largest annual gathering of the ICT for development community, co-organized by ITU, UNESCO, UNDP and UNCTAD, in collaboration with the Action Line facilitators, such as e-agriculture.
It provided examples of approaches and included some of the factors affecting the free flow of information, the development of applications, ownership and inclusiveness, as well as the government policies to encourage solutions.
Speakers / panellists
Sophie Treinen, FAO, e-agriculture Action Line Facilitator and Chairperson May2015-AL-Meeting-WSIS2015.pptx
Hani Eskandar, ITU, Development of a National e-agriculture strategy guide Presentation_Hani_Eskandar.pptx
Ken Lohento, CTA, Open Data eagriculture_and_open_data_wsis_lohento-cta.ppt
David Soutar, SlashRoots Foundation, Application Development WSIS_eAgriculture-David_Soutar.pptx
François Laureys, IICD, Farmer-centric Data for Agriculture  IICD_Open_Data_for_Agriculture-for_whom_and_by_whom_28-05-2015.pptx
Mireille N'simire, IITA, Mobile Finance for Agriculture Mireille_N'SimireMobile_Finance_for_Agriculture.ppt
Julien Gonnet, RONGEAD, N'Kalo: an information service for improved agro-value chains
You can watch the webcast archive here. (1:48:20)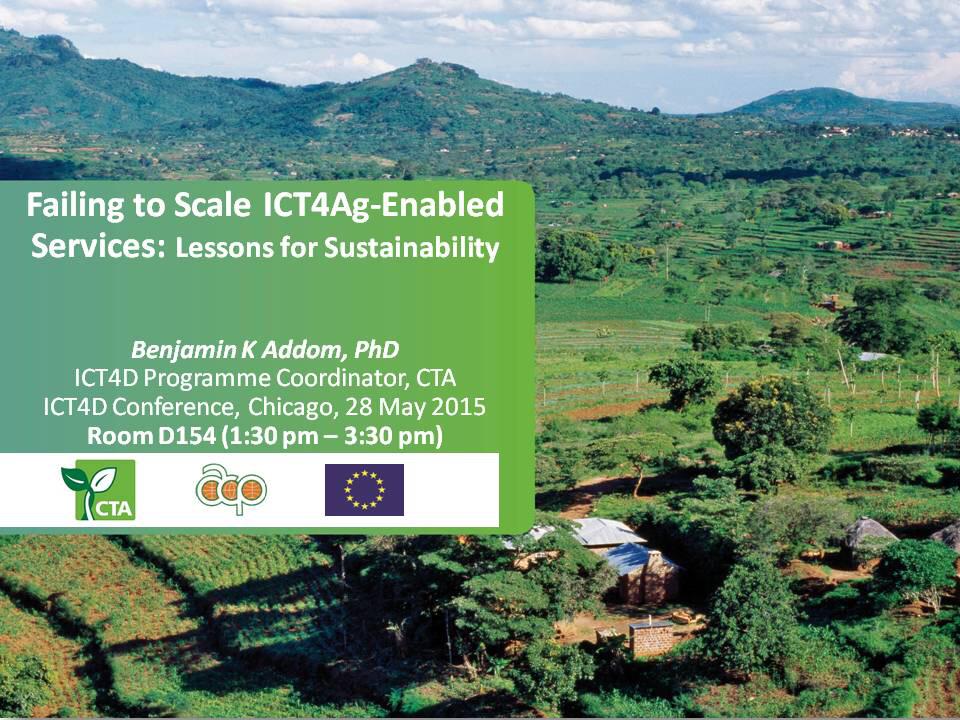 27 – 29 May 2015.
 Chicago, US.
ICT4D Conference.
This year's conference bought together leaders and experienced professionals from around the world to share and explore methods for systematically integrating information and communications technology innovations into relief and development programs –
innovations that enhance program quality, improve decision making, and increase impact.
The conference was organized into four tracks:
Scaling Organizational ICT4D Capacity. 
Improving the use of Data in Decision Making. 
Sustaining the Value of ICT4D Solutions. 
 Fostering Innovation.
Presentations related to Agricultural livelihoods of last year (Nairobi, March 25–28, 2014)
Mobile Job Matching to Promote Development and Resilience (Souktel Inc., Maggie McDonough)
Using Mobile Phone Technology to Provide Ag Extension Services through the Community Knowledge Workers Approach (Lutheran World Relief, Goeffrey Mabirizi Nsereko)
Prep-Eez's eAgriculture for West Africa (Prep-Eez Tech Ltd., Frederick Kobbyna Acquaah)
Leveraging Social Networks for Agricultural Extension in Africa (Digital Green, Vinay Kumar)
Designing mAgriculture Services to Meet Demand from Farmers (GSMA Mobile for Development, Victoria Clause)
Smart Value Chains: Using Smartphone and GIS Technology to Increase Control and Transparency of Agricultural Value Chains (Deutsche Gesellschaft für Internationale, Benedikt Brenke)
Rural GSM Solution (Connect Africa, Jane Haynes)
The Role of ICT in Improving Livelihoods: Digital Jobs that Transform Lives (iMerit, Radha Basu and Monalisa Banerjee)
Microfranchise Programs for Youth (International Rescue Committee, Barri Shorey)
ICT4Ag that Empowers Smallholders Starts with Digital Weighing (VACID Africa Institute, Kiringai Kamau)