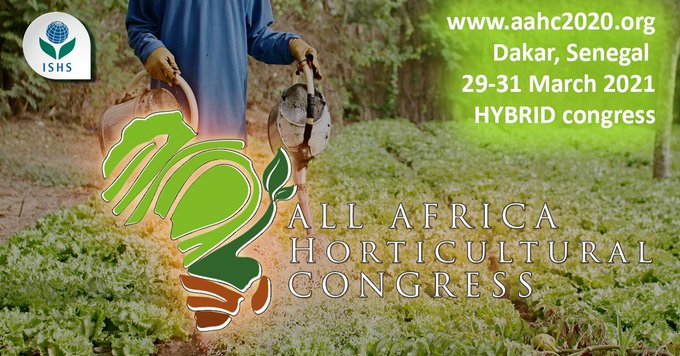 29 – 31 March 2021. All Africa Horticultural Congress 2021. Dakar, Senegal. Videos from all sessions will remain available on the platform until the end of 2021.
The development of Horticulture is one of the main devices that can help leverage the increase of productivity and competitiveness in Senegal agriculture and strengthen its contribution to the national wealth. In view with that, the Horticulture Cluster, under the guidance of the Senegalese State and with the support of the relevant departments of the ministries of Agriculture and Rural Equipment, initiated Senegal membership to the International Society for Horticulture Science – ISHS.
On the occasion of the third AAHC in 2016 held in Ibadan – Nigeria, the Cluster was assigned the organization, in 2021 in Senegal, of the fourth edition of this African and global Congress, for the first time in a francophone African country.
For the Dakar Conference, which will be the first of AAHC in the French-speaking world, the participation of 1,000 representatives from at least 30 countries is expected.
The main objectives of the 2021 AAHC are:
To provide professionals of horticulture, researchers, young scientists, entrepreneurs and horticulture actors, with a platform where they can share the results of researches, innovations and actions.
To present and promote the potential of African horticulture to the world.
To build a network of technical cooperation between professionals of African Horticulture and strengthen the exchanges with the rest of the world.
Keynote speakers:
Ousmane Badiane

: Global socio-economic context of Africa : challenges and opportunities for horticulture 

Françoise Assogba-Komlan

: Horticulture and agricultural policy : the case of Benin

Bibi Giyose

(African Union-NEPAD/FAO): Integrating and promoting nutrition in the horticulture for development agendas and in a multisactorial approach targeting all forms of fighting malnutrition in Africa 

Marco Wopereis

(World Vegetable Center): Vegetable research matters for Africa

Elisabeth Mitcham

(UC Davis): Innovations in postharvest management to achieve environmental and economic sustainability Invited 

Million Belay

(AFSA): Calling for the food and nutrition sovereignty of Africa 

Marco Van Leeuwen

(Rijk Zwaan): Role of the private sector in horticulture for sustainable development of Africa Invited

Daniel Annerose

(Manobi): Orchestrating the horticultural value chains – Phygitalisation of horticulture
Seminars
The seed system for vegetables in Africa 
The agro-ecological transition in horticulture in Africa
What future for urban horticulture in Africa?
Innovative financing for horticulture in Africa
Food security of fruit and vegetables in Africa
Towards a continental market of fruit and vegetables