27 May 2021. Open FiBL Day
This first digital Open FiBL Day takes you on a journey to the world of organic – and beyond! Find out, how organic farming can contribute to climate change mitigation, what chickens have to do with organic apple growing in the future, if control with water markers really works or what FiBL's contribution to sustainable cocoa production looks like.
In various sessions, FiBL researchers and consultants from all over Europe addressed the latest developments in organic research.
FiBL's work on Policy & Sector development
FiBL's digital trainings in Kenya and how we facilitated the organic sector development in Ukraine.
Speakers: Irene Kadzere Dr. FiBL Switzerland Tobias Eisenring MBA, M.Sc, FiBL Switzerland Eva Goldmann M.Sc , FiBL Switzerland Gian Nicolay Dipl. Ing. Agr. ETH FiBL Switzerland Natalie Prokopchuk atalie Prokopchuk FiBL Switzerland
Initiatives for improving the sustainability of agricultural production – examples from Europe and Africa 
Speakers: Harun Cicek Harun Cicek Dr. , FiBL Switzerland / Markus Steffens Dr. rer. nat FiBL  / Switzerland / Christian Grovermann FiBL Switzerland / Markus Renner FiBL Austria
Presentations:
SustainSahel – Synergistic use and protection of natural resources for rural livelihoods through systematic integration of crops, shrubs and livestock in the Sahel
The presentation described the linkages between biophysical, socio-economic, cultural and political realities setting the background of the project and how this Horizon 2020 project will contribute to enhance the potential of smallholders' agricultural farming systems through innovative and scalable crop-shrub-livestock integrated systems (CSL). The presenters took the audience on a journey through the rich diversity of the Sahelian landscapes and people, as well as the challenges they face.
Funding: Horizon 2020, Increasing production efficiency and coping with climate change, while ensuring sustainability and resilience ; SFS-2019-2: Sustainable Intensifications in Africa / Funding scheme: RIA – Research and Innovation action / Coordinator: Dr. Andreas Fliessbach, FiBL, Deparment of Soil Sciences and Dr. Harun Cicek, FiBL, Department of International Cooperation, Switzerland / Duration: September 2020 to August 2025
Best4Soil – A Network sharing Knowledge about Soil
The Best4Soil network shares knowledge on best practices such as composting, green manure and intermediate crops. Crop information databases on soil-borne fungi and nematodes help to adjust crop rotations.

Best4Soil has received funding from the European Union's Horizon 2020 Programme as Coordination and Support Action

BEST4SOIL NETWORK IN 20 COUNTRIES: Austria, Bulgaria, Cyprus, Czech Republic, Denmark, Estonia, France, Germany, Hungary, Ireland, Italy, Latvia, Lithuania, Netherlands, Poland, Serbia, Slovakia, Spain, Switzerland and United Kingdom.
Organic agriculture – a realistic pathway for the Global South? 
The session addresses the question whether organic agriculture is a realistic pathway for the transformation of food systems and for addressing some key issues of the SDG's such as eliminating poverty and hunger and responsible consumption and production. Research results of 12 years comparative farming research in Kenya, Bolivia and India on the productivity, profitability and other benefits that organic systems respectively other agroecological approaches offer to society as well as to the environment will presented. Thereafter conclusions and policy recommendations will be discussed with experts/colleagues representing our trials in Kenya, Bolivia and India.
Speakers: 
Beate Huber, David Bautze, Noah Adamtey, Irene Kadzere, Amritbir Riar, Monika Schneider
The journey of cocoa from the agroforestry system to chocolate – FiBL's contribution to sustainable cocoa production (EN) 
How is cocoa produced in biodiverse and climate resilient agroforestry systems? What are the challenges in organic cocoa production and in the management of agroforestry systems? Get some insight into FiBL's long-term research on cocoa production systems and learn how cocoa beans are processed into chocolate!
Speakers: Monika Schneider, Johanna Rüegg, Laura Armengot, Barbora Tumova
RIOA (2021)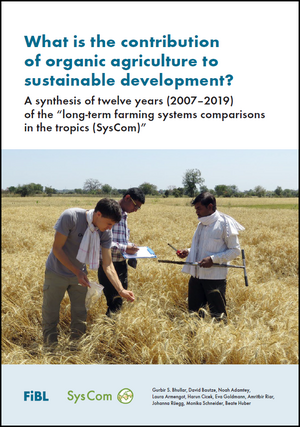 What is the contribution of organic agriculture to sustainable development? A synthesis of twelve years (2007-2019) of the "long-term farming systems comparisonsin the tropics (SysCom)". Research Institute of Organic Agriculture, Frick, Switzerland, 40 pages
The results of 12 years of comparative farming systems research in Kenya, Bolivia, and India provide scientific evidence on economic and ecological sustainability of organic and conventional systems. They illustrate how organic systems and other agroecological approaches can contribute to the SDGs by 2030.