2 June, 2021. 4 PM CEST / 5 PM East Africa Time.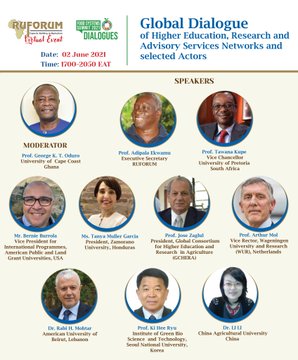 Global Dialogue of Higher Education, Research and
Advisory Services Networks and selected Actors by RUFORUM See the press release
The Regional Universities Forum for Capacity Building in Agriculture (RUFORUM) hosted a virtual dialogue for Africa Government Technical Experts towards the UN Food Systems Summit 2021 under the theme "Transforming food systems is crucial for delivering all the Sustainable Development Goals". Ten (10) African countries (Burundi, Democratic Republic of Congo, Kenya, Mozambique, Namibia, Somalia, Sudan, Uganda, Zambia and Zimbabwe) participated in the Dialogue.
The meeting with the Technical Experts on 27th May 2021 followed a series of national and subregional dialogues (for Central, Eastern, Southern and West Africa) that RUFORUM organized jointly with Member State Governments and other actors so as to garner collective understanding of the issues and actions needed to strengthen Food Systems in Africa. The convening for North Africa and Middle East is slated for 10 June 2021.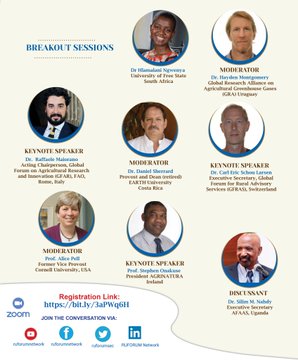 Prior to that RUFORUM hosted two global events, a convening for Global Youth on 01 June 2021, and a Convening for Global Higher Education, Research and Advisory Services Networks on 2nd June 2021. 
The outcomes of these deliberations will be presented to a meeting of Africa's Ministers of Agriculture, Education and Science, Technology and innovation, who will then present their recommendations to African Heads of State and Government, and subsequently to the UN Food Systems Summit in October 2021.
The ongoing Dialogues provide opportunities for Universities and other actors to engage with the Governments and Global community towards needed actions towards ending hunger and malnutrition and developing more resilient, inclusive and climate –compatible agriculture and food systems. Prof Adipala Ekwamu, RUFORUM Executive Secretary