2 July 2021.
 From a science perspective agroecology, applies ecological concepts and principles to manage interactions between plants, animals, humans and the environment. It aims at securing food security and nutrition for all and at all times. It relies on traditional knowledge enriched by scientific research and innovation. It is a complex concept and
appropriate measures and metrics are key to demonstrate its numerous and wide benefits
.
Resources:
Speakers
Willem Olthof

– Deputy Head of Unit INTPA F3, Sustainable Agri-Food Systems and Fisheries, DG INTPA, European Commission

Fergus Sinclair

– Chief Scientist CIFOR-ICRAF, Center for International Forest Research – World Agroforestry, Co-convener of the TPP, the Transformative Partnership Platform on Agroecology

Anne Mottet

– FAO Livestock Development Officer, Animal Production and Health Division

Laurent Levard

– Program manager – Agricultural Development and Food Security, GRET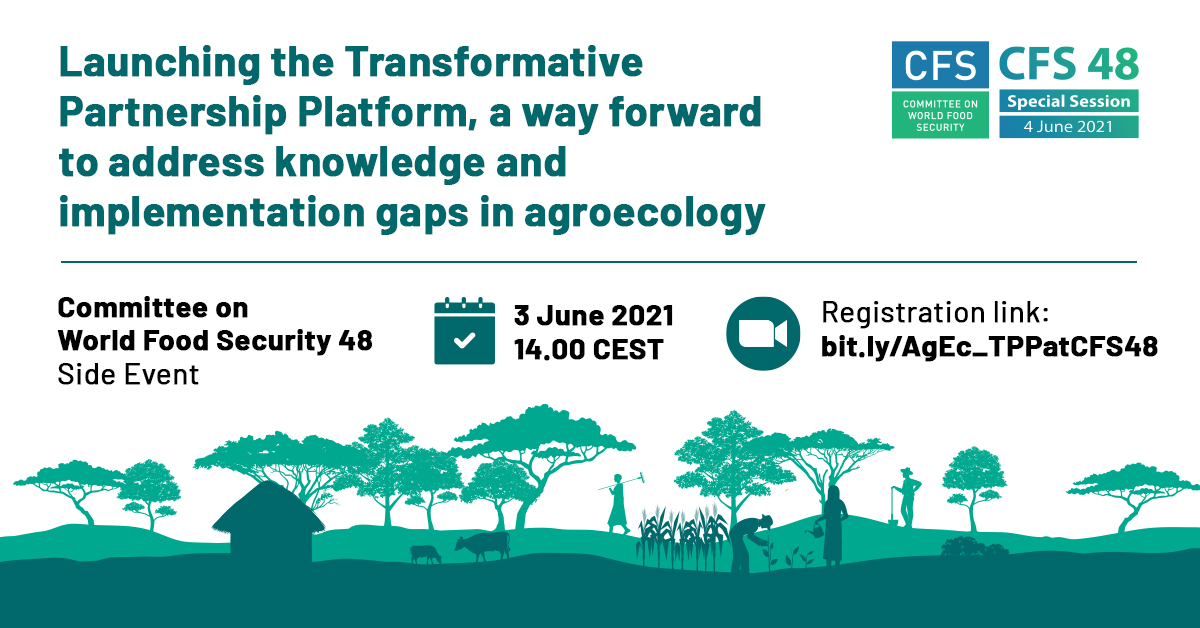 A range of research and development institutions have partnered to address knowledge and implementation gaps related to agroecology, and to use this evidence as part of agricultural and food systems transformation.
The Agroecology Transformative Partnership Platform (TPP), was launched and discussed during this side event, to accelerate and coordinate the work of agroecology partners at international, national and local levels.
The TPP Steering Committee, has an overall oversight role and will take key decisions regarding: the strategic evolution of the TPP and the partnerships within the TPP, the science domains, the rules for integration/alignment of projects, and the composition of the Advisory Group.
Bernard Hubert

 Chair, French Committee for Intl. Agricultural Research France 

Michel Evéquoz

 Senior Advisor, SDC Switzerland 

Marcela Quintero

 Research Director, Multifunctional Landscapes, The Alliance Colombia 

Hélène Quentrec

 Policy Officer, European Commission, DG INTPA Belgium 

Robert Nasi 

Director General, CIFOR Indonesia 

Marion Guillou

 French HCC Mbr; ASPAC Chr. of The Alliance Bd France 

Fergus Sinclair 

Ex-officio Chief Scientist, CIFOR-ICRAF Kenya 

Etienne Hainzelin

 Ex-officio Advisor to President Director General of CIRAD. Canada