6 July 2021. UNFSS Side Event Transforming Food Systems through Agroecology: Learning from Evidence
In various UNFSS Action Tracks and Food System Dialogues, agroecology emerged strongly as a key concept for inclusive food systems transformation by fostering the diversity of knowledge systems, ecosystems and nutrition.
There is increasing evidence that agroecology is a powerful strategy to reduce trade-offs between productivity and sustainability, and achieve market-driven compensation for positive externalities. One of its central characteristics is diversity. Although results are mixed and further research is needed, a positive relation between agricultural diversification and diversified diets, is true for many different farming systems.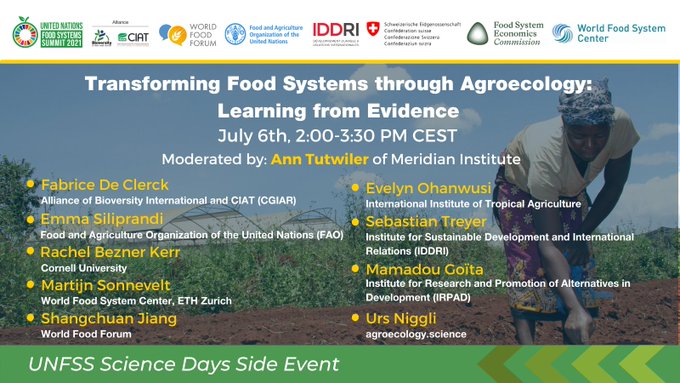 This side event shared
knowledge and evidence on agroecology
, and identified and discussed knowledge and implementation gaps. Potential pathways and changes in framework conditions to foster diversity in knowledge systems, ecosystems and nutrition to allow for a sustainable food systems transformation was discussed.
Moderation:

Ann Tutwiler

, Senior Advisor, Just Rural Transition and Senior Fellow, Meridian Institute 

Emma Siliprandi

, Agriculture Officer, Plant Production and Protection Division (NSP), FAO 

Sébastien Treyer

, Executive Director, Institute for Sustainable Development and International Relations (IDDRI) 

Urs Niggli

, President, agroecology.science and member of the Swiss National FAO Committee World Food Forum (Youth group) 

Rachel Bezner Kerr,

Professor, Department of Global Development, Cornell University 

Mamadou Goïta

, Executive Director, Institute for Research and Promotion of Alternatives in Development (IRPAD) 

Fabrice De Clerck

, Senior Scientist, Alliance of Bioversity International and CIAT (CGIAR) 

Martijn Sonnevelt

, Executive Director, World Food System, ETH Zurich and President of the Swiss National FAO Committee
It will be published for the UN Food Systems Summit (New York,
September 2021
)
Part 1 -AGROECOSYSTEMS 1 – Increasing the efficiency of practices in order to reduce the use of costly, scarce or environmentally damaging inputs 2 – Substituting intensive use of external inputs with ecosystem functions provided by biodiversity 3 – Redesigning the agroecosystem on the basis of a new set of ecological processes from farm and landscape 
Part 2 – FOOD SYSTEMS 4 – Identifying and overcoming constraints within food systems for the deployment of agroecological transitions at scale, reconnecting producers and consumers 5 – Building a new global food system based on equity, participation, democracy and justice 
Part 3 – KEY PROCESSES, METHODS AND TOOLS FOR AGROECOLOGY
Editorial and Scientific Board Kwesi Atta Krah (IITA), Jean-Luc Chotte (IRD), Chantal Gascuel (INRAE), Vincent Gitz (CIFOR), Etienne Hainzelin (CIRAD), Bernard Hubert (INRAE, Agropolis International), Marcela Quinteiro (Alliance of Bioversity International and CIAT) and Fergus Sinclair (ICRAF) are the scientific coordinators of this publication, with the support of Isabelle Amsallem (Agropolis International).
CoSAI'(2021) Estimating investment in innovation for sustainable agriculture intensification (expected June 2021)
This CoSAI's study indicates that current reporting of agricultural investment data across all funding sources is very poor in terms of quality and granularity. 
The study concludes that adopting a standard for transparent reporting and measurement could, in itself, lead to "swift changes in funding patterns" towards sustainability goals. 
CoSAI has therefore initiated an international Taskforce on Principles and Metrics for Innovation which is a first step in this direction.
Find out more about the innovation investment baseline study: https://wle.cgiar.org/cosai/innovation-investment-study
Ahead of publication of the full report, read a brief detailing the emerging results from the study.