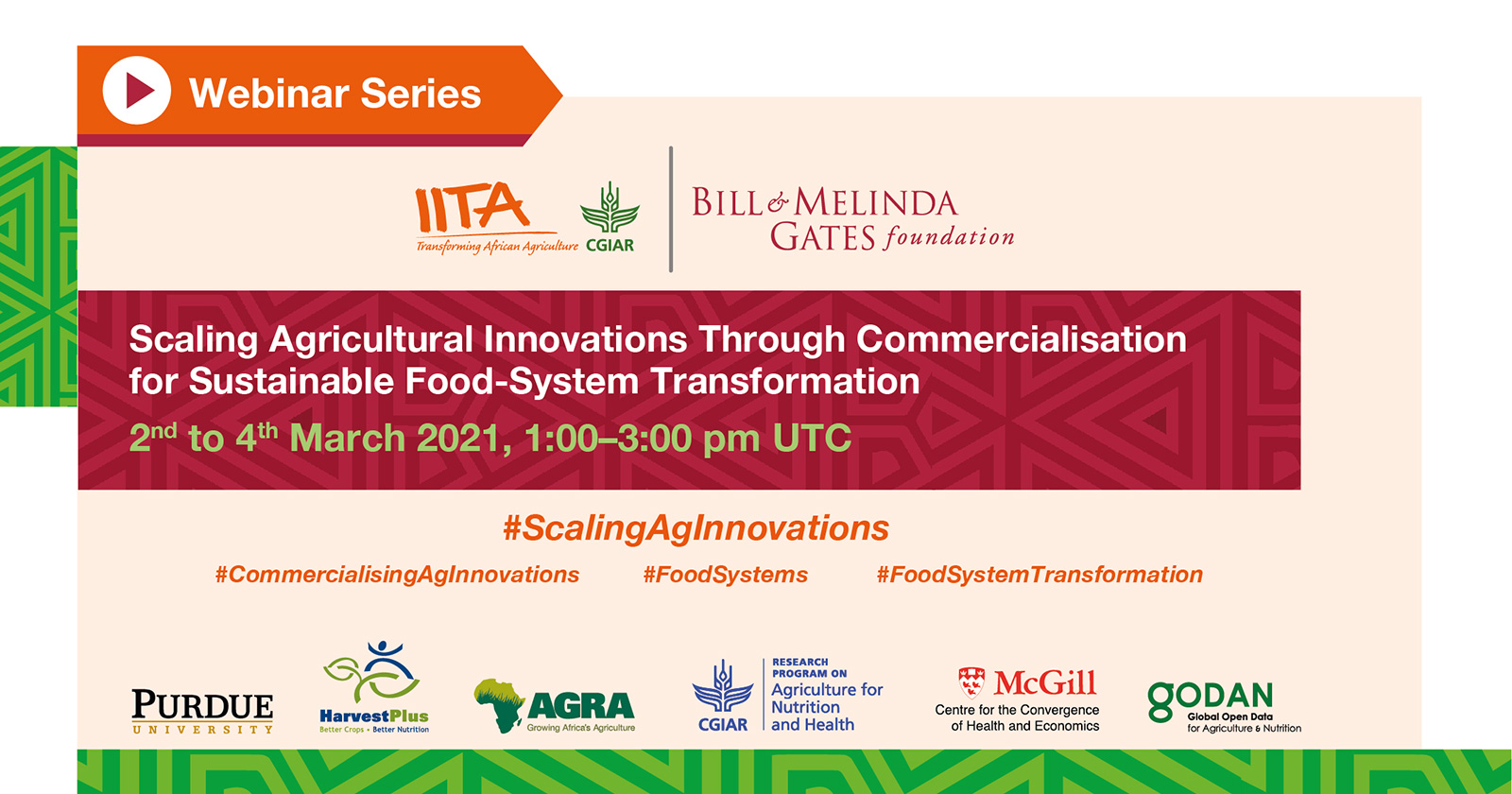 2-4 March 2021. Scaling Agricultural Innovations through commercialisation for Sustainable Food-System Transformation.
Technology and innovation play a critical role in building 21st century food systems. However, no matter how technically perfect they may be, agricultural innovations lying unused on the shelf, or used only by an exclusive few, are of little or no value. To be of value, they must be available, accessible, and affordable to a critical mass of smallholder farmers. For this to happen, it is imperative to identify and pave appropriate pathways for effective diffusion and scaling of innovations.
Generally, research results from publicly funded international agricultural centres reach users through the national agricultural and extension systems. However, in recent years, an increasing number of breakthroughs reach users through commercialisation. Development funders, research organisations, and academia are partnering with private-sector companies, government agencies, and civil-society actors to facilitate the commercialisation of agricultural innovations to improve food safety and nutrition at scale.
IITA and the Bill & Melinda Gates Foundation are co-hosting a series of interconnected virtual workshops to exchange experiences and lessons learned in commercialising technologies to improve food safety and nutrition in smallholder contexts. The insights from the discussions will inform future activities to scale these and other critical smallholder-relevant agricultural innovations. The webinar discussions will also be highly relevant to the upcoming United Nations Food Systems Summit, especially Action Track 1: Ensure access to safe and nutritious food for all.
This panel will examine the collaboration between research institutions and private companies in commercialising agricultural technologies that address food safety and nutrition challenges. Companies which have invested in the manufacture, distribution and marketing of research results will elaborate how they use the business model innovation to adapt to a rapidly changing environment to deliver the technologies, how they overcome challenges, and the success factors to achieving favourable outcomes.
Dr Kenton Dashiell

, Deputy Director General, Partnerships for Delivery, International Institute of Tropical Agriculture 

Mr Thomas Kehoe

, Deputy Director Africa Agriculture, Bill & Melinda Gates Foundation 

Matieyedou (Abdou) Konlambigue

, Moderator, Managing Director – Aflasafe Technology Transfer and commercialisation (ATTC), IITA 
Fireside chat with selected innovators: Journey from R&D to commercialisation 
Dr Ranajit Bandyopadhyay

, Leader, Aflasafe Africa-wide initiative, IITA 

Dr Dieudonne Baributsa,

Associate Professor, Purdue Improved Crop Storage (PICS), Purdue University 

Mr Donald Mavindidze

, Regional Director, HarvestPlus 

Ms Marcella McClatchey

, Facilitator, Program Officer, Agricultural Development, Bill & Melinda Gates Foundation 
Keynote speaker, 
Dr. Lawrence Cooley

, President Emeritus and Founder, Management Systems International 
Panelists 
Mr Yared Sertse

General Manager Shayashone, Ethiopia 

Mr Martins Awofisayo

, CEO, Harvest Industries Limited, Nigeria 

Mr Bhubhinder Singh

, Business Manager, AgroZ; A to Z, Tanzania 

Mr Pelumi Aribisala,

CEO, Cato Foods, Nigeria 

Ms Aggie Konde

Vice President Program Innovation & Delivery AGRA
Considering the nature and profile of intended users – mostly smallholder farmers – ensuring that technologies are accessible requires deliberate and consistent interventions along the entire value chain, and in the larger ecosystem.
Dr Jonas Chianu

Chief Agricultural Economist; Coordinator, Technologies for African Agricultural Transformation African Development Bank (AfDB) 
Panelists 
Mrs Ndidi Nwuneli,

Managing Partner, Sahel Consulting Agriculture & Nutrition Ltd 

Mr Rodrigo Ortiz

, Secretariat Lead, AgResults Agricultural Innovation Program 

Mr Peter Kaigwara,

Director, Market Surveillance, Kenya Bureau of Standards 

Dr Alex Dodoo

, CEO, Ghana Standards Authority 

Dr Rodwell Mzonde

, Director of Planning, Ministry of Agriculture and Food Security, Malawi 

Mr Yosuke Kotsuji,

Senior Investment Officer (Team Lead for East Africa Agribusiness), International Finance Corporation 

Mr Garron M Hansen

, Facilitator – Director, Agriculture & Food Security Practice, Chemonics International
04/03 Shaping the future development and commercialisation of innovations to improve food safety and nutrition in the context of food-system transformation
Panellists will discuss pragmatic guidance for accelerating scaling of key innovations, including opportunities and pathways for commercialisation. Stakeholders from key agricultural research and delivery institutions on the continent will conclude the webinar series with recommendations for future policies and investment.
Keynote address

Prof Laurette Dubé

, Chair and Scientific Director, McGill Centre for the Convergence of Health and Economics, FCI-Africa 

Elizabeth Nsimadala

President, East Africa Farmers Federation (EAFF) & President, Pan-African Farmers Organization (PAFO) 

Mr Ibrahim Gourouza

, Chief Operating Officer, Grow Africa, African Union Development Agency–New Partnership for Africa's Development (AUDA–NEPAD) 

Dr John McDermott

, Director, CGIAR-Research Program on Agriculture for Nutrition and Health (A4NH) 

Mr Rafael Flor

Senior Program Officer Inclusive Markets, Agricultural Development Bill & Melinda Gates Foundation 

Dr Jonas Chianu

, Chief Agricultural Economist; Coordinator, Technologies for African Agricultural Transformation, African Development Bank (AfDB) 

Mr Mark Huisenga

, Senior Program Manager, Bureau for Resilience & Food Security, United States Agency for International Development (USAID) 

Ms Zainab Zitta Semgalawe

, Regional Technical Lead for Eastern and Southern Africa, International Fund for Agricultural Development (IFAD) 

Dr Julie Howard

, Facilitator – Senior Adviser, Center for Strategic and International Studies 
Closing remarks: Dr Kundhavi Kadiresan, Managing Director, Global Engagement and Innovation, CGIAR