29-30 June 2015. Milan, Italy Women's Forum. Coincide with the 2015 Universal Exhibition in Milan, the Women's Forum for the Economy and Society, together with Valore D and WE – Women for Expo, organised the Women's Forum as part of Expo Milano 2015.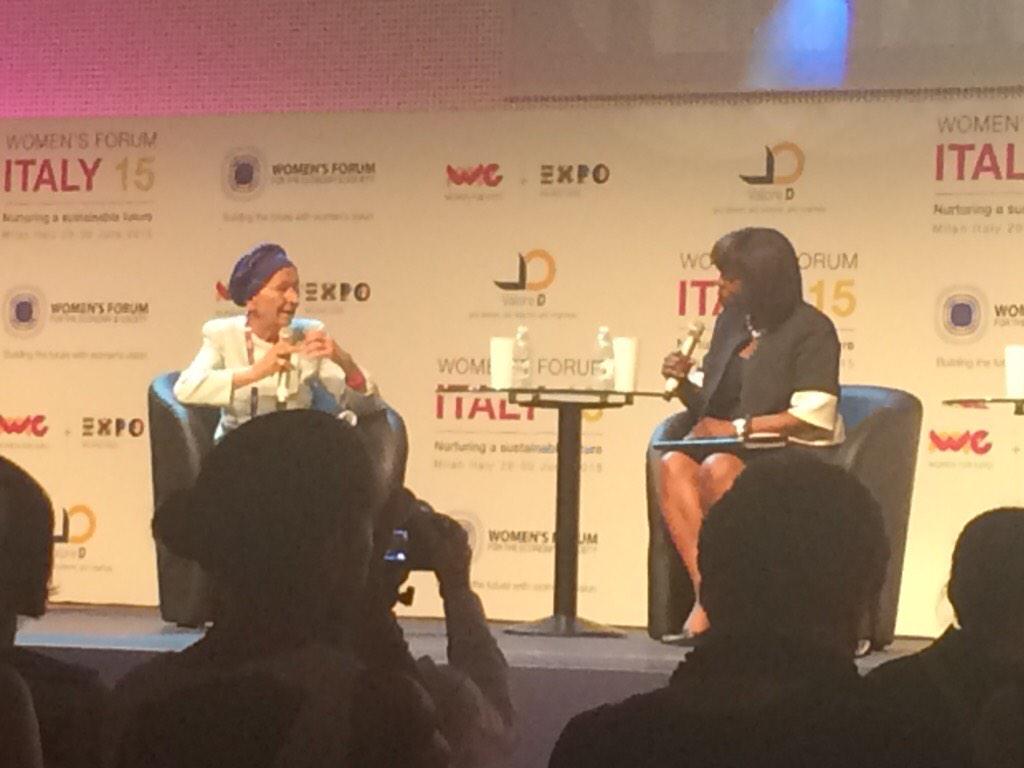 Emma Bonino

a
nd Ertharin Cousin on
empowering women in rural areas
This one-and-a-half day event kick started the Women's Weeks series of conferences which will last until 15 July. Under the theme Nurturing a sustainable future, Women's Forum Italy examines issues surrounding food and nutrition from the perspective of gender.
Women farmers produce more than half of the all food worldwide, and women typically bear a greater responsibility for buying and preparing meals. Women and girls suffer more from food insecurity than do boys and men.They are also more vulnerable to obesity and far more exposed to eating disorders.
Women leaders from varying sectors and geographies spoke along with their male counterparts on topics relating to feeding the planet in a sustainable future.

Extracts:
Women's Equality and Empowerment – The first step to Zero Hunger
Ertharin Cousin, Executive Director, WORLD FOOD PROGRAM
Emma Bonino, Former Italian Minister of Foreign Affairs , PARTITO RADICALE
Our visions for a better agricultural value chain
Lars Sorensen, CNH Industrial about 

the evolution of farming and precision land management
Farmers and finance – the missing link
Food safety and risk: How to restore consumers' trust?
Michèle Lees, Director Collaborative Research, EUROFINS
Ilaria Capua, Member of the Italian Parliament, ITALY'S LOWER CHAMBER
Beate Kettlitz, Director, Food Policy, Science and R&D, FOODDRINKEUROPE
Innovations to give us hope for the future