17 June 2019. Ankara, Turkey. World Day to Combat Desertification 2019 marks the 25th anniversary of the UN Convention to Combat Desertification (UNCCD), so this year's campaign will run under the slogan '25 YEARS – Let's grow the future together'.
This event provides an opportunity to look back and celebrate the 25 years of progress made by countries on sustainable land management, as well as looking at the broad picture of the next 25 years where we will achieve
land degradation neutrality
. What do we envisage in the world in which land degradation neutrality provides a solid basis for poverty reduction, food and water security and climate change mitigation and adaptation?
Interview with 

UNCCD Executive Secretary Mr. İbrahim THIAW
Key Issues
Land and Drought — "By 2025, 1.8 billion people will experience absolute water scarcity, and 2/3 of the world will be living under water-stressed conditions."
A complex and slowly encroaching natural hazard with significant and pervasive socio-economic and environmental impacts that to cause more deaths and displace more people than any other natural disaster.
Land and Human Security — "By 2045 some 135 million people may be displaced as a result of desertification."
Achieving land degradation neutrality -by rehabilitating already degraded land, scaling up sustainable land management and accelerating restoration initiatives- is a pathway to greater resilience and security for all.
Land and Climate — "Restoring the soils of degraded ecosystems has the potential to store up to 3 billion tons of carbon annually."
The land use sector represents almost 25% of total global emissions. Its rehabilitation and sustainable management is critical to combating climate change.
Opening
UNCCD Executive Secretary

Mr. İbrahim THIAW

Minister of Agriculture and Forestry

Dr. Bekir PAKDEMİRLİ

Video message by the UN Secretary-General

António Guterres

President of the Republic of Turkey H.E.

Recep Tayyip ERDOĞAN
"Think about what it takes to feed 7.5 billion people. Only 20 percent of the planet is habitable, yet within our own lifetimes one out of every four hectares of productive land has become unusable, three out of every four hectares have been altered from their natural state, and while agriculture drives that change, we waste a third of the food," head of the UNCCD Ibrahim Thiaw told hundreds gathered in Ankara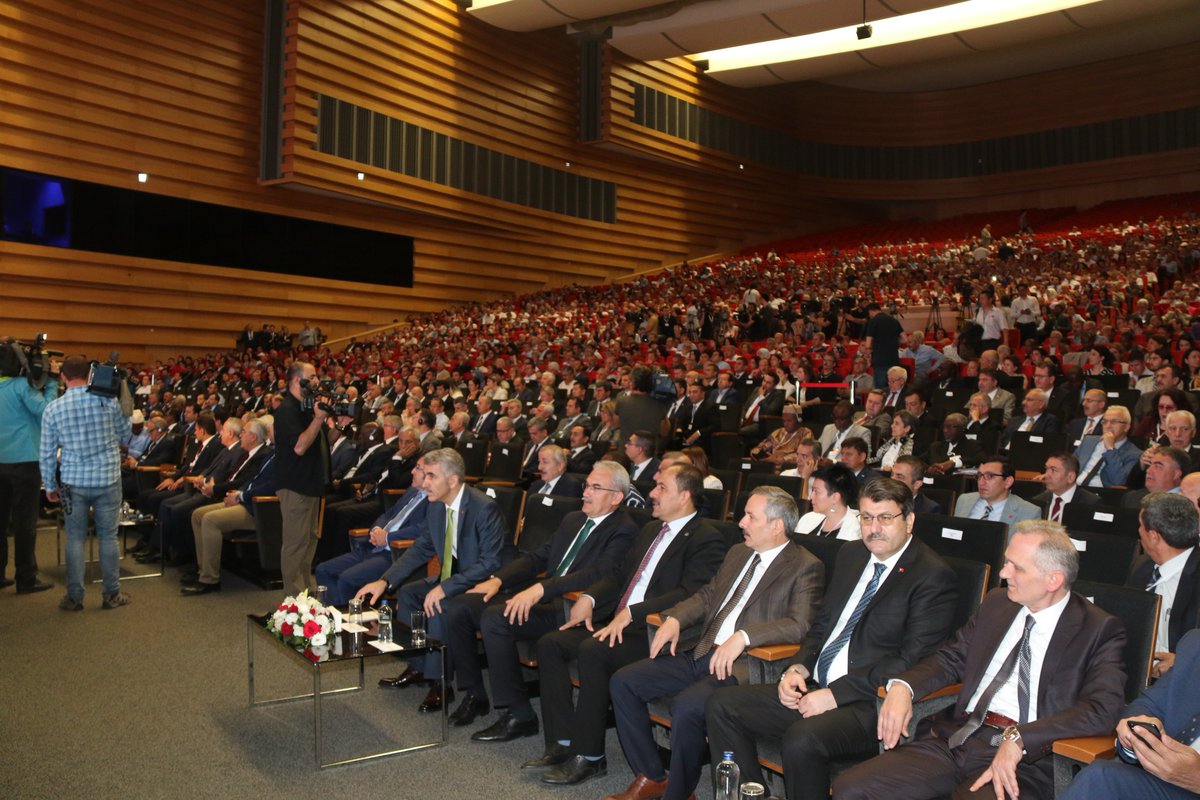 "We must take action to repay our debt to nature and restore our land, generating a tenfold return on our investment, multiplying the benefits of the Sustainable Development Goals, and growing together in a virtuous cycle where everyone contributes and everyone benefits."
Thiaw said increasing food production by 50 percent, when land degradation and climate change will be decreasing crop yields by 50 percent, makes restoring and protecting the fragile layer of land an issue for "anyone who wants to eat, drink or breathe."
Whereas a significant amount of the land degradation and transformation has occurred over the last 50 years, Thiaw stressed that the success stories of land restoration and conservation, such as in Turkey's Central Anatolia region,
where rehabilitation and restoration over decades has resulted in increased forest cover
, offer hope that change is possible when traditional knowledge, technology and faith communities come together creatively.
He said the restoration of 150 million hectares of farmland by 2030 can generate up to 40 billion dollars in extra income for smallholders, feed another 200 million people and sink several gigatons of carbon dioxide. Scaling it up across all our degraded land could prevent biodiversity and climate from disintegrating and bequeath new opportunities to the next generation, he added.
UN secretary-general António Guterres, in a video message at the opening of the congress, noted that the world loses 24 billion tons of fertile soil and dry land degradation reduces national domestic product in developing countries by up to eight percent annually.
Guterres said much remains to be done, and stressed the imperative of combatting desertification as part of our efforts to achieve the Sustainable Development Goals.
COMBATING DESERTIFICATION AND DROUGHT
There's No Continent, No Country Not Impacted by Land Degradation
The coming decades will be crucial in shaping and implementing a transformative land agenda, according to a scientist at the United Nations Convention to Combat Desertification (UNCCD) framework for Land Degradation Neutrality (LDN). UNCCD-Science Policy Interface co-chair Dr. Mariam Akhtar-Schuster
This comes after the dire warnings in recent publications on desertification, land degradation and drought of the :
"The main message is: things are not improving. The issue of desertification is becoming clearer to different communities, but we now have to start implementing the knowledge that we already have to combat desertification. It's not only technology that we have to implement, it is the policy level that has to develop a governance structure which supports sustainable land management practices."" Akhtar-Schuster.
Social media
— ICARDA (@ICARDA) June 18, 2019