1-5 May 2017. Durban, South African. Experts at the World Economic Forum on Africa said food security needs to be a major part of discussions on advancing the continent economically.
The annual World Economic Forum in Switzerland is usually a high-powered event, but at the Africa meeting of the international organization, the continent's big players are welcoming the humble farmer, now known as the "agripreneur." Economists and agricultural experts said, Africa's current food crisis cannot be blamed solely on a drought that has devastated large swaths of the continent. Drought, along with serious conflict, has doomed millions of people to dire hunger in Somalia, South Sudan and the Lake Chad Basin of West Africa. But, experts say, there are serious problems in African farming — mainly the inability of subsistence farmers to make the leap into making a profit.
Their obstacles include a lack of infrastructure to get goods to markets, competition from cheap imported food, government policies that do not offer enough support, unavailability of farmers' insurance, and limited access to technology.
Related:
According to the Africa Competitiveness Report 2017, African leaders have a choice. They can either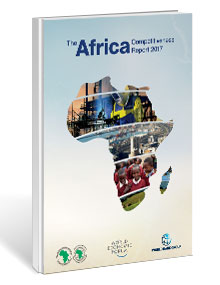 put into effect structural reforms that improve people's livelihoods or allow current, not-quite-adequate constitutional policies to unravel towards inequality and civil unrest.
South Africa and Rwanda also do well and have improved their global ranking since the last index was released in 2015. Their continued growth can be attributed to the uptake of technology, efficient financial markets and a focus on strengthening institutions.
These are just some of the factors that contribute to a country's prosperity. But the most important are those that enable people to find employment, travel to work and carry out their jobs. If they can do that, then disaster is not only averted, it is turned inside out, into an economic revival that may yet sweep Africa to prosperity.
Extracts:
Since almost all new jobs in Africa today are in agriculture and microenterprises, improving the business environment in these sectors is a high priority. Fragile countries can create jobs as well as promote growth and stability through targeted support to vulnerable regions and/or populations. Open trade policies and developing value chain links to extractive sectors are crucial for encouraging diversification and job creation in resource-rich countries. Finally, policies that foster regional trade and integration can be a major source of new jobs as well as improve firm-level productivity and economic competitiveness.(page 16)
In 2011, agriculture was still Africa's largest employer by far— and although the growth of employment in agriculture has diminished in the past decade compared to growth in other sectors, almost 100 million Africans still depend on small-scale farming to make a living. Looking more specifically at youth employment, the situation is similar: about 40 percent of African youth work in the agriculture sector, another 33 percent in services and sales, 13 percent are owners of a business of any size, and 8 percent work in the construction and manufacturing sector (page 24)
ICTs can transform and modernize the agriculture sector, fostering greater integration into value chains and increasing productivity, and consequently increasing the revenues of the millions of African youth employed in this sector. Greater agriculture productivity will make possible the transfer of the labor force and resources to other productive occupations.(page 37) 
Based on recent trends and International Monetary Fund (IMF) projections, Fox et al. forecast that between 2010 and 2020, 75 percent of new entrants to the labor market will work either in agriculture or household enterprises (e.g., self-employment and microenterprises).12 Just over 20 percent will work for wages in the service sector, and only about 4–5 percent will find a wage-paying job in the industrial sector.(page 54)
Adding value to agricultural products through processing, packaging, and handling is not only a major potential source of job creation in Africa, it also is crucial for developing the region's manufacturing sector. This requires developing a proper enabling environment for agro-processing,57 which can be based on three layers of interventions (see further pages 64)
Africa's young, dynamic population does, however, possess the potential to lead an economic revival in the region backed by targeted short- and long-term reforms in key areas, the report finds. Priority action areas for improved competitiveness are:
Short term:
Prioritizing sector-specific reforms in labor-intensive sectors such as agribusiness, construction, and micro-enterprises can stimulate near-term job creation.
Targeted support can address acute economic issues for vulnerable regions and populations in fragile countries.
Open trade policies can help foster regional economic integration.
Developing value chain links to extractive sectors will encourage economic diversification in resource-rich countries.
Increased housing construction through investment, better urban planning, and less red tape will create jobs and address severe shortages of housing stock.
Long term:
Strengthening institutions is a pre-condition to enable faster and more effective policy implementation. Failure of implementation in the past has often been attributed to weak institutions.
Improved infrastructure is needed to enable greater levels of trade and foster businesses growth.
Greater adoption of technology will be critical to boosting lagging productivity.
Developing the right skills will help Africa remain competitive in a rapidly changing global economic landscape.