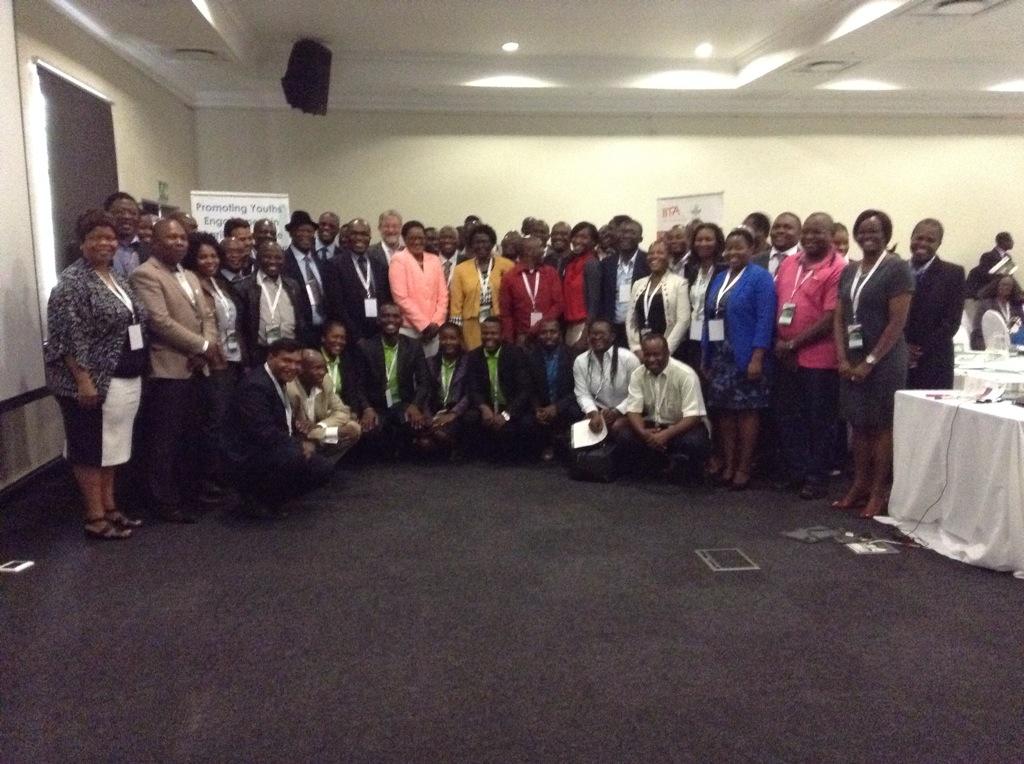 27 November 2014. Johannesburg, South Africa."Promoting Youth Engagement in Agribusiness: the International Institute of Tropical Agriculture (IITA) Agripreneur Model".
The recent experience of the IITA Youth in Agribusiness reveals that young individuals between 21 and 27 years of age with different backgrounds and academic disciplines (ranging from art, information technology, and engineering to the biological sciences and agriculture) can take on the challenge of self-development with the right environment and encouragement.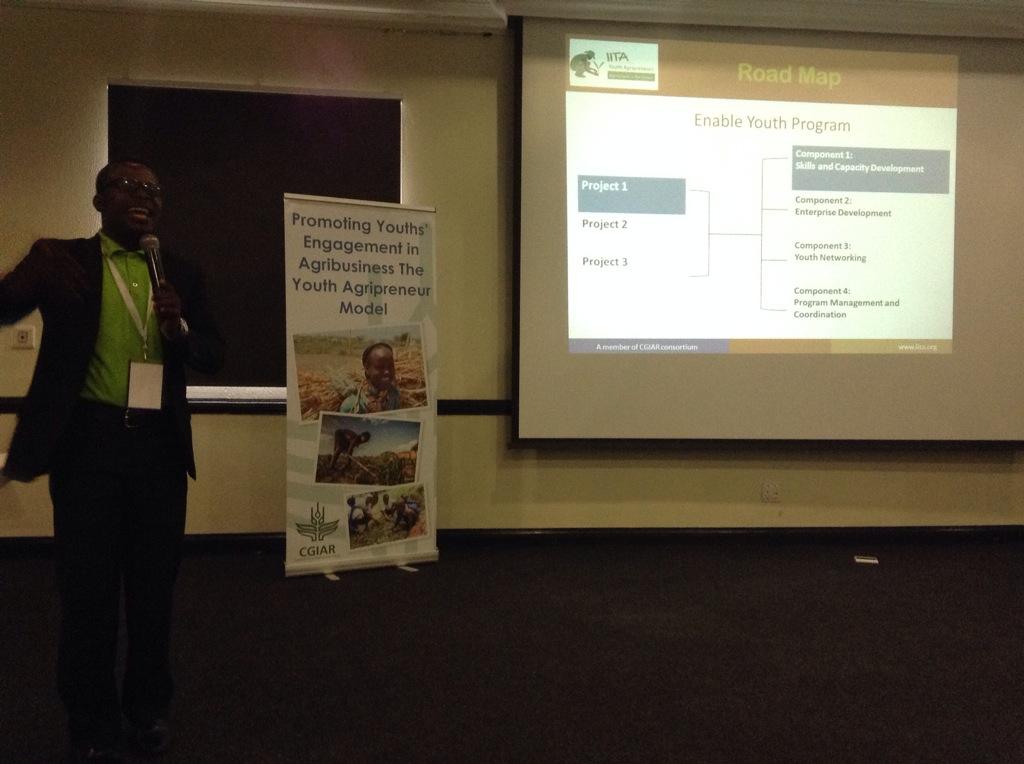 The initiative, which began in 2012, under the leadership of Dr Nteranya Sanginga, IITA Director General, has proven that given the proper opportunities and incentives, urban and rural youth can be directed towards market-oriented agriculture, agribusiness, and agro-services provision, with a huge significant impact upon the larger farming community.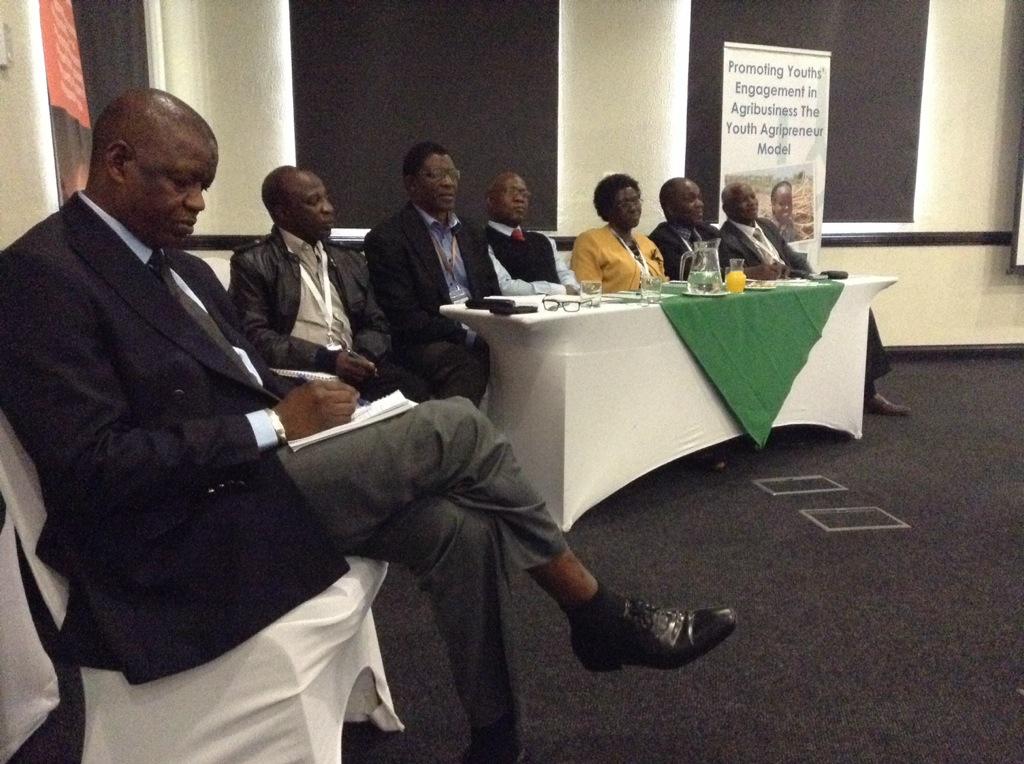 Dr Opio Executive Director, Association for Strengthening Agricultural Research in Eastern and Central Africa (ASARECA), who chaired the special session backed the initiative by IITA and called on donors and policymakers to support it. 
"I was in Ibadan and was very impressed with the achievements of these young men and women. This is the way we should go and IITA has shown the way" 
The special session which had other organizations such as the Conseil ouest et centre africain pour la recherche et le développement agricoles / West and Central African Council for Agricultural Research and Development (CORAF/WECARD), and the Centre for Coordination of Agricultural Research and Development for Southern Africa (CCARDESA) among others, recommended the following:
Mainstreaming the youth unemployment challenge at the national and even at regional and continental levels.
Review and change of curricula on agriculture in schools to encourage young people to go into the business of agriculture and thereby create agricultural entrepreneurs. In addition, the business orientation has to be emphasized and incorporated in the new curricula.
Provision of access for youth to resources (funds, innovations, etc.) and collective assets such as machinery, land, productive assets, etc.
The position of the special session was echoed by Dr Kanayo Nwanze, President of the International Fund for Agricultural Development (IFAD) during his keynote address:
Africa's food import bill of $35 billion was a source of concern because the continent's dependence on food imports was hurting the creation of local jobs which the youth would have benefited from.
21 November 2014.
Young entrepreneurs in rural Africa as drivers for job creation
It is unlikely that farming has the potential to absorb all or even most of these young job-seekers. Apart from the rising pressure for higher productivity in agriculture, for example through better mechanization and new technologies, farming is also becoming less popular as an occupation among young people.
Will young people find adequate livelihoods outside agriculture, for example through self-employment? Entrepreneurship is considered to have a high potential to accommodate young job-seekers. (…) At least 65 million need to be absorbed by rural enterprises.
Whether this is a realistic expectation and whether Africa's young population will find entrepreneurship worthwhile pursuing remains to be seen. Currently only a small number of young adults choose entrepreneurship as an occupation, despite many government and donor-funded support programs.